'Kamal Haasan works with people who have a certain level of talent and skill set. He likes to work with people again and again, with whom he can relate to, and with whom he can have a conversation with and shares a certain wavelength.'
'I am one of those few lucky ones.'
Kunal Rajan, a regular in Kamal Haasan's team, talks about his experiences.
Sound designer Kunal Rajan, who is based in Los Angeles and works in Hollywood movies, has often collaborated with Kamal Haasan in films like Vishwaroopam, Uttama Villain and recently in Thoogavanam (Tamil) or Cheekati Rajyam (Telugu).
Kunal talks to Rediff.com contributor Praveen Sundaram via Skype and tells us what it was like working with the superstar.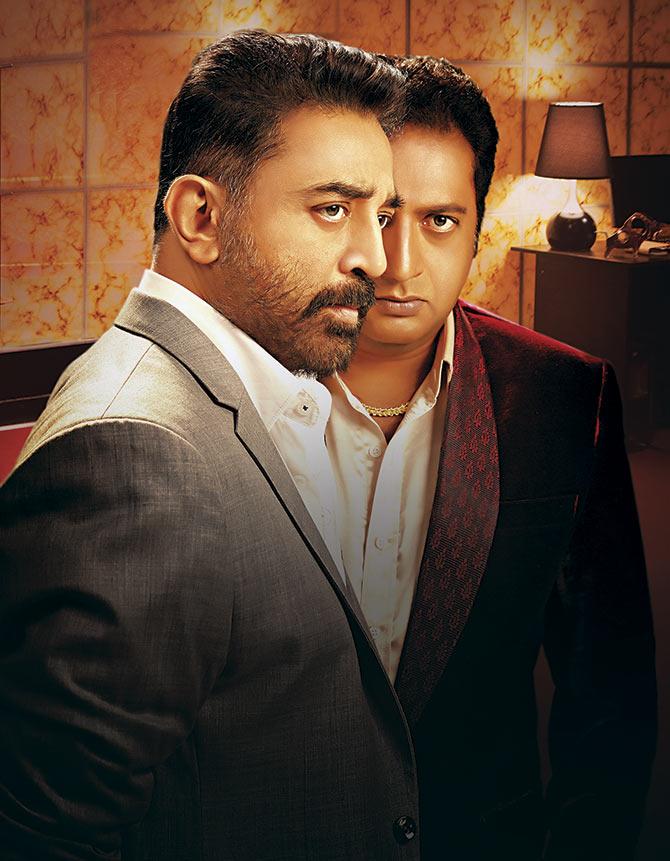 Image: Kamal Haasan and Prakash Raj in Thoongavanam
After Vishwaroopam and Uttama Villain, you seem to the obvious choice for Kamal Haasan's films.
During the final mix of Uttama Villain, he told me he was getting the rights of Sleepless Nights and that he would be remaking it in Tamil and Telugu as a bi-lingual. I was excited that I was working with him again.
Did you watch Sleepless Nights before you began working for Thoogavanam?
Yes, but it is pointless to observe it from a sound point of view as it is impossible to repeat what the French did in the film.

French cinema is very different, not just with sound, but also their storytelling. We can't be as subtle as them; our people won't enjoy it.
I did what I always do -- a mix of the western and Indian style of sound.
Personally, I would say Thoogavanam is a lot better than Sleepless Night. After I finished my work for Thoogavanam, I watched Sleepless Night again and felt that way.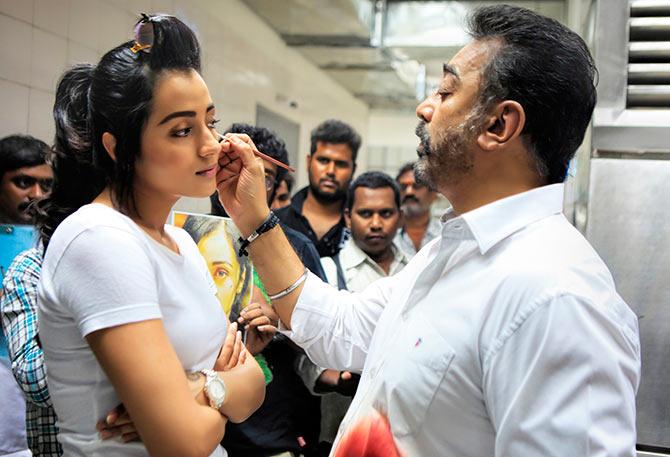 Image: Trisha Krishnan and Kamal Haasan on the sets of Thoogavanam
Kamal repeated Gibran and you in his recent films...
One of the main reasons is that he works with people who have a certain level of talent and skill set. He likes to work with people again and again, with whom he can relate to, and with whom he can have a conversation with and shares a certain wavelength.
I feel I am one of those few lucky ones. The same goes with music composer Gibran too.
We had a very tight schedule for Thoogavanam. They started shooting in May or June, and it released in November. The crew has been tried and tested, and had to be on the top of their game. There was no roam for error.
Usually, Kamal comes to the US for the sound mix, but this time he did not. He sent director Rajesh, as he was busy with something else. He trusted Rajesh and me with it. Working with Kamal is a big deal for me even if I work in Hollywood.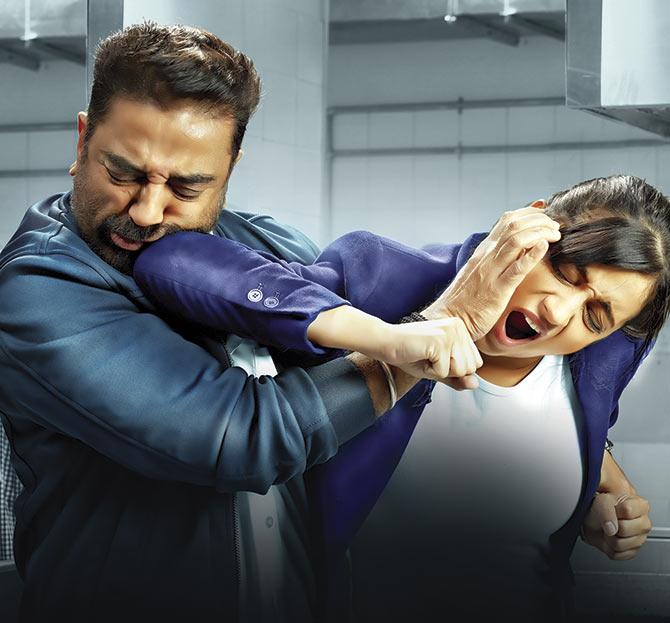 Image: Kamal Haasan and Trisha Krishnan in Thoongavanam
How long did it take for you to complete the Tamil and Telugu versions of the audio post production?
Two months.
One of the biggest challenges in India is the standardization of theatres. You mix sound in a certain level and no one can hear it the way you have mixed it, as each theatre has different sound levels.
I get calls complaining about the sound, some say it is too low, some say it is too loud. And both calls are just 20 mins apart!
People are used to mixing so loud that over time, the volume of Indian film mixes has gone up. To compensate this, theatres turn down the volume as they don't want to damage their expensive speakers. So sound mixers keep mixing it louder and louder as the theatres keep turning it down. It is a never ending game. Some places it sounds loud, in some just right and in some places very low. I haven't found a solution to this.
A collective effort by all the sound designers in India and theatre owners can fix this. Not just with sound, even the colour grading. What you see in the colour grading suite is not the same what you see in the theatres. Only in a few high end well maintained theatres, it is great.
You were trending on Twitter recently. What was that about?
(Laughs). It was the announcement of a project called Woolfell which is a animated film being directed by Hari, a first time director. He happens to be late MR Radha's grandson. He connected with me through a mutual friend.
What are your other projects?
I just finished The Jem and the Holograms in Hollywood. It released in the US recently and should be out in India by December.
Currently, I am working on an Indie film called Model Home and will be starting an amazing web series by Adi Shankar, an American producer.
Apart from Kamal Haasan, does no one else approach you for audio production in India?
A lot of them keep talking to me, but the budget does not permit them to go ahead. It costs Rs 40 lakhs, almost four times the cost in India. Not all Indian producers can afford that, just for the sound.
Why haven't you worked on any Hindi film yet?
I am yet to break into that market. Hopefully, RS Prasanna's Hindi remake of Kalyana Samayal Saadham will take me there. I haven't been pursuing that market at all.
Most of my contacts are in the south of India, especially after Kamal Haasan's films and since he mentions my name often, a lot of people have heard about me and they approach me.