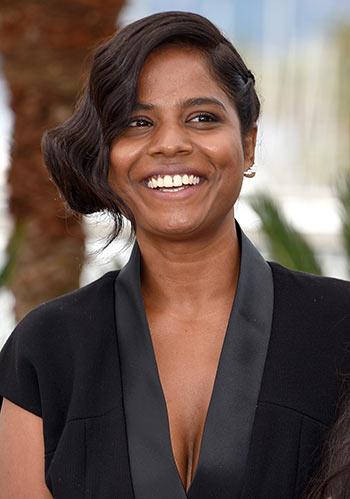 Chennai-based theatre artist Kalieaswari Srinivasan was the female lead in the French film Dheepan, directed by the legendary Jacques Audiard (A Prophet). In the picture (left): Kalieaswari Srinivasan. Photograph: Clemens Bilan/Getty Images
The film made headlines after winning the prestigious Palme d'Or at the Cannes Film Festival this year.
Kalieaswari plays a young Sri Lankan refugee fleeing her war-torn nation, along with two others, pretending to be a family while searching for a better life for themselves.
In this phone conversation with S Saraswathi/Rediff.com, from Paris, an elated Kalieaswari opens up on what it means to be part of a Jacques Audiard film, and her Cannes experience.
Winning international acclaim for the very first film
For me, just being a part of this entire experience of working with a director like Jacques Audiard, in a beautiful film like Dheepan, with a fantastic crew and extremely supportive co-stars is something I will cherish forever.
Working in this film has changed me. I have evolved both as an individual and as an artist.
I feel very happy that the film has won so much international acclaim.
But even otherwise, this film was huge for me. At the risk of sounding philosophical, as an artist I believe that every work that is done with integrity is a magnum opus.
All that matters is that you work with integrity. Frankly, I am a little cautious of acclaim.
Getting the opportunity
The casting director came down to Chennai to look for people for the role.
They were looking at actors, non-actors, or people with some Sri Lankan background. In fact, the hunt was on in Paris, Colombo and London, as well.
I got this opportunity through my friend Kumaran Valuvan, who also has a theatre background, and Seema, another close friend.
We had an audition and after about a month, I was informed that I had been selected for the role.
Working with Jacques Audiard
After the audition, I watched his film A Prophet and was simply awed.
Jacques is constantly creating. He and two others worked on this script for almost three or four years.
A lot of research was involved and the detailing for everything –shoes, clothes, accent, body language - was unbelievable.
Once we were signed, we were entrusted with the complete bound script outlining every aspect.
The best part is that it did not stop with just the scripting; the film evolved with every scene.
We improvised every day, sometimes working with a number of variations of the same scene.
Everything was well-planned and organised. We had rehearsals. We knew what was required of us almost a month in advance.
Preparing for the role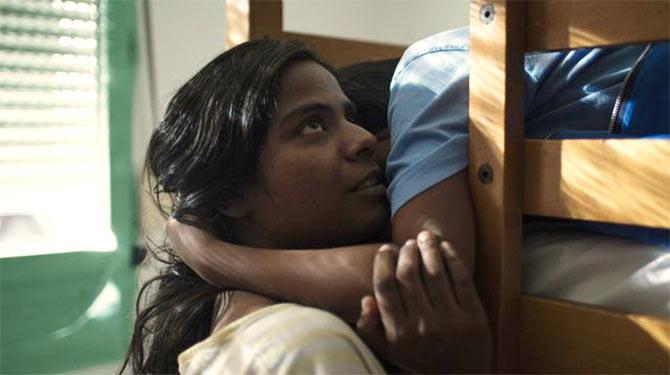 Image: Kalieaswari Srinivasan in Dheepan
Making the transition from theatre to feature film is never easy.
Until you are in front of the camera, you don't really know what it entails. I don't think you can actually prepare for it.
As for the role, being an Indian, initially I had to work on getting the language and diction right.
Fortunately for me, my co-star, Jesuthasan Antonythasan, a Sri Lankan refugee himself, was a huge support. I also had some help from someone at a refugee camp here in Chennai.
There is definitely a certain amount of preparation involved. But eventually you surrender; you let the story and the director take over.
And then, automatically, things begin to happen. You feel what the character feels, you laugh, you cry, you go beyond and become one with the character.
Expectations
Jacques Audiard is a big star in France; he is considered the pride of French cinema.
The French President himself called to congratulate him on the award.
He has won two César Awards (the National Film Award of France) and his film A Prophet won the Grand Prix at the Cannes Film Festival in 2010.
Though this is his first Palme d'Or, his previous film, Rust and Bone also competed for the award at the 2012 festival.
People have certain expectations from his films. So, yes, we always knew that the film did have a lot of potential.
The red carpet experience
Image: Jesuthasan Antonythasan, Kalieaswari Srinivasan, Claudine Vinasithamby and Jacques Audiard. Photograph: Pierre Suu/Getty Images
To be very honest, my predominant thought at that time was that I hope I don't trip and fall! I am not really a high-heel person.
But that aside, being on the red carpet at Cannes is truly a royal feeling.
In the olden days, you probably had to be a king or queen to get this kind of reception.
Walking with the director and the rest of the cast, as the crowd cheered and went crazy, was an incredible experience.
But what keeps you grounded even in the midst of all the glitz and glamour is that you are there to showcase your work.
The standing ovation
I was too emotional with the movie at that point, and the standing ovation just added to it all.