'If you look at peacekeeping right now, it is fraught with accusations of sexual abuse or peacekeepers involved in deals that are outside their purview, human trafficking.'
'When a contingent of women walk through a camp, the women in the camp and the children respond to them, talk to them. Women are more open to talking about sexual violence and domestic violence to other women.'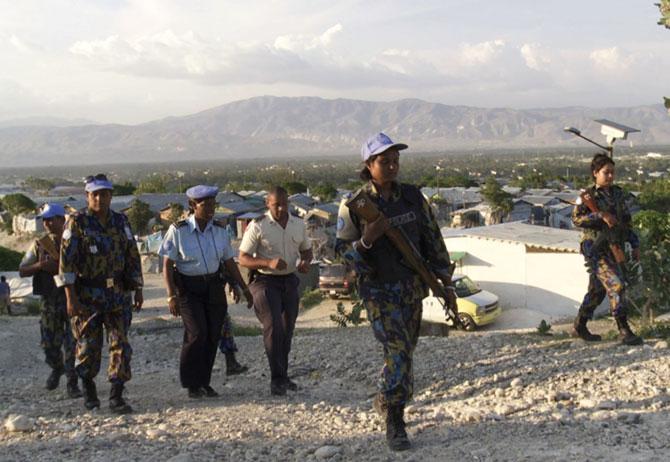 As South Asian women documentary filmmakers, Sharmeen Obaid-Chinoy (she's from Pakistan) and Geeta Gandbhir (she is from India) have covered varied topics. Obaid-Chinoy has won an Oscar -- the only Pakistani to ever win one -- for her short documentary Saving Face.
A few years ago they both collaborated on an unlikely subject -- following a group of Bangladeshi policewomen who serve as United Nations peacekeepers in post-earthquake Haiti, a country fraught with political and social turmoil.
A Journey of Thousand Miles: Peacekeepers had its world premiere at the Toronto International Film Festival.
Aseem Chhabra/Rediff.com spoke to Obaid-Chinoy and Gandbhir in Toronto about the making of the film which starts in Bangladesh, then heads to Haiti and finally ends in Bangladesh.
I am very curious about how this project came about. Sharmeen, you live in Karachi now and sometimes in New York also.
Sharmeen: Yes I do, but I am in Karachi more so.
And where do you live, Geeta?
Geeta: I am in New York.
How did you both land up in Bangladesh? How did you hear this story?
Geeta: Sharmeen and I have always crossed paths. We are in the same field and know each other's works. We met again at the Academy Awards where we each had a film in contention. She had Saving Face and I was the editor on another nominated documentary short God is the Bigger Elvis.
We knew we wanted to collaborate on a project. I had heard the story of Indian women who had been deployed as UN peacekeepers to Liberia. And that rotation had been happening for 10 years.
I approached Sharmeen since this was such a great story about women from our part of the world defying stereotypes.
We approached the UN and we learned about another contingent -- this time Bangladeshi women in Haiti. And the angle of Muslim women seemed even more incredible.
And the UN was okay with you both making a film on this subject?
Sharmeen: The UN was very supportive. They gave us the access that we needed. The Bangladeshi police force had to give us access and visas, and allow us inside their set-up.
We didn't know how the film was going to turn out and what the characters were going to be like. But we wanted to tell the stories of the women who choose to travel, to go half the way across the world for a year, leave their families and their children, what impact that had on them and on their families.
So you both landed in Bangladesh?
Sharmeen: We divided up our work load. Because Karachi-Dhaka is much closer, I went initially and filmed over there with the women. Geeta and I would consult back and forth about the stories we wanted to tell. We narrowed down from 160 women to a manageable number.
When the women went to Haiti I traveled with them and then Geeta took over.
I assumed someone is in the plane because you do shoot the women sitting in the plane.
Geeta: So basically I did the reverse. I filmed in Haiti, then I got back on the plane and went back with them to Bangladesh.
Sharmeen: And I was waiting for them in Bangladesh.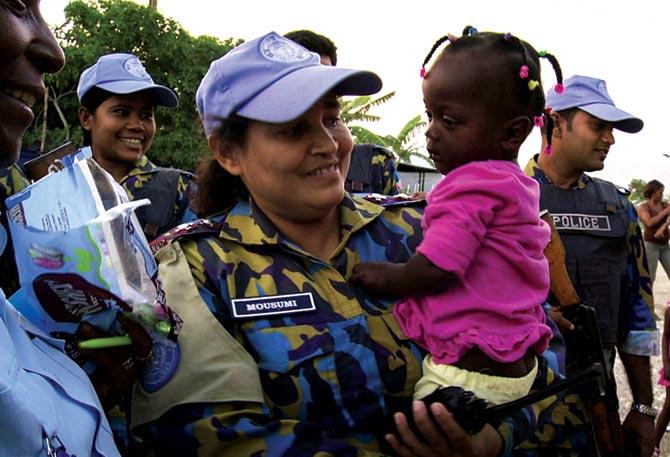 How easy was it for the women to talk to you? And not just the women, but the mothers-in-law and the husbands and even children. Do you both know Bengali?
Sharmeen: First of all, let me say that all of them understand Hindi because of the power of Bollywood. But we also had fabulous Bangladeshi field producers who were the backbone of the film.
Geeta: And even when we could communicate with the women, the field producers would translate, communicate. They did so much. And after all as a documentary filmmaker you want them to be comfortable with you and forget you.
Was it easier that you both were South Asian?
Sharmeen: Look we are women and our field producers were all women. All of us have the same ways of approaching things -- whether we are Indian, Pakistani or Bangladeshi.
When they looked at us we were not some foreigners who had come to tell their story.
Also my father was raised in East Pakistan and he is completely fluent in Bengali. I don't speak it, but I grew up listening to it and it is familiar to me.
The women were remarkable. They never asked us to shut off the camera even in some of the trickiest situations. They laid their souls bare.
Geeta: After a while they treated us like family. And they got used to us.
Geeta, you mentioned that after a while the camera becomes invisible to them. In India if you take a camera the kids will stare at it. I was amazed at how comfortable some of the kids were, that they were oblivious to your presence in their homes.
Geeta: We were like the aunties to them. We would show them the camera and then they would forget about us and focus on their games. And we would make sure not to interrupt them.
Another thing that surprised me was when the women leave for Haiti and the bus takes them to the airport. The husbands are kissing them, holding their hands, crying. When did South Asians start to express so much of public display of affection? And in a Muslim country.
Sharmeen: I will never forget that moment. I remember standing there and thinking, this scene defies every stereotype you have about South Asian, South Asian women and men. Women going off, men holding babies, waving goodbye, crying.
Geeta: This scene and others defied the stereotypes of Muslims. The women are the focus, but you see the husbands who seem to have a very egalitarian relationship that is never showcased otherwise.
There are so many incredible characters. The woman who sings often with her group, her son is going to a madrassa. Whose decision was that?
Geeta: The child himself wanted to go to the madrassa. And the community she comes from is quite conservative. The mosque has a real presence in their community.
When did you shoot the film?
Sharmeen: We started in 2013, all through the way into August 2014.
Sharmeen, meanwhile you were also making Song of Lahore?
Sharmeen: Yes!
Geeta: We both had multiple projects going on. I have just finished a film about rehabilitation of prisoners in the US. At the same time I was directing and editing Remembering the Artist: Robert De Niro Sr, the documentary for HBO.
Sharmeen: Geeta was also directing the short series for The New York Times on race matters called The Conversation.
Sharmeen, the last three films of yours I have talked to you about, you have collaborated with someone else.
Sharmeen: Film is a collaborative process. I have just finished a film for HBO. It's on honour killings in Pakistan. But this kind of film, neither one of us could have made without the other.
Geeta: It was huge and time consuming. It took three years. You need a partner.
Sharmeen: When she couldn't go, I could go, or vice a versa. It's also about using our resources to raise money to promote the film, distribution. Otherwise, it is very hard.
This question that is often asked of filmmakers -- have your subjects seen the film or are you planning to show it to them?
Sharmeen: Yes, we plan to show it to them. We just finished it the day before it was to be screened at TIFF. We will be showing it to them and also in Bangladesh to future women who are planning to go on the missions.
What about the UN teams?
Geeta: They have seen it. And they were very supportive. It took us time to get through the door. We showed it to the key people who had okayed it and they actually had tears while watching it.
They felt it was a true story and a human story. The UN has a mandate to bring more women into peacekeeping forces and they felt it was a great tool for them.
But we were very clear from the beginning that this was not going to be a promotional film.
Whatever happens, it will happen and they will have to agree to that.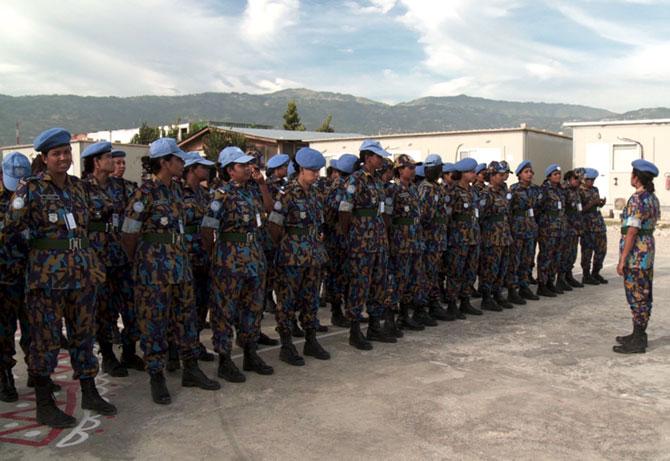 Why do you think UN wants to put women in these difficult situations? Indian women in Liberia and that is such a tough country as well.
Sharmeen: It's been said that women make very good peacekeepers. If you look at peacekeeping right now, it is fraught with accusations of sexual abuse or peacekeepers involved in deals that are outside their purview, human trafficking.
Women just balance that completely. When a contingent of women walk through a camp, the women in the camp and the children respond to them, talk to them. Women are more open to talking about sexual violence and domestic violence to other women. They don't look at them as outsiders or an invading army.
Women by virtue of being women do that.
And men bring that fear, especially foreign men.
Sharmeen: Exactly. And so the UN is encouraging more women to be a part of its peacekeeping forces.
Geeta: There is also the issue of women from traditional backgrounds. They do not tend to get drunk. They are focused on doing their duty and earning money for their families.
Obviously when you started making the film and that happens with all documentaries, you do not know how it is going to end. What surprised you both about how the story shaped out?
Sharmeen: For me it was interesting that not only the film had an arc, but each character had her own personal arc. As a filmmaker that's hitting the jackpot.
You can contrive the story, but the personal growth of each character, that's very rare. All of the characters have some sort of a realisation in the film or something that changed them and their families.
And also the men. I have to say that the Bangladeshi men really shocked me, just in terms of how they are okay wearing their lungis and sitting around, cooking for the kids. They shattered all our stereotypes.
Geeta: I think we chose to make a verite film, an observational film. The women's lives told the stories. I was very impressed by how resilient these women were.
Through all the odds, they come across as very practical. They are like soldiers. They feel it is their duty and they must carry it out. And they did it with grace and integrity.
I feel like I learned from that. And I thought, if they can do this, then I can finish this film.