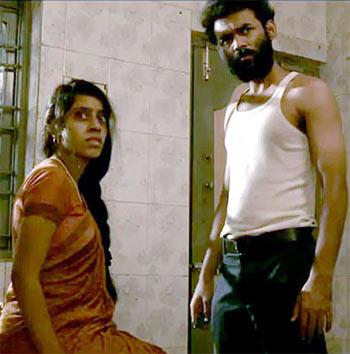 The National Award for the Best Tamil film this year went to Kuttram Kadithal (The Punishment).
The film was directed by debutant Bramma G and produced jointly under the JSK Film Corporation and Chris Pictures banner.
Bramma has more than 15 years of experience in stage production. He has written and directed more than 500 street plays, stage performances and monodramas.
He is also known for his PSA's short films and documentaries.
In this interview with S Saraswathi, the elated director opens up on his passion for theatre, what inspired his film, working with theatre artists and his future plans.
How did you feel when you heard that your film had won the National Award?
I was actually riding my bike when the National Awards were announced!
My editor, who was watching television, called to give me the news.
I was so happy. But the moment I heard the news my phone went dead as there was no charge and I could not call anyone.
I didn't even know for which category it was selected.
I rushed to the production office where I was told that we had won the award for the Best Tamil Film. The whole team was overjoyed.
What makes this honour even more special is that we are newcomers in this industry and today we are the talk of the town.
The film has been internationally acclaimed. It was the only Tamil film to be screened at the Indian Panorama last year. And now the National Award... it feels wonderful.
I feel I should continue doing good movies, socially sensitive movies.
Winning the National Award for my first film is a huge motivating factor.
Tell us a little about the film.
The film is about people from different walks of life and their reaction to a particular incident.
How the social identity of an individual influences his/her reaction to a situation forms the essence of the story.
Kuttram Kadithal is a 24-hour roller-coaster ride that begins at 7 in the morning and goes on to 7 the next morning.
Does the title translate to 'The Punishment' in English?
Kuttram Kadithal is actually the 44th chapter of Tirukkural.
It can be interpreted in two ways; one is avoiding your mistakes and the other is to punish or to condemn the crime.
The relevance to the film is more on the lines of punishment for the crime.
The audience will understand its significance when they watch the film.
Was the film also inspired from Tirukkural?
It was only the title that was inspired from Tirukkural. Our film had such a unique story line that I don't think we could have found a better title.
The credit for the story should go to all the experience I have gained over the years in theatre.
For over 15 years now, I have been involved in numerous plays, street theatre and stage dramas, working with government and non-government organisations.
It was a mixture of all these things, all the people I have met in this extraordinary journey – the underprivileged youngsters, women, children, transgenders - and the thousand stories that made them who or what they are that has inspired this film.
Most importantly, these are the stories that remain untold in Tamil or Indian cinema.
I was sure that besides being an eye-opener for a lot of issues, these stories will also have mass appeal.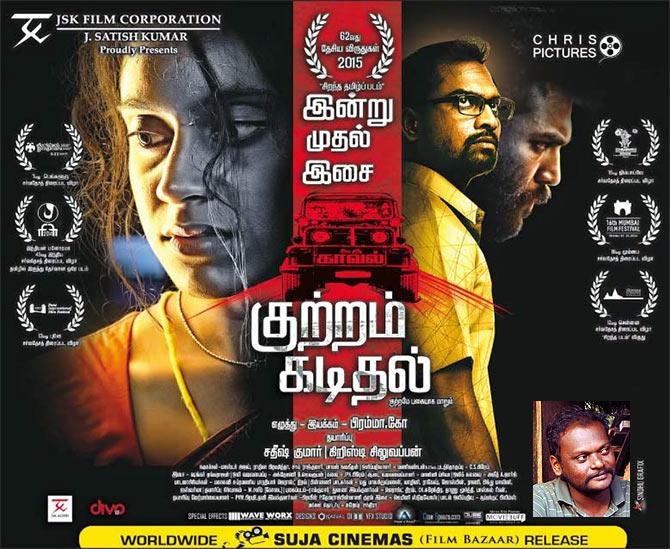 Image: Movie poster of Kuttram Kadithal. Inset: Director Bramma G
With over 100 years of cinema, why do you think these stories still remain untold?
I don't think we can blame anyone for this. Over a period of time there was this culture where people wanted to make movies by just watching some other movie.
Instead of thinking of characters from real life or taking characters from our rich literature, they preferred to ape other films.
Eventually, we reached a stage where conversion of literature to cinema reduced significantly, while conversion of real life to cinema was almost zero.
Now, I think, in the past five or six years, the culture of bringing literature to cinema or real life to cinema is slowly increasing.
You mentioned that your film will appeal to the masses...can mass appeal and critical acclaim go together?
To be honest, Kuttram Kadithal was targeted at the common audience in Tamil Nadu.
It just happened that before getting to the theatres, it went to a lot of international film festivals and got a lot of applause.
How did JSK Film Corporation and Chris Pictures get involved with the project?
Chris Pictures produced the film first. Christy, the producer, has been a friend for many years. We have worked on a lot of theatre performances together.
One fine day he felt that I was good enough to make a feature film. We started working on the film and midway, we showed the first copy to Sathish Kumar of JSK Films.
He was so happy with the work that he immediately agreed to join us.
It was his vision to take it to international festivals first and then go for a commercial release.
Did you want to work only with theatre artists?
The performance was a priority for me.
Since the idea, the content and the script were so realistic, I wanted very realistic performances.
What is portrayed in the film is something that happens in my house or your house or in any neighborhood.
I wanted to give a picture of complete reality. For this I felt that theatre artists would be the perfect choice.
Theatre performances are highly exaggerated. They are designed so that even audiences sitting in the last row can hear and see the character.
So I feel that a theatre person can definitely do better in front of the camera. It simply means bringing down the tempo and the acceleration of the performance.
I have been working with them for a very long time, so I know and understand how they work.
Master Ajay, who essays one of the characters, has previously worked with me on several stage shows.
He is from a government home in Royapuram and is so charming that the audience love him. I knew he would be able to do justice to the role.
I have knownNikhila Kesavan for years. She is a writer and director herself.
She adapted and directed Chetan Bhagat's Five Point Someone for The Madras Players.
Radhika Prasidha, Sai Rajkumar, Pavel Navageethan and Kulothungan Udayakumar are well known in theatre circles.
How did your experience with theatre help in the making of the film?
Scripting is usually a major challenge. But since I have written and directed more than 500 street plays, stage performances and monodramas, I found it relatively easier.
I made ad films early in my career and I think that also helped.
Another huge advantage was my personal acting experience. I have acted in many stage shows and won the National Championship for mime during my college days.
I studied at LoyolaCollege and I used to represent MadrasUniversity at inter-university competitions.
I have been involved in so many different aspects of theatre for so many years that it was easy to make the transition to mainstream cinema.
Will you continue to make mainstream films?
Yes. Now I see a bigger audience for what I want to express. In theatre, it is a much smaller group.
There has been so much recognition for my work. It is very encouraging.
Some opportunities have come my way. Hopefully by the time the film gets a commercial release, some time in May, I will be able to give you more details.