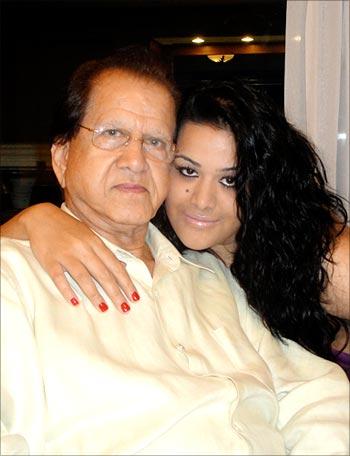 Cancer seems to dominate headlines these days. While actor Patrick Swayze succumbed to pancreatic cancer, Lisa Ray is battling hers, a rare form of cancer.
So it makes sense to know more about the disease, and that is what the Nargis Dutt Memorial Foundation is all about. "It has done a lot of good work but we can surely do much better," says the New York chapter president Kailash Sharma.
"I have been associated with this organisation for over 27 years and I want to make it appeal to the second and third generation," he said.
Sharma's daughter Richa was married to Sanjay Dutt and had died of cancer. Sanjay's mother Nargis Dutt had also died of cancer.
Now Sharma hopes his granddaughter Trishala, who is studying criminal law in New York, will become a pillar of the organisation.
In the meantime, the Foundation is holding a fund-raiser and fashion show on September 20, at Marriott Long Island, with Dharmendra as the chief guest. His sons Sunny and Bobby Deol are also expected to attend the event, as is Pooja Batra.
The fund-raiser offers Sahil's Timeless Fashion show, a tribute to the energy and styles made famous by Moulin Rouge in the early decades of last century.
"Fund-raisers are fine," says Sharma, a successful contractor in New York. "They help us raise some money and bring our community together. But we ought to approach the corporations and get substantial money for our cause."
"The show perfectly captures the excess and frenetic atmosphere for which the Moulin Rouge was famous and evokes an era of opulence to the hilt," says Shruti Vyas whose firm MediaSphere has designed the event. "We decided not to do the conventional fashion show but create a vibrant show in an intimate milieu this year."
About 500 guests are expected at the event.
"My excitement knows no boundaries. If my collection can bring a smile to a few deprived faces, then I am all for it," says Sahil. A modern-version of Can-Can dance is being choreographed by Rujuta Vaidya, who choreographed with legendary Hollywood artist Fatima Robbins, the Slumdog Millionaire dance numbers at the Oscar ceremony.
The Nargis Dutt Cancer Foundation was established in 1981 as a non-profit and charitable organisation committed to improving medical care in the Indian subcontinent. It supports the advanced training of physicians in the diagnosis and treatment of cancer, purchases medical equipment in the USA and donates it to those who will use it most effectively in India for the treatment of poor cancer patients.
In 1981, Sunil Dutt established the first Nargis Dutt Memorial Foundation in New York. Since then it has added nearly a dozen chapters across the world with their main office in Mumbai.
"There is tremendous of good will in our community for Nargisji and (Sunil) Duttji," Sharma says. "We ought to capitalise on it. There have been times when this organisation has been hurt badly because of the infighting but if we look at the overall objective of this organisation and pause to think of poor people in India who do not have access to good medical aid, we can easily put our own personal agendas behind us."
Image: Kailash Sharma and his grandaughter Trishala Dutt