'Once The House Next Door becomes a hit, this will become the reference point instead of Baahubali.'
Yes, Siddharth is very, VERY confident about his latest film.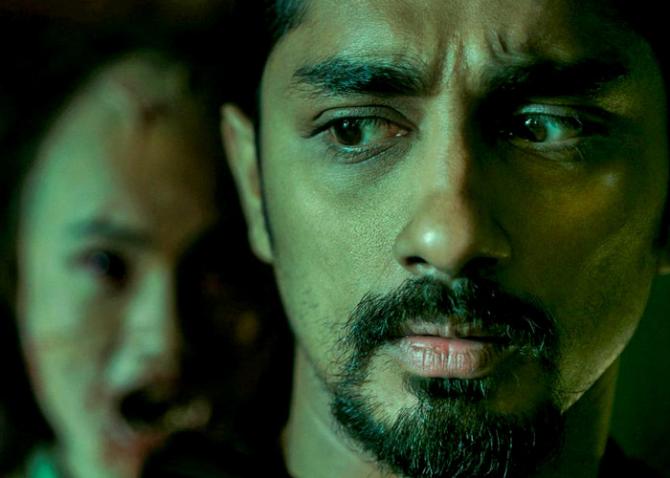 IMAGE: Siddharth in The House Next Door
Want to watch a good horror film this weekend?
Go for The House Next Door, releasing November 3.
Actor Siddharth, best known in Bollywood for his terrific role in Rang De Basanti, promises that his latest film will set a benchmark as far as the horror genre is concerned.
The film has been made in three languages and is called Avval in Tamil and Gruham in Telugu.
Siddharth is deeply involved with the film as he has written it, acted in it and co-produced it.
He tells Patcy N/Rediff.com why The House Next Door is the best Indian horror film you will ever see.
Why did you decide on scaring people this time?
I love getting scared and I love scaring people.
This genre fascinates me. I grew up watching horror films, mostly made internationally.
Over the last few years, we have been wanting to make India's scariest horror film and this was my chance. I have produced the film as well because I did not want to dilute (the scares). I wanted creative freedom to make the film exactly as I wanted.
Which is the best Hindi horror you have seen?
I am a fan of Ram Gopal Varma's films like Bhoot and Raat.
Other than that, there aren't too many (good) films here.
My director Milind (Rau) and I are huge fans of the genre and have taken inspiration from South Korean and Japanese horror films as well as Hollywood.
I grew up watching The Omen and The Exorcist. Milind's technology is strong.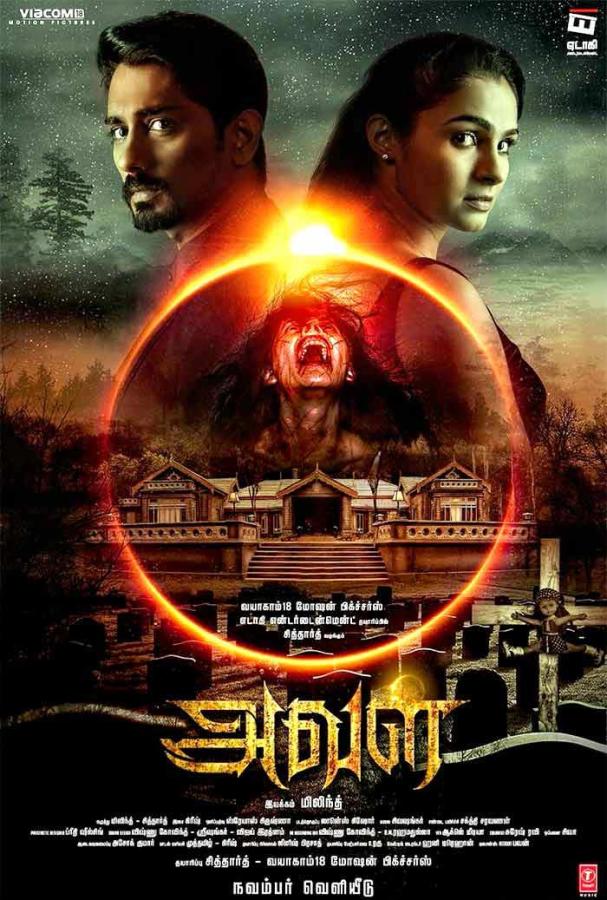 IMAGE: A poster of The House Next Door
Preetisheel Singh has done amazing prosthetic make-up for the film.
Preetisheel is brilliant. I'm so glad we got her!
We had a National Award-winning technician on our side and we designed a look that hasn't been taken from another film.
We have tried to create the first unique horror film.
What is The House Next Door about?
The story is about a neurosurgeon and his wife, who live in the foothills of the Himalayas.
They get new neighbours, including a teenager named Jenny D'Costa. What happens to her is the base of the film and that completely destroys the surgeon's wife's life.
It is a rational, scientific film as well as a paranormal film. It will appeal to people, who believe in the supernatural as well as people who believe in rational, scientific thought.
How much do you think it will help your career in Bollywood?
This film will open up the genre. The next time somebody tries to make a horror film, this will be a benchmark. More and more young filmmakers will make horror films after this.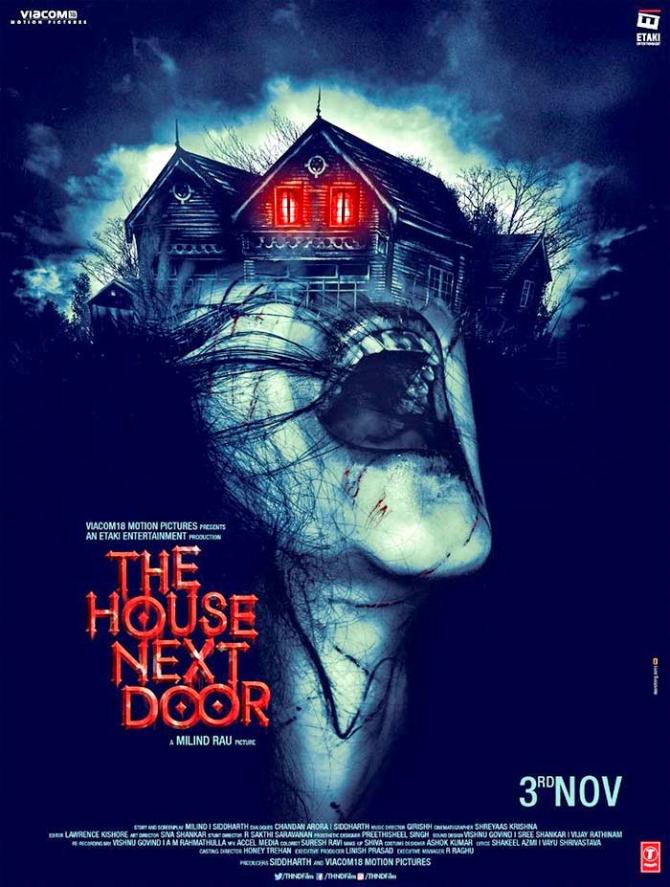 IMAGE: A poster of The House Next Door
The House Next Door is stated to be based on a real incident.
Yes. A true incident started this discussion and then, obviously, we have fictionalised it. Like, The Conjuring is said to be based on a true incident even though it doesn't give you any evidence that ghosts exist.
It is as same as making a film about God. You cannot prove God exists, yet people watch devotional films and they are said to be based on true stories.
Indian horror is still not at par with Hollywood. Why do you think we can't match up?
Horror films are very difficult to make.
I don't get scared easily, and that's why you cannot judge whether it is scary or not until you finish it.
In other films, you can judge on the editing table but, on this, you have to finish the VFX, the sound and everything; only then will you know whether it works or not.
We tested this film on an audience of 200 people and the result was fantastic. So we know we made a good film.
The only thing that scares me now is how to get people into the theatres.
After Rang De Basanti, Striker and Chashme Baddoor, we haven't seen you in Bollywood.
Yes, this is my fourth Bollywood film.
Everybody asks me why I'm not doing Hindi films... either I have to wait for somebody to give me a good film or I have to make it myself. So, I have made one myself now.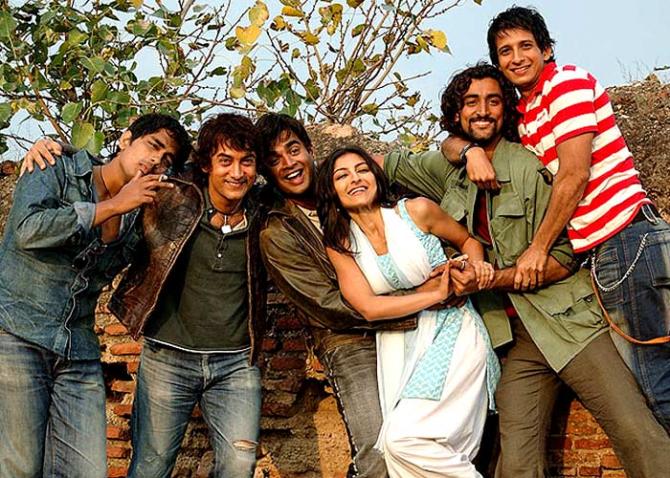 IMAGE: Siddharth with the cast of Rang De Basanti --Aamir, R Madhavan, Soha Ali Khan, Kunal Kapoor and Sharman Joshi.
Are you saying you are not getting good opportunities in Bollywood?
I have been getting better work in the south.
It is difficult to act in two places at the same time.
Since the dubbed versions for the Baahubali movies did so well, do you think there is more scope for south films?
I have been saying this more than 10 years -- pan Indian cinema must happen but there are people who don't want that. They want to divide Hindi from Tamil and Telugu.
The way the technicians travel (through film industries), actors will be doing it too.
Do you think filmmakers in the south will start shooting their films in Hindi as well, instead of dubbing them like Baahubali?
You are asking this question to a person who has already done that.
I want to inspire people but, for that, this film has to work.
Once it becomes a hit, this will become the reference point instead of Baahubali.
This film has been written and shot in Hindi, while Baahubali was dubbed in Hindi. There is a big difference.
Which of your films have really taught you something?
The films that matter to me the most are those that nobody saw. So, if you see my filmography, the least five successful films are the ones that have impacted me the most -- the misunderstood children are the ones you really feel bad about.
A lot of people live in the past but I don't even watch my own films. I start working on the next.
When somebody asks me about my past films, I have to really think.
I came in as an AD (assistant director on Mani Ratnam's Kannathil Muthamittal) and I have learnt something with every single film.
I have possibly learnt from The House Next Door the most, as I have co-written, co-produced and acted in it.
You're a trained singer; why didn't you sing in it as well?
My composer is very angry with me because I have not sung in it. But I am doing too much on this film. I will sing in the next one.
You did a lot of work during the Chennai floods. Are you continuing your efforts?
I am not a philanthropist. I am a regular person who works in cinema. When somebody needed me, I was there. But that's not my job.
In India, the moment you do one thing, you are labelled.
I am definitely not a social activist. I am just a struggling actor and producer.