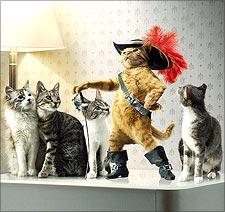 Long before he even meets Shrek, the fighter, lover and rebel Puss in Boots (Antonio Banderas) becomes a hero when he starts on an adventure with the tough and street-smart Kitty Softpaws (Salma Hayek) and the mastermind Humpty Alexander Dumpty (Zach Galifianakis) to save his town. Puss is pitted against Jack and Jill (Billy Bob Thornton and Amy Sedaris), two outlaws who discover a world-threatening power.

A spinoff prequel to the enormously popular Shrek series, the new animation movie Puss in Boots follows his adventures before his first appearance in Shrek 2 in 2004. The film is also being released in 3D and 3D IMAX.

The new film is also a redemption tale, its director Chris Miller has said. The younger Puss, who, after being tricked into robbing a bank with childhood friend Humpty Dumpty has become a wanted cat, wants to rehabilitate his image. 'He's searching for a way to clear his name and wash away the sins of his past,' Miller has explained in interviews.

Miller, the writer on three (out of four) Shrek movies, and who also directed Shrek 3, is the creator of the new film. The four Shrek films have grossed over $2.5 billion in theatres worldwide for Steven Spielberg's DreamWorks company. In addition, the movies have grossed over $1 billion in DVD and Blu-ray sales, product placements and games.

The new film arrives in American theatres which last week saw the awesome $62 million week for the ultra low budget ($5 million to make and some $100 million to market) horror film Paranormal Activity 3. Worldwide, Paranormal has grossed over $95 million in its first week, with many territories to open this week.

Puss in Boots could open to a healthy $45 million in North America on the weekend. It is being released on Friday in some 3800 theatres and some 5500 screens in North America. It could also become the No 1 film in the world in a couple of weeks. It is expected to be very big in South America and Spain where Banderas and Hayek have a big following.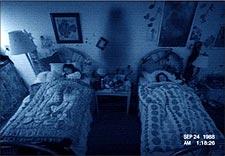 The Shrek films, like the Harry Potter series, are enormously popular abroad. Most Hollywood films earn about 150 per cent of their grosses in North America. Shrek films make three times the money abroad.

'I know him pretty well,' Antonio Banderas said of his character in an interview with Entertainment Weekly. He has voiced the cat in three previous feature films and four shorts, and has done so in English, Italian, and two versions of Spanish.
'Antonio is the encyclopaedia of Puss in Boots,' Miller has said, adding that the Spanish actor even wanted to tackle the movie's Japanese dub.

Hayek makes her sixth collaboration with Banderas, who told EW that seldom do other actors join a colleague when he or she is recording his or her lines. But he asked for a recording with Hayek to heighten the impact and the studio arranged for it.

The early reviews for the film are welcoming, even though the audiences, particularly abroad, rejected the critics of the last Shrek film giving it a terrific $750 million worldwide gross. Kids welcomed the film with plenty of applause at recent screenings in New York.

'The franchise reboots anew here, if you'll pardon the pun, with great energy, creativity and aplomb,' wrote the critic Christy Lemire. 'This spin-off is actually a prequel, providing the origin story of the diminutive, swashbuckling kitty voiced with great charisma, as always, by Antonio Banderas. The role has been an ideal showcase for Banderas to have a little fun with his suave, sophisticated image; he revels in Puss's playfulness and faux bravado as well as his genuine courage and heart.'

While Banderas will be seen widely across the country as the spirited feline, you will also find him in a few dozen art houses where the intense psychological Spanish drama The Skin I Live In. is drawing sophisticated moviegoers.