We help the Bigg Boss with his favourite job!
Praneet Bhat washes a mound of dirty dishes.
Gautam Gulati turns boot polisher.
RJ Pritam Singh separates rice from wheat in a sack full of mixed grains.
One thing is for sure; you just cannot mess with Bigg Boss.
The faceless mastermind of the reality show, now in its eighth season, scoops up some of the most unique (and extreme) punishments to teach the lazy and stubborn housemates a lesson.
Here are some wicked 'dand' ideas we'd like to propose to the mighty Big B: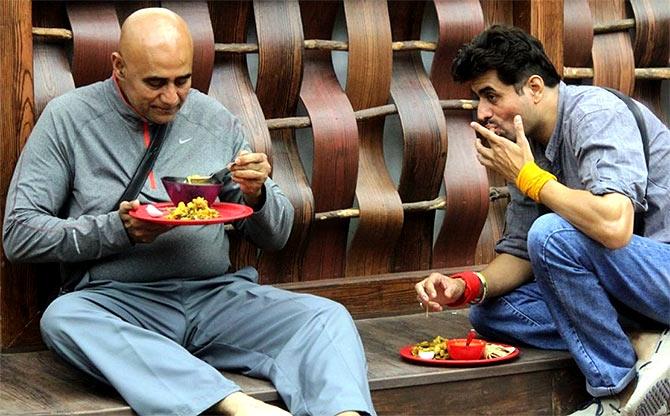 Image: Puneet Issar and Pritam Singh
1. Food is Puneet Issar's greatest weakness. Remember him whining about Minissha Lamba? Now imagine his state if he were made to eat a meal of onions for breakfast, lunch and dinner?
No tea, no snack. Only onions. What say, Pun-eat?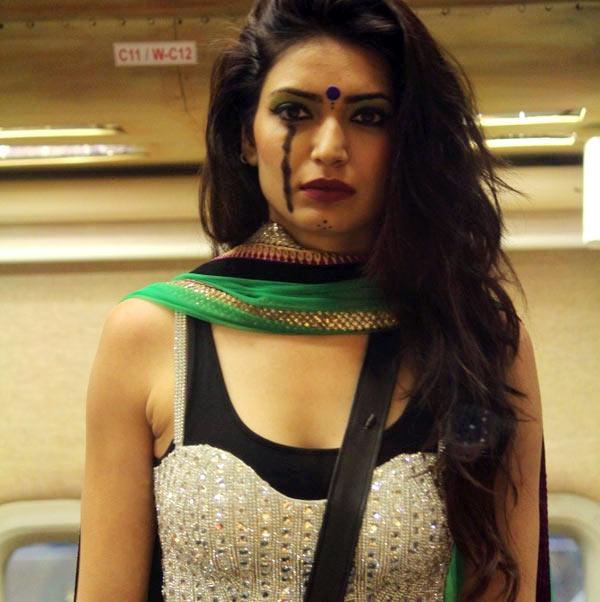 Image: Karishma Tanna
2. Karishma Tanna's infamous fuss over giving up her make-up is a well-known fact.
What we'd like to see is how she takes the punishment of sitting in that see-through booth and apply nail paint not 5 or 10 BUT 100 times using 100 different shades of nail polish and then taking it off with a remover every single time.
Tips. And toes.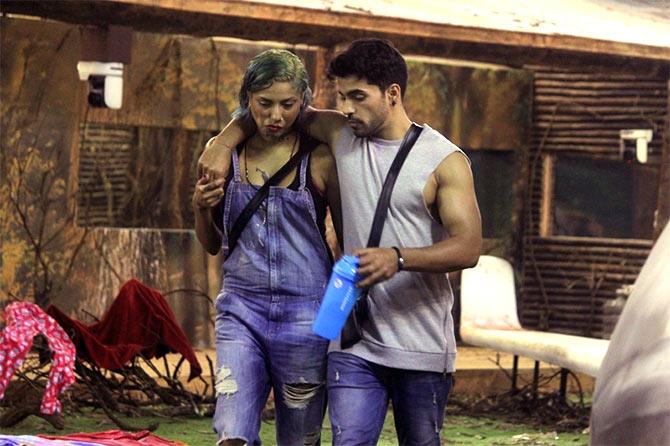 Image: Diandra Soares and Gautam Gulati
3. Diandra rather enjoys giving Gautam a flirty massage every now and then. Bet she'd feel differently if she had to spend the next several hours massaging every single contestant in the house?
Not so giggly now, eh Ms Pink Panther?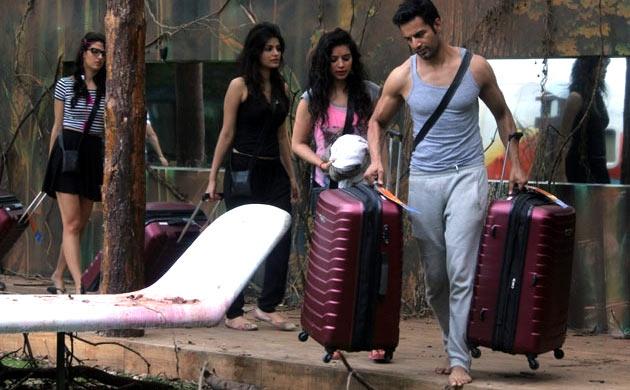 Image: Upen Patel
4. Now this would be torture for both Upen as well as the housemates.
Imagine if Bigg Boss penalised the starlet for his incessant English usage by asking him to read one-hour worth pages of shuddh Hindi text in front of the entire house?
Whoever doesn't take him seriously is "agle hafte ke liye seedhe seedhe nominated."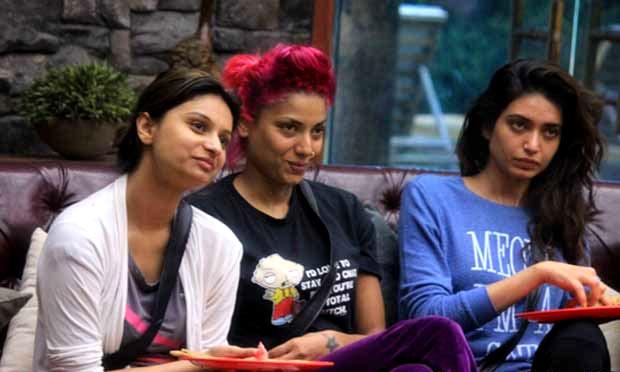 Image: Dimpy, Diandra Soares and Karishma Tanna
5. Since Dimpy is so smug about her roti-making skills, we'd like to test how round her chappatis stay if she has to make 100 in one go.
SOS or is it Sonali Oh Sonali?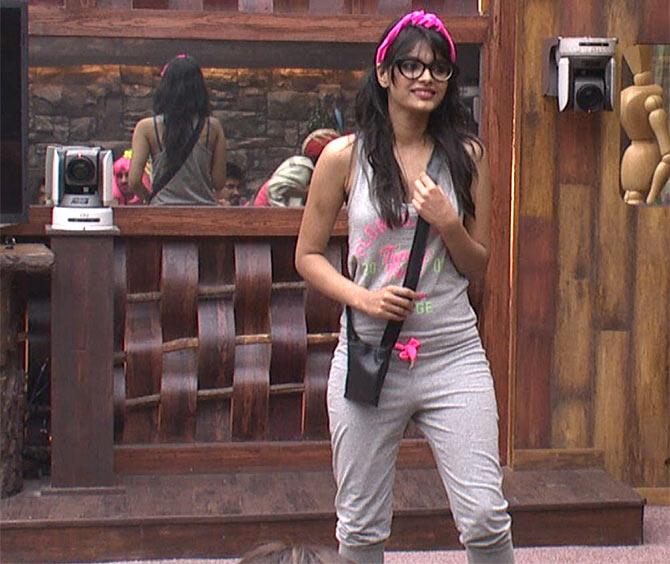 Image: Sonali Raut
6. Considering the amount of attitude she stocks in her petite frame, it is unlikely Sonali will be game to do anything that involves work.
Having said that, the sight of the laziest BB contestant in history ironing a heap of crumpled clothes till done is nothing short of a marvel.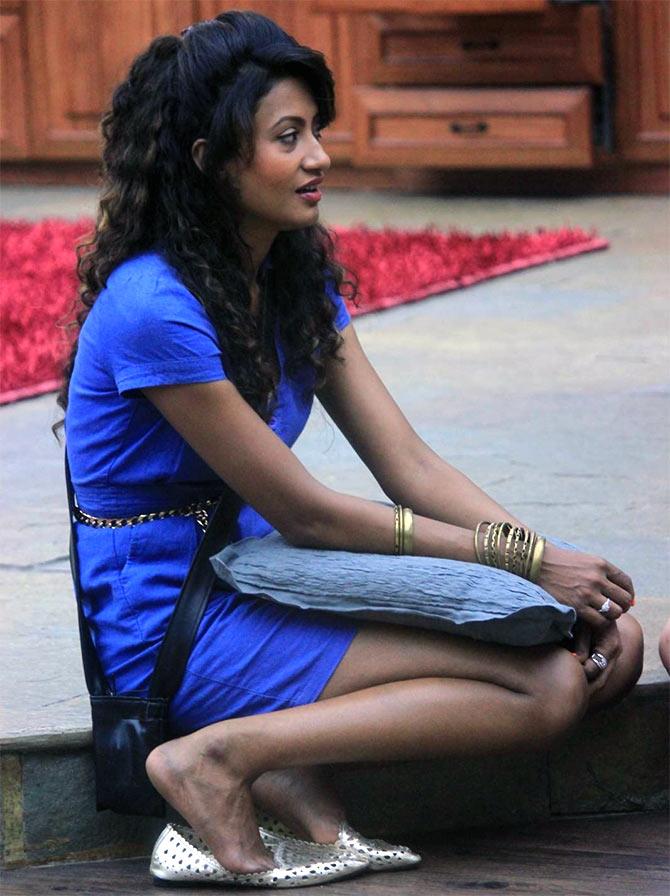 Image: Nigaar Khan
7. Ever since Nigaar Khan entered the house, she's got a negative vibe from nearly everyone thanks to her habit of butting in forcibly into a discussion or argument.
It would be a great learning lesson (and reality check) if she directly learned what's that one terrible habit that the housemates would love to change about her.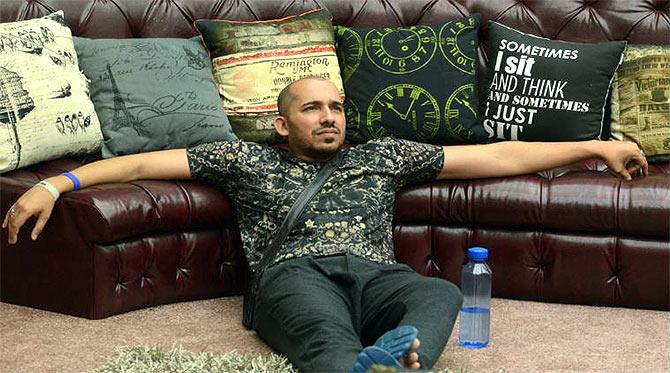 Image: Ali Quli
8. Ali Quli's juvenile antics deserve an equally silly punishment.
Let's see, spending a whole day wearing a specially designed dholki that the housemates can drum up anytime they like till he rues the day he proudly announced he's a "double dholki" in front of the host Salman Khan.