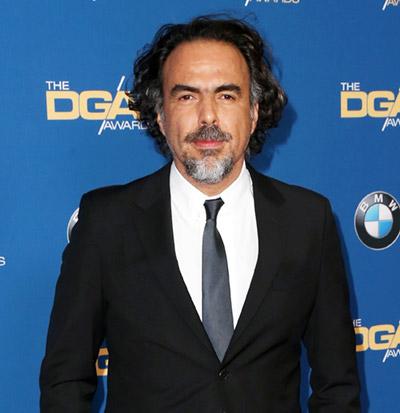 His name is Alejandro González Iñárritu.
Out of the six feature films, Alejandro González Iñárritu has directed, every single one has found its way to the Oscars.
Best Picture, Best Foreign Film, Best Director, you name it, and there's an Academy Award nomination or win linked to his creations.
Presently, his latest offering The Revenant, based on Michael Punke's 2002 novel, is competing in a whopping 12 categories, including Best Director, at the 88th Academy Awards.
And, there's a good chance he may take the trophy home again this year.
Who is this Iñárritu? Why is he hailed as a visionary and one of the finest filmmakers in the world today?
Here is everything you need to know:
Alejandro González Iñárritu and Leonardo DiCaprio at 73rd Annual Golden Globe Awards. Image: Kevin Winter/Getty Images
To begin with, his name is pronounced as Ah-leh-hahn-dro Gon-sah-les Ih-nyar-ee-too. Try saying it a few times and it's not as hard as it looks.
He was born in Mexico on August 15, 1963 to Hector González Gama and Luz María Iñárritu. His father was a banker who started his own business after facing professional setback. Iñárritu has four siblings -- one brother and three sisters.
At the age of 17, following his expulsion from school due to poor grades, he took up a job as a commercial sailor and travelled across the Atlantic to gain experience.
During this time, he read a lot and the existentialist views in writers like Herman Hesse and James Joyce's works left a deep impact on his discerning mind.
After his stint on the sea, he enrolled in Mexico's Iberoamaricana University to do a course in Communications while pursuing his passion for music as radio DJ.
Next, he studied theatre under Polish-Mexican director Ludvik Margule while dabbling in advertising. Did you know he's directed commercials for brands like Coca Cola and BMW?
The itch to do bigger and better led him to screenwriter Guillermo Arriaga.
After they collaborated on their first feature film, Amores Perros, wherein a car crash provides a common link into parallel lives, there was no looking back for Iñárritu who bagged the Critics Week Grand Prize and Young Critics Award at the Cannes Film Festival..
Nominated for the Best Foreign Film Oscar, it lost out to Ang Lee's Crouching Tiger Hidden Dragon.
Interestingly, Mani Ratnam's Yuva is said to take stylistic inspiration from Amores Perros,
His partnership with screenwriter Arriaga bore fruit in their next two star-studded projects: 21 Grams and Babel.
21 Grams, which deals with the aftermath of an accident, fetched acting nominations for Benicio Del Toro and Naomi Watts at the Academy Awards.
Meanwhile, the anthology drama Babel, and the third one in the 'Death trilogy' headlined by stars like Brad Pitt and Cate Blanchett scored six nominations (Best Picture, Direction, Editing, Original Screenplay, Original Score, Supporting Actress) out of which it won only one for Gustavo Santaolalla's rousing soundtrack.
In his review of Babel, late film critic Roger Ebert observes, 'Iñárritu (born 1963) is one of three friends I have taken to calling the New Mexican Cinema, although other names should and will be included. Guillermo Del Toro made Pan's Labyrinth, and Alfonso Cuaron's Children of Men, and with Babel those three titles are among the adornments of recent cinema.'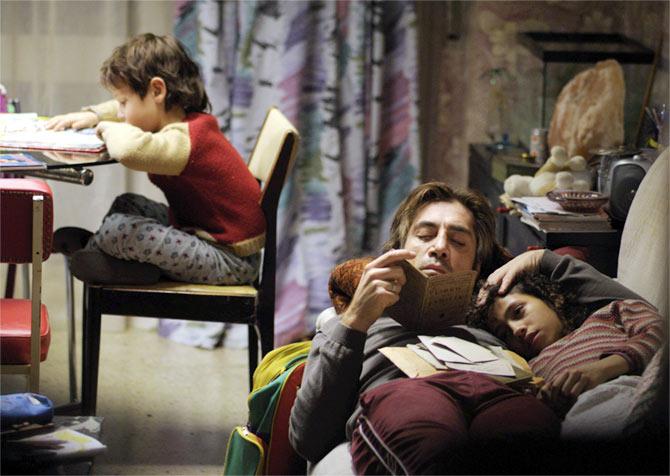 Image: Javier Bardem in Biutiful
Interestingly, Del Toro (Pacific Rim, Hellboy), Alonso Cuarón (Gravity, Y Tu Mamá También) and Iñárritu co-founded a production company called Cha Cha Chá Films, which produced the 2008 super hit Rudo y Cursi directed by Carlos Cuarón (younger brother of Alonso).
After a public fall-out with Arriaga over credit, he came out with Biutiful, where Iñárritu soulfully explores the various degrees of struggle faced by a man diagnosed with terminal prostrate cancer.
In his review, New York Times, AO Scott writes, 'From one scene to the next, as is his custom, Mr González Iñárritu creates a feeling of raw, sprawling intimacy, sentimental conception of fate.'
At the Academy Awards, Biutiful grabbed two nominations -- Best Actor (Javier Bardem) and Best Foreign Film but lost to Colin Firth in The King's Speech and Denmark's In a Better World.
Michael Keaton made a spectacular comeback as a washed out Hollywood hero trying to stage a play on Broadway in Iñárritu's brilliance personified, Birdman (or The Unexpected Virtue of Ignorance), which appears like a single take, through its 119 minutes running time.
Unanimously lauded, Birdman fetched the director a Best Oscar along side Best Picture, Original Screenplay and Cinematography out of its nine total nominations.
If Iñárritu wins a Best Director Oscar for The Revenant, he will be the first director to win two years in a row since Joseph L Mankiewicz. Mankiewicz took away the trophy for A Letter to Three Wives and All About Eve in 1949 and 1950 respectively.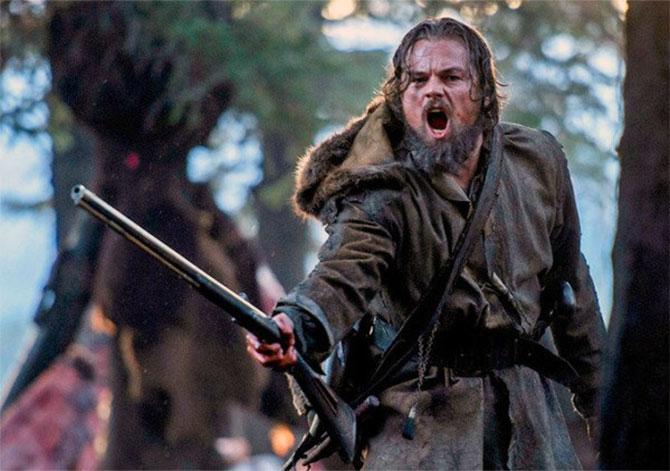 Image: Leonardo DiCaprio in The Revenant
Gael García Bernal, Javier Bardem, Rinko Kikuchi, Michael Keaton, Benicio Del Toro, Edward Norton, Cate Blanchett, Brad Pitt, Leonardo Di Caprio, Tom Hardy -- actors are known to deliver award-winning performances in Iñárritu's creations.
Certainly, Di Caprio is touted to walk away with the long due Oscar for his supreme dedication as frontiersman Hugh Glass in The Revenant (nominated in 12 categories).
That's not surprising given how much importance Iñárritu gives his cast members.
In an extensive interview to AV Club, he explains, 'The actors make the film. They're the ones that take this theoretical movie that's in your head and make it real. The success of a film is entirely on their shoulders.'
Iñárritu is married to editor and graphic designer, María Eladia Hagerman. They have two kids, Eliseo, 18 and Maria, 20.
Not many know he and his wife lost a baby boy, Luciano, two days after his birth owing to medical complications in 1996.
He dedicated his first film Amores Perros to him and 21 Grams to his wife.
In an interview to NY Times, he reveals, the dedication is 'Pues cuando ardió la perdida/ reverdecieron sus maizales,' which is something like, 'For when the loss burns, the green corn is born again.'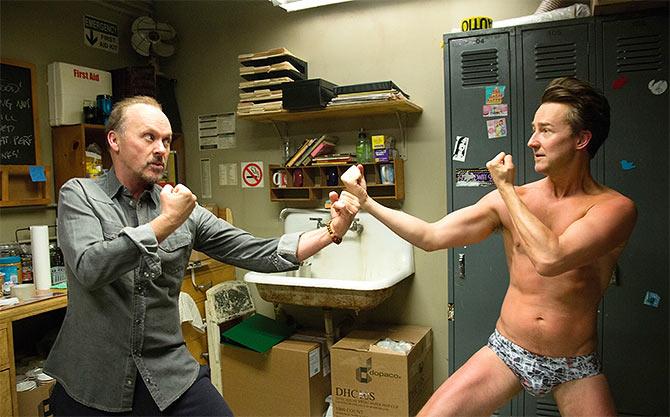 Image: Micheal Keaton and Edward Norton in Birdman
Here's what his colleagues have to say about the man:
Leonardo DiCaprio (The Revenant): Alejandro is a bold and fearless director. He's a creative force who fights for what he wants to see up on screen and works tirelessly until it's a part of his vision.
Cinematography whiz Emmanuel Lubezki (Birdman, The Revenant): Many times Alejandro likes to improvise things. We'd have little improvisations and we'd shoot them, and a lot of the very beautiful stuff on the movie comes out of those little moments that Alejandro improvises.
Cate Blanchett (Babel): There are very few directors of Alejandro's calibre working at the moment, making films that they absolutely have to make.
Michael Keaton (Birdman): He'll drill down to the specifics to get to the truth of the scene, the reality of the scene.