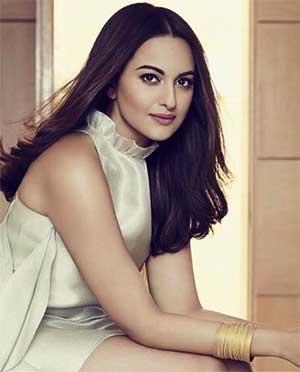 'I happened to show the Akira trailer and John was very impressed.'
'He told the action director, "Involve her in the action and let us both fight the bad guys together".'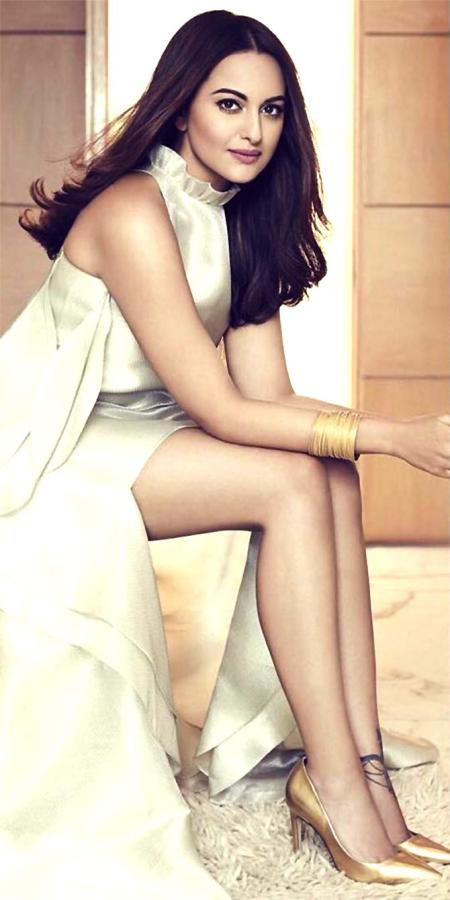 Photograph: Kind courtesy Sonakshi Sinha/Instagram
John Abraham, sadly, has an axe to grind with us.
When we met the actor for an interview for his new film Force 2, he refused to speak to us.
His co-stars Sonakshi Sinha and Tahir Raj Bhasin seemed surprised by his outburst when we told him we were from Rediff.com
And this, after we waited for him for two hours at Mumbai's Mehboob Studios.
John blamed our reviewer (no prizes for guess who he is) for his refusal to speak to us.
Really, John! All the reviewer did was review your performance in a way most people would agree :)))
Now that John's out of the equation, here's our candid chat with Sonakshi and Tahir, who had some interesting things to say on video as well.
Interviews: Rediff.com's Jahnavi Patel.
Sonakshi, will we see an extension of your action character in Akira in Force 2?
They are two very different films; the characters are different too.
You will get to see more variety of action here. In Akira, it was very raw and rugged.
Force 2's action is very stylised and sleek. There are car chases, running chases, hand-to-hand combat...
Do you think the audience is ready to see girls doing action?
I got some great feedback for my action in Akira. Even today when I meet people, they will be like, 'Wow, you did some great action!'
It's about time, why should boys have all the fun?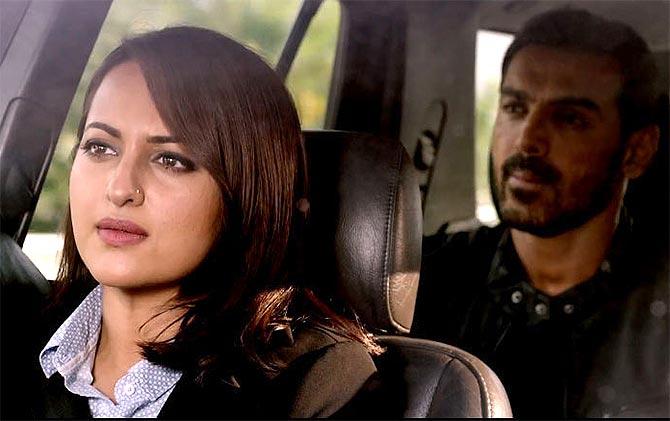 IMAGE: Sonakshi Sinha and John Abraham in Force 2.
John Abraham was impressed with your high kicks in Akira. How does the praise feel, coming from someone like him?
It's great and very encouraging.
Honestly, there is an action sequence in the film, which we shot in the beginning. I wasn't even supposed to be a part of it.
I happened to show the Akira trailer and John was very impressed. He spoke to the action director and told him, 'Involve her in the action and let us both fight the bad guys together.'
When somebody accommodates you in a scene on the initial days of the shoot... it's something that usually doesn't happen on a film set. That is encouraging.
The sequence turned out to be really nice and it's one of my favourites in the film.
Watch: Sonakshi-Tahir on Trump: 'Orange is the new black.' Video: Afsar Dayatar.
Tahir, this is your second film after Mardaani, which released in 2014. Why such a long gap?
There are two reasons -- I did not want to do (something) similar to what I did in my first film.
Secondly, I believe that if you make a quality film, it takes time.
We started shooting Forcelast September. It has taken a whole year.
The reason for that will be evident when you watch it.
How different is your role here from Mardaani?
Very different. Mardaani was dark and gritty about this guy who took on someone over the phone and gave threats.
This guy (in Force 2) is out in the open, more agile.
I had to get used to roof-top chase sequences.
Just adapting to the technology, acting on one camera versus acting to multiple cameras, two drones in the air -- there is a helicopter that you have to respond to -- all of this while maintaining the character... at least for me, it was really new.
The guy in Force 2 is lighter, with a tongue-in-cheek kind of humour. He's not so serious about life.
So this move from a dark shade to grey shades was what attracted me to ;Force 2.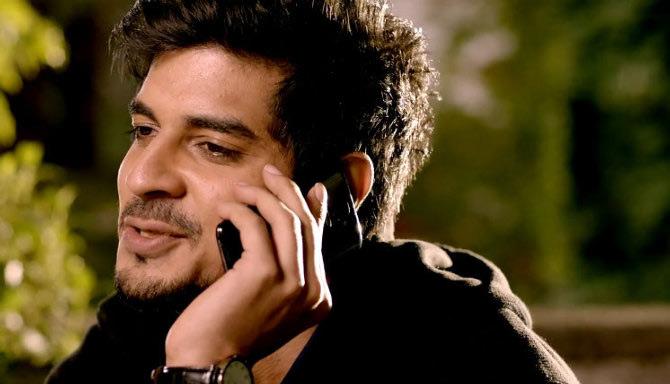 IMAGE: Tahir Raj Bhasin in Force 2.
Do you enjoys the grey shades more?
I believe that if you are playing a gangster, you should have a soft part to you.
If you are playing a lover boy, there should be a slight dark side.
What makes characters interesting is the shades, the depths.
Over the years, villains have changed, from their looks to their outfits. What do you think?
I would call it a new genre of acting.
It's the grey space or anti-hero, whatever you want to call it.
What differentiates this from the villains of the 1980s or 1990s is that there is some emotional relatability to them.
At some point, a girl sitting in the audience would feel that this could be my boyfriend or my neighbour.
It's how his mind works that makes him slightly dark. It's definitely a new brand of acting.
Do you think demonetisation will affect your film's business?
Sonakshi: It's been done for a good reason -- to drive out black money, stop illegal activities because of cash transactions.
All of us have to face some inconvenience temporarily, but it is for everyone's betterment at the end of the day.
Any big step like this has its small inconveniences for a little period of time, but the intention is great. And it has been done overnight.
That action is really commendable. I hope it really works.
Watch: Sonakshi's favourite sequence in Force 2. Video: Afsar Dayatar/Rediff.com>
Sonakshi, you paid a tribute to the armed forces at the Amar Jawan Jyoti. How was that experience?
We met two ex-R&AW agents who were detained in Pakistan jails for 11 years and 14-and-a -half years respectively. They have not been given the kind of recognition that a freedom fighter gets.
We wanted to start a petition to request the government to give them the same kind of recognition because they are doing the same job. They are working for our country.
To disown them like that... their names are unnoticed, even after they have served their time and worked for the country. That's unfair.
Since we were there, we paid our respects to the jawans who have lost their lives.
It was my first visit to India Gate and it was a surreal experience.
It still gives me goosebumps when I think about it.
When you go to the walls and see the names of the martyrs carved into it, it really evokes a sense of real patriotism.