'I'm not like Najma at all.'
'I have never taken a beating from my husband and I'm not so optimistic and patient.'
'I am not calm. I am very restless, anxious, hyper...'
Secret Superstar actress Meher Vij on her biggest challenge.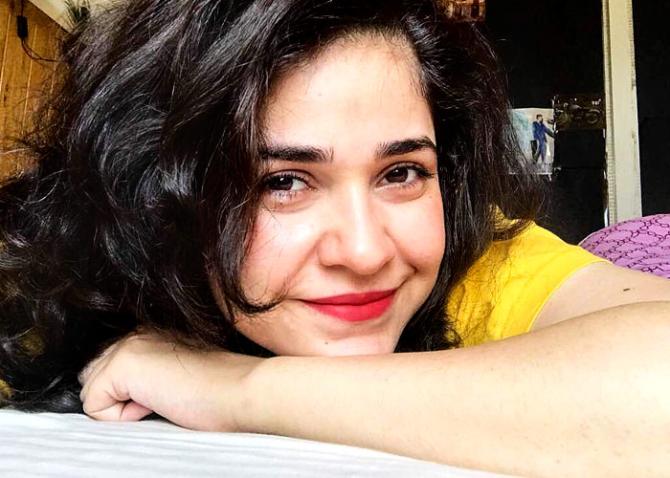 Photograph: Meher Vij/Instagram
One of the highlights of Secret Superstar is the lovely chemistry between mother and daughter, Meher Vij and Zaira Wasim.
Meher, who is just 31, is completely convincing as the mother of a teenager.
Yet, when one meets her, she looks radically different.
Meher made her acting debut with a fleeting role in 2003's Saaya and followed it up with a slightly bigger one in Lucky: No Time To Love, two years later.
She vanished from the scene and returned with Bajrangi Bhaijaan in 2015.
Meher tells Patcy N/Rediff.com just how she rocked her role in Secret Superstar.
Your performance in Secret Superstar has been much appreciated. What's the best compliment you have received?
People are talking about the metamorphosis, the transformation.
When they meet me, they cannot believe that I am the same woman. That's the best part!
They feel I am a natural actor.
I am at ease on screen while portraying this character, which is very layered and complex.
A lot of people from industry have tweeted about how they like my act, like Karan Johar, Alia Bhatt, Sonakshi Sinha, Dia Mirza...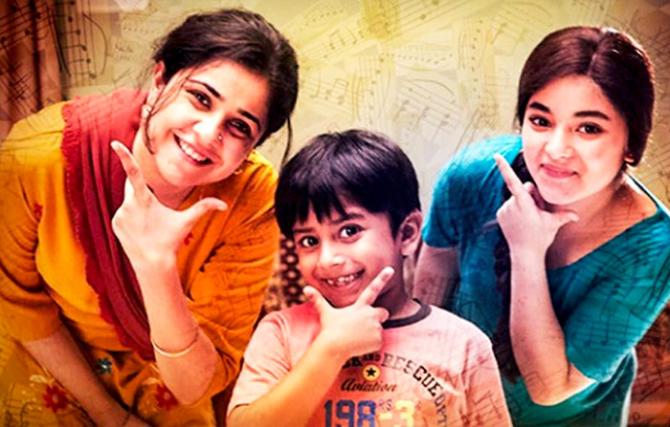 Image: Meher Vij with Zaira Wasim and Tirth Sharma in Secret Superstar
How did you bag Secret Superstar?
Advait (Chandan, director of Secret Superstar) saw Bajrani Bhaijaan four times, just to see the Najma in me.
Then, early one morning, I got a message from Aamir Khan's production house, saying they want me for one of the protagonists' role in Secret Superstar.
I did not believe it. I thought somebody was playing a prank on me, so I told him I'm not in town and that I would meet him the next day.
When we met, Advait gave me a full narration.
I was not convinced because I thought I wouldn't be able to pull it off. I am not a very serious and sincere type of actor; I just follow the director.
I asked them for a couple of days and discussed it with my friends and family. They told me not to let the opportunity go.
So I messaged Advait and told him that I wanted to be part of the film.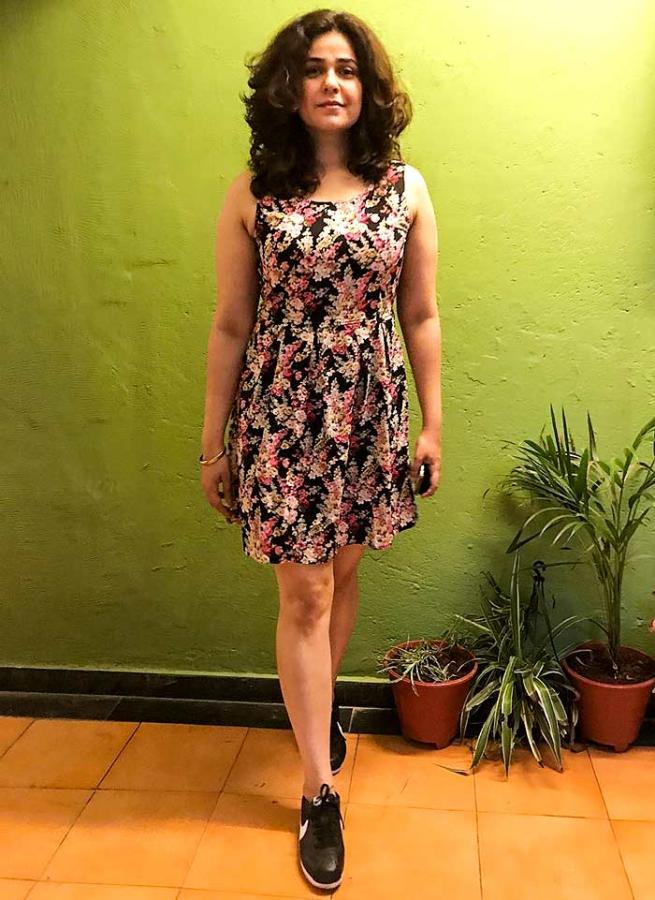 Photograph: Kind courtesy Meher Vij/Instagram
How difficult was it to play Najma's character?
Very difficult! I'm not like Najma at all.
I have never taken a beating from my husband and I'm not so optimistic and patient.
I am not calm. I am very restless, anxious, hyper...
My biggest challenge was to calm down. I had told Advait earlier that he would have to calm me down because I am not controlled like Najma, who will take anything and still not react.
Secondly, in so many scenes, Najma is singing and washing utensils and, the very next moment, she is getting beaten up. That was very scary for me -- how can one do both things with conviction when you are not like that person at all?
The airport scene in the climax was very difficult, as we had to control the graph where she suddenly becomes powerful and reacts.
At the same time, we did not want to lose the real nature of the character. A woman cannot suddenly become a superwoman and start beating up people. That part was also difficult for me.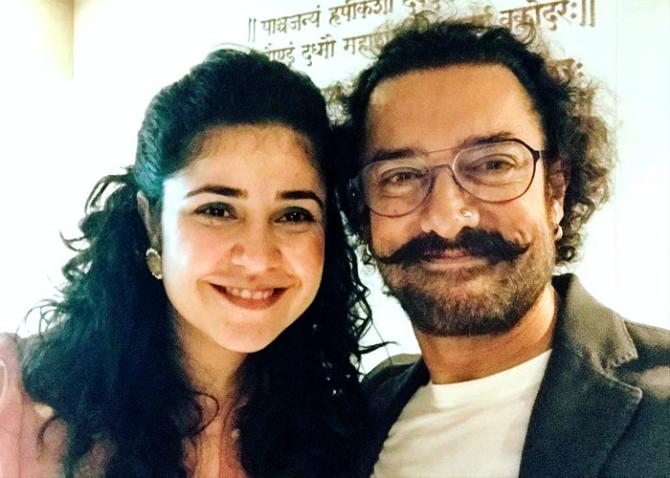 Photograph: Meher Vij/ Instagram
Did Aamir help?
Aamir Sir was not there every day. He would be there on days when he had to shoot or we had to do readings.
Even Kiran Ma'am was not there every day.
I mostly worked with Advait and followed his instructions.
Having said that, Aamir Sir helped in the airport scene, since I had no idea how to handle it. He enacted the whole scene for me.
Advait told me we would not portray my character in a cliched manner. That's why he did not cast somebody who was old and looked mature. He wanted a friendly vibe between the mother and daughter.
My character, Najma, must have been 24 or 25 when she got married, so the age gap between the mother and daughter is not much.
What was your equation with your onscreen daughter, Zaira Wasim, like?
I have a very sisterly connection with her. I love her and am very protective about her off-screen.
I am very fond of her. She has an infectious energy.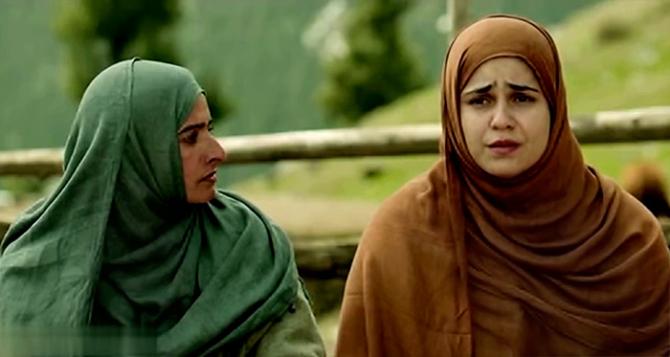 Image: Meher Vij, right, in Bajrangi Bhaijaan
You are just 31 and you play mother to a grown-up girl in Secret Superstar.
Before that, you played mom to Harshaali Malhotra in Bajrangi Bhaijaan.
Do you fear getting typecast?
I hope not.
Aamir Sir has played a father in Dangal and Akele Hum Akele Tum.
Salman Khan played a father in Jab Pyaar Kisise Hota Hai.
Vidya Balan played a mother in Pa to Amitabh Bachchan... so there are people who have done this and still not got typecast.
I know what I am capable of. If tomorrow, I am told to play a sports woman, I can transform myself and play one.
Why is there so much emphasis on getting typecast? Why this disparity? Why don't men get typecast?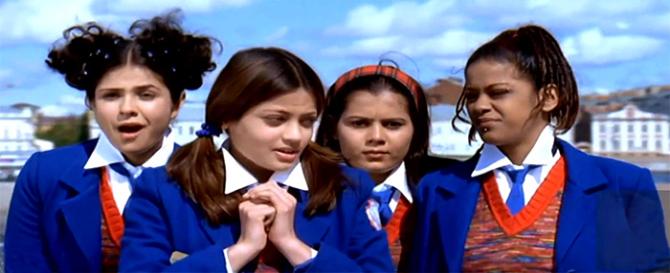 Image: Meher Vij, left, along with Sneha Ullal in Lucky: No Time For Love
You started your career with a small role in 2003's Saaya and then in 2005's Lucky: No Time For Love. Why haven't you done many films?
I did two shows -- Star Plus's Kis Desh Mein Hai Meraa Dil and Zee TV's Ram Milaayi Jodi -- for almost four years. But that was something I did not want to do.
I was not ambitious; I was just 19 or 20.
Initially, I did television to become famous and also to earn money. Suddenly, I discovered the actor in me who thought I could do better and fulfill my mom's dreams of becoming an actress.
By the time I started becoming famous and earning money, I lost her to cancer. I was devastated for a very long time and lost direction.
In last three-four years, I have been trying to get a hang of my life. So here I am again, trying to fulfill her dream.
Secondly, I think I am a decent actor, so I am giving myself a second chance.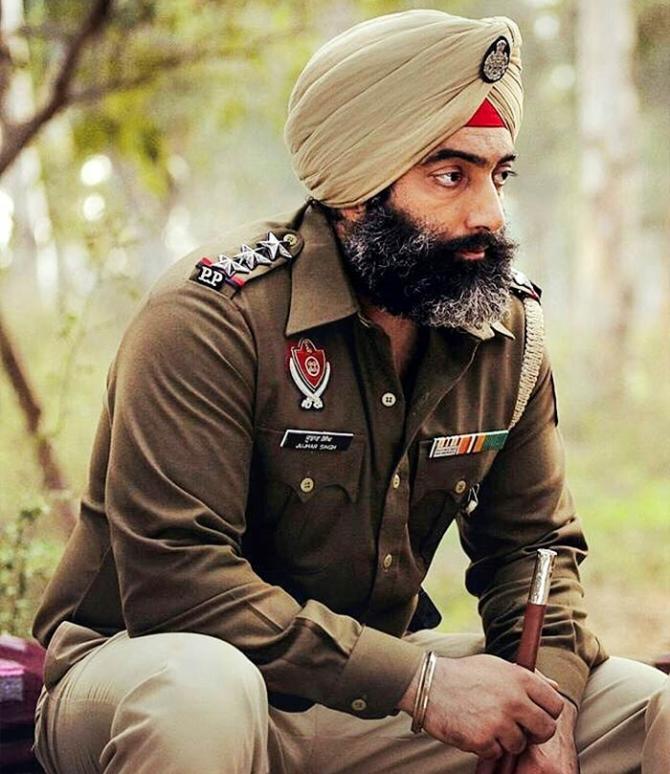 Image: Meher Vij's husband, Manav, in Udta Punjab. Photograph: Meher Vij/Instagram
Tell us about yourself.
I am from Delhi. My brother wanted to become an actor. He was living in Mumbai alone, so my father decided to shift base to Mumbai to be with him.
Also, my mother wanted me to become an actress as she loved Bollywood.
I decided to give it a try and see if it works. Otherwise, I would have become an air hostess.
I got Lucky: No Time For Love through a casting director and auditions.
At that time, I did not know what the film industry was all about.
I got married at the age of 23. My husband, Manav, is a Punjabi actor, who has done films like Udta Punjab and Phillauri.
I did two Punjabi films -- Dil Vil Pyaar Pyaar and Ardaas. After that, I did Bajrangi Bhaijaan and Tum Bin II.
Now, I am getting a lot of offers but I haven't decided on anything.
I would love to do a comedy.