'For the paraplegic young girl, I needed a fresh face, someone who did not have the baggage of doing such movies before, someone who the audience liked.'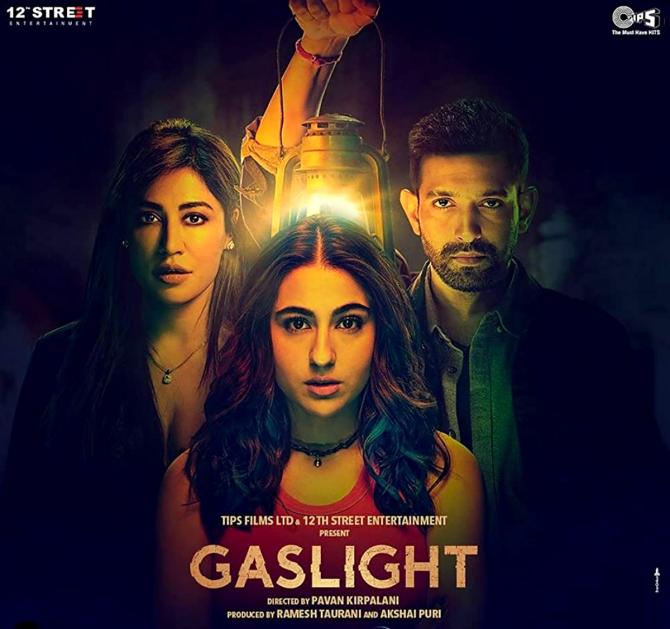 Gaslight, starring Sara Ali Khan, Vikrant Massey and Chitrangda Singh, is a physiological thriller and has its fair share of thrills and chills.
After all, it's directed by Pavan Kirpalani, who has made films like Bhoot Police, Phobia and Ragini MMS.
"A big scare or a shocking reveal is best experienced with a crowd," Pavan tells Patcy N/Rediff.com.
After making horror films like Bhoot Police, Phobia and Ragini MMS, why did you choose to make a physiological thriller like Gaslight?
It's good to do different stuff as a film-maker.
It's good to keep challenging yourself and coming up with new stories, exploring things that you haven't before.
On the other hand, I'm still operating under the larger umbrella of the genre that I have been doing all my life.
Psychological thrillers, horror and murder mysteries are driven by suspense, tension and thrills. I am not too far away from what I do best.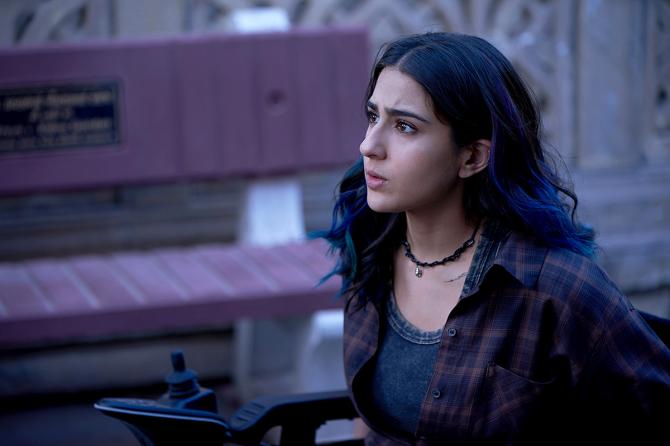 How did you decide on your cast?
I lucked out because I needed three distinctive actors in different stages in their lives and careers.
For the paraplegic young girl, I needed a fresh face, someone who did not have the baggage of doing such movies before, someone who the audience liked.
Sara was the perfect match.
Chitrangda and Vikrant are seasoned actors. The roles of Rukmini and Kapil demanded that I get seasoned and strong actors because there are a lot of layers to these characters.
It's completely different from what you would expect them to do.
We were very keen on casting against the tide.
My conversation with Mukesh Chabbra, who handled the casting for Akshay Oberoi, Rahul Dev and Shishir Sharma, was that let's go against the grain; let's not cast actors we would expect to see in those specific roles.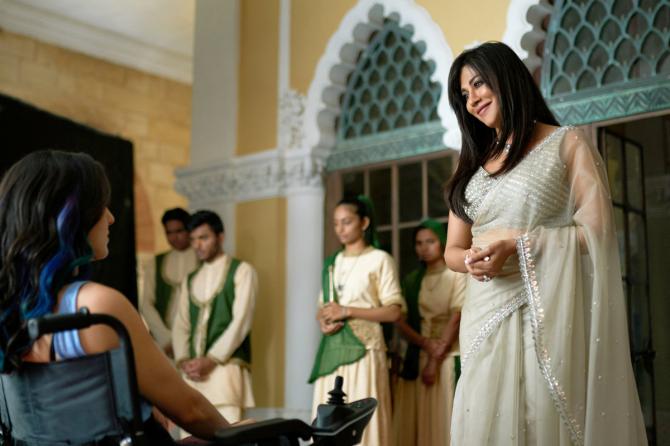 You shot Gaslight in 36 days. Was that possible because the whole film is set in a palace?
We had a workshop with Sara and the other actors, and that really helped them get comfortable with what they were portraying.
So there weren't too many discussions on set because all of us knew exactly what we were doing.
Also, since Gaslight is largely set up in one royal estate in Rajkot, most of the shoot was in and around that palace.
So it was easier to churn the movie faster.
Now that theatres are doing good business, why did you choose to release the film on OTT?
I don't really operate thinking about big or small screens. For me, it's the creative process of telling the film.
Bhoot Police was supposed to go theatrical, but it got stuck because of COVID.
For this film, it was the producer's call entirely on they wanted to position the film.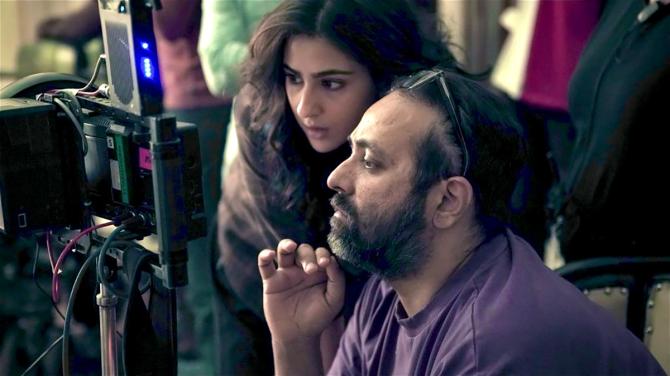 With the amount of horror movies you make, it feels like you have taken the baton from the Ramsay brothers.
The Ramsay Brothers are obviously iconic. They had their own genre, their horror movies were kind of exploitative narratives. They were making films for different audiences.
Ram Gopal Varma made a few good horror films. Among contemporaries, I look up to him. He made two extremely good horror movies -- Bhoot and Raat -- and produced a bunch of them like Vaastu Shastra and Phoonk. He had a certain style.
Vikram Bhatt has his own style of making romantic dramas.
Every film-maker comes to this genre differently. Everyone has their own take.
Why do you love horror?
It's one of those genres that uses the film-making medium to the fullest.
You have to use all the tools available to tell the story.
You can't rely on dialogue and actors, to a large extent.
Creating the mood and scares need a great deal of control over film-making.
Also, it's one of those genres that give instant gratification.
You get to play with the audiences' emotions, take them on a roller coaster ride.
I personally like such movies as an audience, so stories in this space come naturally to me.
I have grown up watching and reading horror and thrillers. They are made for the big screen.
They are essentially cinematic in nature and best consumed in a dark hall with people.
A big scare or a shocking reveal is best experienced with a crowd.
Feeding off each other's reactions and emotions makes movie-watching richer, which, made in the right budget, is win-win for all.
Will we see you try other genres too?
I am currently working on other genres.
I'm working on a horror comedy and an out and out comedy.
So yes, I am spreading my wings.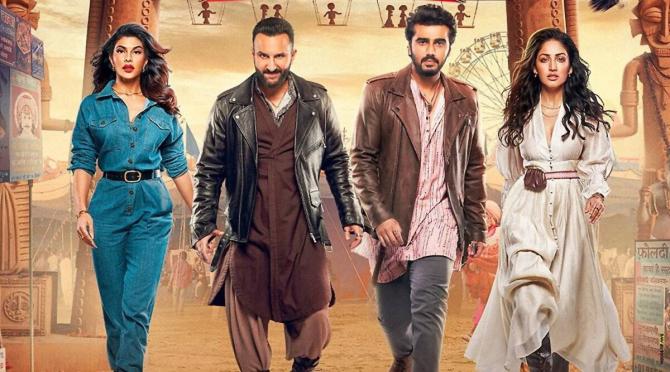 Tell us about yourself.
I am born and brought up in Mumbai.
I had zero connection with the world of movies.
Film-making came to me as a happy accident.
I was always an ardent fan of movies but never thought in my wildest dreams that I would be a part of them.
I got into movies because I was at the right place and at the right time.
I was interning at a media company and struggling to find something I was good at. I learnt that the company had a film production division, in which they were producing movies with some of the top directors of our country.
I was instantly star struck, and tried to get odd jobs in that division.
One day their BTS (behind the scene) executive fell ill and they needed a replacement for a few days. Luckily, I got picked.
From the moment I stepped on set, my fate was sealed.
I was just 24 then.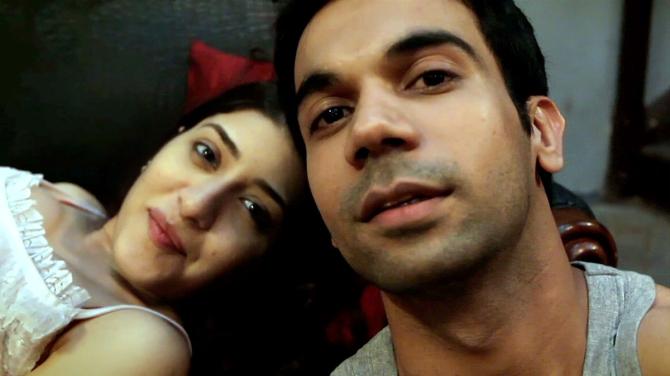 You started your career in 2011. How do you see your journey so far?
It's been a long journey since 2011, when Ragini MMS came out.
I have had my shares of ups and downs.
Not many people back thrillers and horrors, but I stuck to my convictions and kept pursuing the stories I wanted to tell.
What films do you like to watch?
I love (Alfred) Hitchcock, (Stanley) Kubrick, (Steven) Spielberg, Bong Joon-ho and many more.
Memories Of Murder, Host, Jaws, The Sixth Sense, The Shining, Rear View Window, Shadow Of Doubt and The Night Of The Hunter are some of the titles I watch again and again.
Which was the last movie that you watched and loved?
I recently saw All Quiet On The Western Front and was blown away by it.
By far one of the best war movies I've seen.
Brutal and horrifying, but not exploitative.
I'm still recovering from that experience.