About 30 Tamil films slated for a March release are already delayed.
Gireesh Babu reports.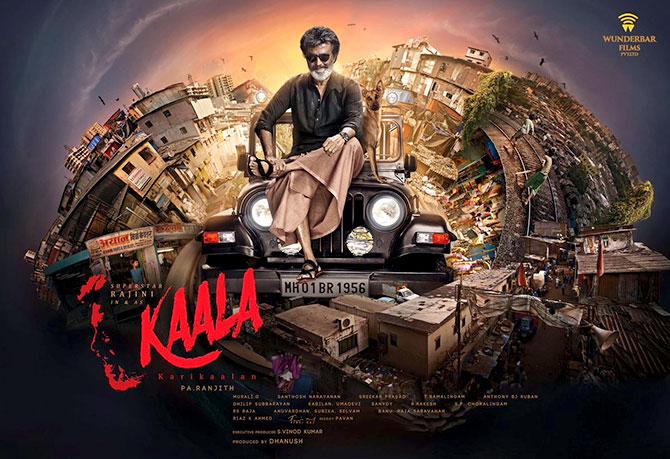 IMAGE: Kaala is produced by Rajinikanth's son-in-law actor Dhanush and directed by Pa Ranjith.
Those waiting with bated breath to see their favourite Thalaiva in Kaala, slated for an April release, might be in for a disappointment.
Almost 30 Tamil films that were to be released in March have been delayed, with a cumulative loss of about Rs 1.5 billion to Rs 2 billion for the industry.
The reason is a tussle among cinema owners, film producers, and digital service providers (DSPs), who give digital prints of movies to cinemas for the virtual print fee (VPF).
If things are not sorted out soon, the situation could turn grave for the industry, claim experts.
Producers in Tamil, Telugu, Kannada and Malayalam film industries had earlier asked digital service providers such as Qube Cinema and UFO to cut the VFP by 25 per cent.
At present they charge Rs 22,500 per film per screen. The fee was reduced to an extent and other language industries resumed operations.
"There has been no talk between the film producers and the digital service producers after a couple of meetings in February," says Senthil Kumar, co-founder, Qube Cinema.
The digital service industry, he adds, could have suffered a loss of about Rs 20 million to Rs 30 million during March.
The Tamil Film Producers Council is also in talks with cinema owners. It wants the latter to pay a part of the VPF.
Among the movies stuck is Irumbu Thirai, with TFPC President Vishal in the lead. It was slated for release on March 30.
"We are trying to mitigate the losses. Some sacrifices have to be made for the better of the industry," says Vishal.
Cinema owners claim nowhere in the world do they pay VPF for films. They do not want to set a precedent, even if it were financially viable for them.
Besides, the film producers stand to gain by digitising films, they feel.
A veteran film producer, who did not want to be named, says there was a meeting between cinema owners and producers, but there was no breakthrough.
Producers have other demands as well.
The TFPC, along with the actors' organisation, employee federations, and others, will submit a memorandum to the state government to set up a Tamil Nadu Film Development Corporation and to make the ticketing system transparent.
One of their suggestions is introducing computerised ticketing.
Another issue raised by the producers is while regulations mandate that cinemas have their own projectors, e-projectors were provided by digital service providers.
Experts said the demands of the producers could be detrimental to the industry as a whole.
Tamil Nadu has about 1,050 cinemas, compared to 1,200 a decade ago. But, the number of movies released per year then was about 50. It has gone up to 280 now.
If the TFPC demand is accepted, cinema owners might be reluctant to pay small producers for movies that do not run for long.
They might only go for big budget films that have top stars and occupy screens for a longer term.
"With my several years' experience in the industry, I can tell you that only one out of 20 films is a success," says a cinema owner. "If we have to pay for digitisation and other fees, we would make losses."
"This is going to hit the Tamil film industry very badly. It is already losing around Rs 50 million to Rs 70 million a day and there is no future for the industry if this is continues," says Sreedhar Pillai, an expert who closely tracks the film industry.
Income from sources other than ticket prices for the cinemas has also taken a hit.
There are also few takers for movies in other languages that are currently running on Chennai screens, he said.
With no solution in sight, the loss could double during the summer, says another industry source, one of the best seasons for the industry besides Pongal and Diwali.