'Stop using the censor board as a means to get publicity for films,' the censor chief warns filmmakers.
Subhash K Jha reports.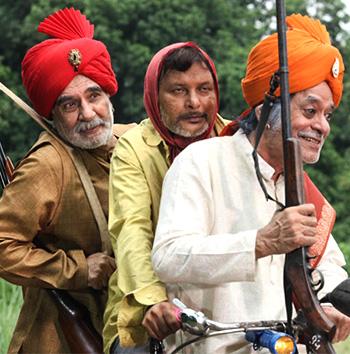 A semi-fictional feature film, Modi Ka Gaon on Prime Minister Narendra Modi's rural development scheme, and a political satire, Rambhajjan Zindabad have been refused certification by the Censor Board Of Film Certification.
The makers of both films have been heard complaining about how their freedom of expression is being denied by the CBFC.
Pahlaj Nihalani takes strong objection to what he refers to as "loose irresponsible talk."
Explaining why the two films were rejected, the CBFC chairman says, "Modi Ka Gaon is about Modiji's development schemes. They even have an actor playing the prime minister."
"Since the guidelines on politicians and national leaders are very clear all we asked the producer to do was to get an NOC (no objection certificate) from the prime minister's office. What is so objectionable about our request?" Nihalani asks.
As for Rambhajjan Zindabad, he says there is ​a​ char​a​cter played by Kulbhushan Kharbanda, apparently modelled on Modi.
"It's extremely vulgar. The language used for women is inexcusably coarse," says Nihalani. "It trivialises rape by showing women being given 'compensation' for their ordeal. We cannot allow this film to be certified."
"The makers should stop trying to sentimentalise the situation by publicising their film as Om Puri's last film," says Nihalani.
"Omji, God bless his soul, did Gurinder Chadha's Viceroy's House and Kabir Khan's Tubelight, which will release later," says the former filmmaker.
"Thank God Omji's admirers don't have to remember him by Rambhajjan Zindabad."
"Stop using the censor board as a means to get publicity for films," Nihalani warns filmmakers.
IMAGE: A scene from Rambhajjan Zindabad. Kulbhushan Kharbhanada's character is seen left.