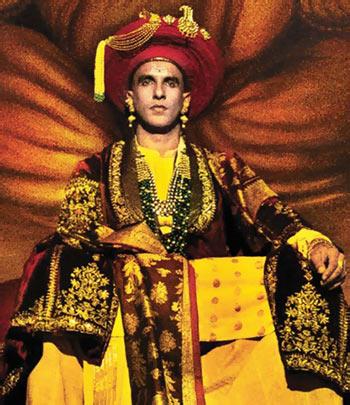 Sanjay Leela Bhansali's Bajirao Mastani has ruffled quite a few feathers among the descendants of the Peshwa and his Muslim wife.
Sanjay Leela Bhansali's passion project has faced many a hurdle.
Bajirao Mastani, the self-indulgent film maker's take on Peshwa Bajirao I and princess Mastani Begum, was envisioned with publicised excitement some 12 years ago.
It quickly came to a dead end after lead pair Salman Khan and Aishwarya Rai developed off-screen differences.
When the idea was dusted off much later -- this time with Ranveer Singh, Deepika Padukone and Priyanka Chopra -- the film found it shared its release date (December 18) with Shah Rukh Khan's Dilwale.
Another blow came more recently as the film's songs caused an outcry among the descendants of the Maratha warrior and his Muslim lover, who found them objectionable.
There is concern and dismay in the Bhansali camp, crew members admit.
In the manner of most ventures under his banner, Bajirao Mastani is a costly affair: co-produced with Eros, it has reportedly been made for Rs 200 crore. The period story has all the trappings of a Bhansali product: forbidden romance, drama, scale and lots of finery.
Some of that is glimpsed in the songs revealed so far: Pinga, a dance-off between Padukone and Chopra, and Malhari, a celebratory jig by Singh.
The tracks betray a thirst for mass appeal, but the ample use of catchphrases and the flamboyant dance moves have not gone down well with members of Bajirao's clan -- his descendants from Mastani, the Nawabs of Banda, have filed petitions in the courts of Jabalpur and Indore, and his heirs from his first wife, Kashibai, spoke out in the media.
The families want Bajirao to be remembered as a peerless war strategist.
He was born into a Chitpavan Brahmin family in 1700 and took over from his father as the Peshwa at the age of 19. He is known to have fought 41 battles without a single loss.
According to historian Mandar Lawate, his strength was speed. For example, he struck by capturing the enemy's water bodies and fields, or pre-emptively hit the opposition's capital while they were making their way to his.
Biographer Jayraj Salgaokar says he was instrumental in expanding the guerilla warfare techniques developed by Shivaji.
Image: Priyanka Chopra plays Kashibai in Bajirao Mastani
Kashibai was docile and personable. She suffered from arthritis and tuberculosis, which her descendants note would make it hard to dance fluently.
When Bajirao saved Bundela warrior Chhatrasal's territory from Muhammad Khan Bangash, he was rewarded with land and the hand of Mastani in marriage around 1730.
There are various stories about Mastani, who is also believed to have been a poet and Krishna devotee. The Begum, members of the Banda family say, was not a courtesan of Chhatrasal but a daughter from his Persian wife Ruhani Bai. Despite resistance from his mother and brother, Bajirao is said to have married her out of love.
Terms like vaat lavli (slang for destroyed) and rhyming words like chatak matak vatak cannot have been in the vocabulary of a warrior King in the 18th century, reckons Mahendra Peshwa, a consulting engineer and ninth-generation descendent of Bajirao, referring to the song Malhari.
Thus, open letters were written to Bhansali, demanding that he do his homework.
The wives in royal families would never dance in public, notes Mahendra, especially not in midriff-baring saris. "They would be clothed from head to toe in those days. In front of strangers, they were required to cover their heads and wear shawls."
For the families, who feel they are uncared for in general, this seems to have been an opportunity to come to the fore. Standing in the ruins of Shaniwarwada, the Peshwas' ancestral home and headquarters in Pune, Mahendra and his wife, Sucheta, wonder if their cause will find political support. They are enthused by what they dub as hints of discomfort in the film maker.
"Another song titled Fituri has offensive lyrics too but they have withheld the video so far, probably out of fear," he says, with a laugh. "They have not yet come to Pune for promotions either."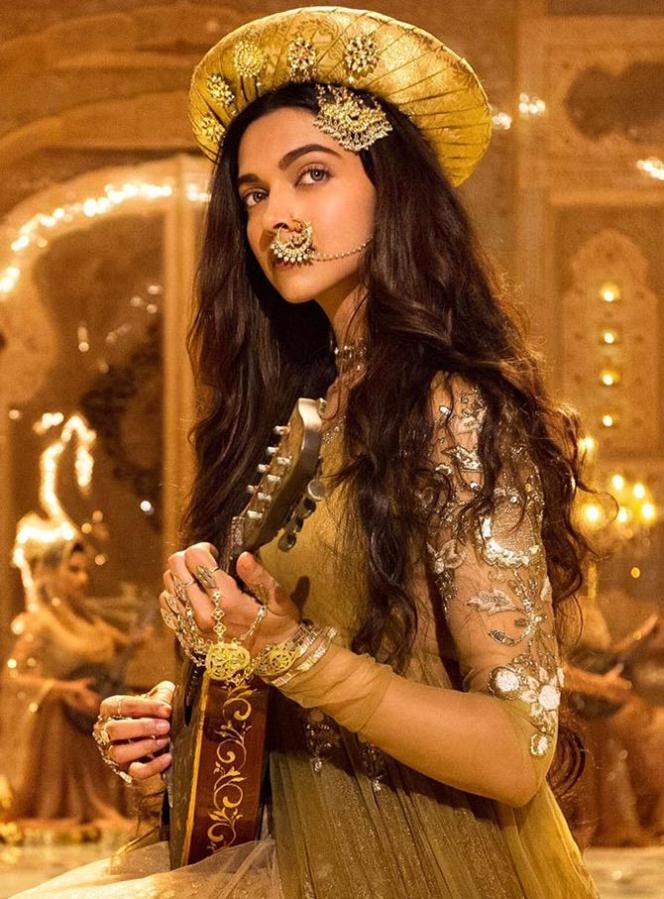 Image: Deepika Padukone plays Mastani in Bajirao Mastani
The Peshwas maintain that while Shivaji has been adequately glorified for his contributions to Maharashtra, Bajirao hasn't been remembered enough.
"In the 40 years of his life and 20 years of his career as the Peshwa, Mastani was a part of the last decade. Why focus so much on the love story and not his laurels as a battle strategist," Mahendra's uncle, Udaysing, asks over the phone.
Equally incensed are Mastani's progeny, who are spread across Sehore, Indore and Bhopal in Madhya Pradesh and work as social workers, teachers and government servants. "If some love story of historic figures fascinates the celluloid world, we have no problem. But should someone take liberties to insult those great people," asks an angry Tamkeen Ali Bahadur, sitting at his modest home at Sehore, some 50 km from Bhopal.
"Mastani Begum was not an ordinary dancer but a poet and war strategist who accompanied Bajirao on many occasions," adds Afaque Ali Bahadur, who recently retired as additional-CEO of the District Council. They are the descendants of Shamsher Ali, the son of Mastani, who became the Nawab of Banda. The family lost its riches when Nawab Ali Bahadur II fought against the British along with Laxmibai of Jhansi.
The family lives modestly, but its syncretic royal past shows up at times. While they are fond of Urdu poetry and the rare Nawabi delicacy ratan kalia, young Umar Ali Bahadur, who leads the charge in preserving the family history, also likes to chant Sanskrit couplets and carries a pocket-sized Gita in his bag.
Some years ago, Umar attended college in Pune and simultaneously made efforts to restore the grave of Mastani Begum at Pabal village near the city. Tamkeen too remains busy digging up government records of his family's property, belongings and jewellery impounded by the British.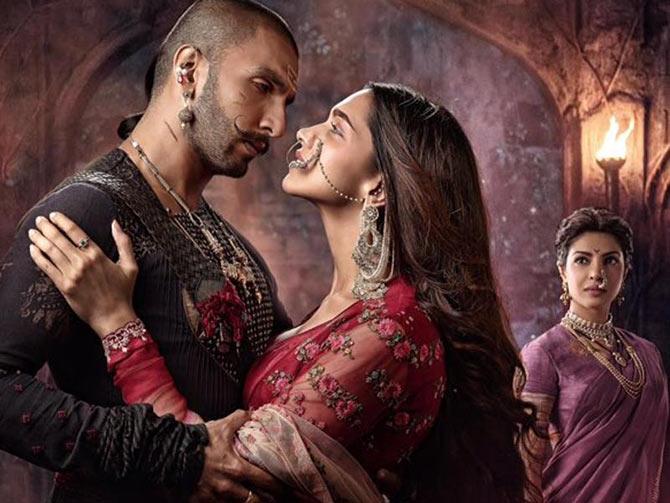 Image: Ranveer Singh, Deepika Padukone and Priyanka Chopra in Bajirao Mastani
Members of both the families jointly addressed the press in Mumbai some days ago.
To allay their concerns, the film's makers declared they would include a disclaimer saying it is a work of fiction where any resemblance to real characters was coincidental.
Still, the families have demanded a look at the script and the movie before release.
"It is not a ban we are seeking but removal of what is objectionable. How can you disclaim it, when the names of all the characters are the same as in real life?" says Udaysing.
While it may not be firmly rooted in historical fact, the film's making did entail research. The film is based on fictional work Rauu, which draws from Bajirao's life but focuses on his love for Mastani.
The writers, Bhansali and Prakash Kapadia, reportedly also consulted historian Ninad Bedekar. Research brought members of the crew to the two-storeyed Raja Dinkar Kelkar Museum in Pune's crowded Shukrawar Peth. They visited twice, says the museum's director, Sudhanva Ranade, whose grandfather and founder of the establishment, D G Kelkar, wrote poems in admiration of Bajirao.
The museum's collection ranges from objects of everyday use to royal artifacts from the 18th to 20th centuries. Parts of the Mastani Mahal, believed to have been built by the Peshwa for his beloved, have been preserved here and became a reference point for the film's makers. It is a useful peek into the decor of that era: ornamental columns, arches, windows and seating areas all carved in dark brown wood as well as chandeliers and lamps.
Kapadia, who has the voice and inflection of a movie narrator, talks emotionally about the effort behind the film. In the years since its conception, multiplexes sprung up and audiences preferred shorter, youthful tales. His three-hour script was shortened to two hours. He combined the novel Rauu with knowledge from other books, maps and lectures by historians, cutting himself off from people for ten months to write the story.
Kapadia says he consciously stayed away from depicting the intricacies of Maharashtra culture that would have to be explained. Hints of it will be in the costumes and dialogues. "We wanted a universal flavour because this story could be anywhere. The focus is on the tremendous inherent conflict -- a married Brahmin man's love for an outsider with Muslim roots."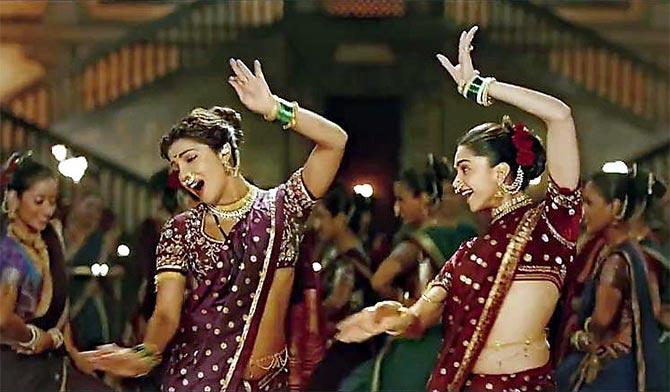 Image: Priyanka Chopra and Deepika Padukone in Bajirao Mastani
Designer Anju Modi created around 80 saris for the film after studying museums in Mumbai and Pune, and visiting smaller towns like Paithan, Chanderi and Maheshwar.
Along with Ranveer Singh on a trip to Nashik, she learnt how to fashion and drape traditional dhotis. In a remote area of Pune, Modi says she found a local to create typical turbans. She had two distinct styles to draw from -- Maratha for Bajirao and his first wife, Kashibai, and Islamic for Mastani.
Another rich source of inspiration for Modi was Maratha paintings that helped her internalise the period. Paintings of Ravi Varma helped make-up artist Uday Shirali decide on a look for little-known Kashibai. He kept make-up to a minimum, using under-eye cream and foundation to give Chopra a younger look since women married early in those times.
If nothing else, Bhansali's films are known for their sets. Sriram Iyengar first heard of Bhansali's plan for a film on the Peshwas 12 years ago. Between assignments, Iyengar began studying Maratha forts and put together preliminary drawings of various sets. When the period film was revived, someone else was named art director. But a few meetings and twists of fate later, Iyengar and business partner Sujeet Sawant were taken onboard. Saloni Dhatrak joined them to offer expertise on Mughal architecture. Together they recreated Shaniwarwada with Kashi's villa and a mirror chamber.
Traditionally, the Marathas built simple forts with smaller rooms but Bhansali wanted everything to be scaled up. "He said he cannot have his protagonists in kholis," says Iyengar.
Bhansali is famously idiosyncratic. Bajirao's descendants point out that they were not approached in the run-up to the film and during most of the shooting. The Peshwas were invited on set once. Tamkeen says he tried to contact Bhansali to express his concerns over the depiction but received a lukewarm response, compelling him to move the courts for justice. Some aspects like an animated teaser on Bajirao were encouraging but the songs drew their ire.
The families are involved in regular fields like education and mechanics but routine lives have hardly dulled their pride in the laurels of ancestors. The Peshwas have to now buy Rs 5 tickets to see Shaniwarwada, a heritage site under the Archaelogical Survey of India. When it closes at 6 pm and they are herded out with other visitors, Mahendra laughs at the irony of being asked to leave "his own home".
Our anger must reach Bhansali, say both the families. This curious battle has allowed Bajirao's descendents to discover a dormant warrior spirit, at the receiving end of which is a headstrong Bollywood director.