'People want to blacken my face for showing "leaders in a bad light".'
'People want to show loyalty to the party.'
'How many people should I show the film to?'
'Where do we draw the line?'
Madhur Bhandarkar is angry about the controversy over his new film, Indu Sarkar.
Rediff.com's Ronjita Kulkarni listens in.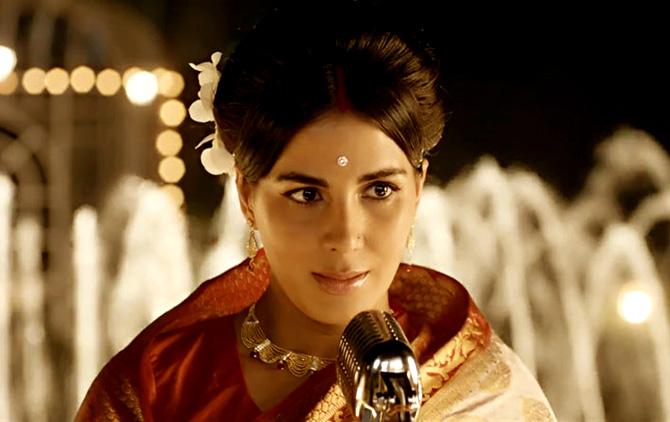 IMAGE: Kirti Kulhari in Indu Sarkar.
Madhur Bhandarkar is probably having sleepless nights.
It has nothing to do with his new film, Indu Sarkar, made on a small budget of Rs 8.5 crores, the "costume budget of a big film," as he wryly points out.
Bhandarkar has made a successful career out of making low-budget films based on realistic subjects.
It has nothing to do with his cast: PINK actress Kirti Kulhari in the title role, an unrecognisable Neil Nitin Mukesh and talented actors like Pravin Dabbas, Sheeba Chaddha and Zakir Hussain.
It has nothing to do with the film's subject, set against the Emergency, about a girl, who stammers but tries to find her voice.
What he is upset with is the political reactions he has been getting for making such a film.
"I won't show the film to Sanjay Nirupam!" he exclaims. "He hasn't written to me; he has written a letter to (Censor Board chief) Pahlaj Nihalani." Nirupam, a former Bigg Boss contestant, heads the Mumbai Pradesh Congress Committee.
"Jagdish Tytler wants to make sure his image has been written well in the film."
"There's someone who is allegedly the daughter of Sanjay Gandhi. She has sent me a four-page (legal) notice, and wants to see the film."
"There's no end to it. How many people should I show the film to? Where do we draw the line?"
"Why is there a Censor Board then? We should shut it down and show the film to all these people. This is ridiculous!" Bhandarkar exclaims.
Bhandarkar is referring to Congress leaders who want to make sure the film will not taint then prime minister Indira Gandhi and her son Sanjay Gandhi.
"People have not even seen the film, but they are already judging it."
"It's a moderate budget film; we don't have a big star cast. Our film is about our characters, we are not looking at it politically. People want to blacken my face for showing 'leaders in a bad light'," he adds.
Bhandarkar seems surprised at the political onslaught. He says all the material about the Emergency is in the public domain.
"There are documentaries made by Anant Patwardhan and Doordarshan. People like Kuldip Nayar and Coomi Kapoor have authored books. I'm not talking about something that is not in the public domain. It has been discussed on various platforms. So why would there be a problem with a film?" he asks.
"Besides, I'm not making a film on the Emergency. Indu and Praveen are my fictional characters, so why should anyone have any problem? The Emergency is just the backdrop," he insists.
"People have threatened me to change the title. And it's all done subtly. They are 'well-wishers', but have an undercurrent of threat."
"Even if I change the title, what will you do about the books written on the Emergency? There is a whole bunch out there!"
"People just want attention; they want to show loyalty to the party. But there are other ways of doing it," he says.
On the other hand, there are people who say the film is being backed by the Bharatiya Janata Party.
"People are passing reckless remarks," Bhandarkar says, shaking his head. "They can send their CA (chartered accountant) here to check how much we have spent on the film. It's not a Rs 50 crore film. It is a Rs 8.5 crore film with newcomers. Why are you getting threatened by it?"
"My producer is Bharat Shah who has made 250 films with top stars like Amitabh Bachchan and Shah Rukh Khan. I'm not a fly-by-night filmmaker, someone who is making films by proxy. I have a list of controversial cinema behind me."
"From Page 3 to Traffic Signal, Chandni Bar to a film where my own fraternity got upset with me, Heroine. So this film should not come as a surprise. This is the Madhur Bhandarkar kind of cinema."
"It's not that I have made candyfloss cinema for years and now I'm making this. If this was a sponsored film, it would have been bigger. And I would have targeted a 2019 release (in time for the general election)."
"Who would have stopped me? My film does not have a big star cast or deadline. I would have made Fashion Part 2 or Chandni Bar Part 2 in the meantime."
"I shot this film in 42 days, so I would have started it in 2018, and released it the next year. I could have even released it during the five state elections that just went by," he says.
"My film is not made to influence people," he asserts.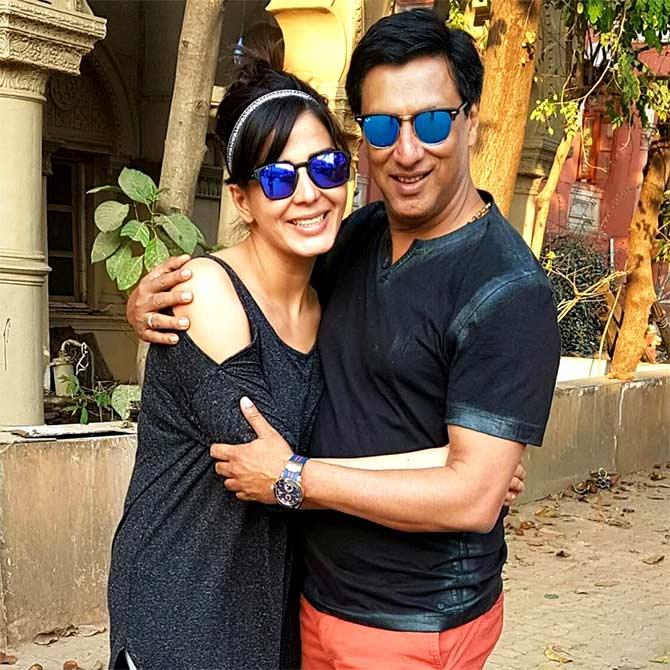 IMAGE: Madhur Bhandarkar with Kirti Kulhari. Photograph: Kind courtesy Madhur Bhandarkar/Instagram
Why did he decide to make a film set against the Emergency?
"I made a lot of Mumbai-based, contemporary and issue-based movies. So I wondered what to do next," Bhandarkar recalls.
He decided not to make a film based on Mumbai.
"I thought of making a period film, but not on kings and historicals. I don't have so much patience. I'm a very restless filmmaker. I want to make films fast," he explains.
So Bhandarkar and his writer Anil Pandey planned to set the film in the 1970s.
<p"I love this era. I love R D Burman, Latadi (Mangeshkar), Kishoresaab (Kumar), Manmohan Desai, Prakash Mehra..."
A huge framed poster of R D Burman takes pride of place in his office in Andheri, north-west Mumbai.
Since he felt that no one had made a film set against the Emergency, he decided to make that his film's backdrop.
"We started meeting people who had been in jail (during the Emergency, who had been sterilised that time. We went to the Nehru Memorial Museum and Library in Delhi and got a lot of documentation."
"We got the Shah Commission (the commission of inquiry appointed by the Janata Party government in 1977 to inquire into the excesses committed during the Emergency)," the director says.
The documents and books still sit in a heap on his table.
"I like to make films that no one else wants to take up. I have that streak in me. And I want to be honest about my subjects."
"If I show a Traffic Signal expose, I will be as blunt about my film industry."
"If I show the way the corporate world works, I must show the Page 3 world too," he asserts.
Indu Sarkar has been his toughest film till date due to its restricted budget, and the preparation it required to look authentic -- in terms of costumes and material like phones, typewriters, cars, postcards, radio, radiograms, fans, books, magazine, newspapers...
Delhi landmarks like Connaught Place and Chandni Chowk were recreated at the ND Studios in Karjat, near Mumbai.
But Indu Sarkar is not Bhandarkar's favourite film.
Find out what Madhur Bhandarkar's fave movie is in the next part of this interview.