'We should celebrate when a girl hits puberty, just the way we celebrate New Year, Holi, Diwali.'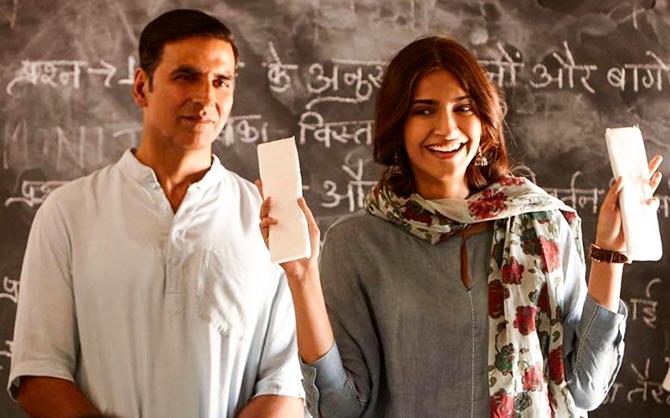 IMAGE: Akshay Kumar and Sonam Kapoor in PadMan.
Looking fit as always, Akshay Kumar walks into the room in ripped camouflage pants and a grey pullover.
He wears a salt and pepper stubble these days -- a hat tip perhaps to the fact that he turned 50 last September -- and a close-cropped haircut.
The Bollywood star who delivers hits on cue has three releases lined up this year, starting with PadMan on January 25.
As he settles down for the interview, Akshay declares he had a "very good" 2017.
Any resolutions for the new year, we ask.
"I have started learning sword fighting," he reveals
Akshay plays Arunachalam Muruganantham who invented a low-cost machine to make sanitary napkins. PadMan is largely based on Muruganantham's life and will revolve around the menstrual cycle, a taboo topic in India.
"There is no taboo attached to it," Akshay counters. "It is not taboo anymore. Let's come out of it. It's shameful that 82 percent of women don't use sanitary pads because they don't know about it."
So what has Akshay done different in this film, which is co-produced by his wife Twinkle Khanna and based on one of her stories in The Legend Of Lakshmi Prasad, her last book.
"I had to wear pink panties with sanitary pads," he reveals. "It wasn't a challenge for me."
Akshay is frank as always in his interviews. Rediff.com's Jahnavi Patel listens in.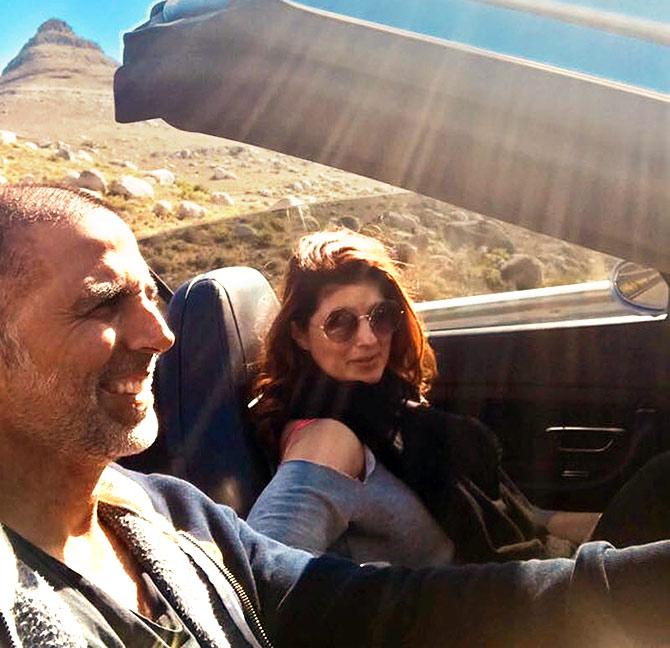 IMAGE: Akshay Kumar enjoys Cape Town with wife Twinkle. Photograph: Kind courtesy Akshay Kumar/Instagram
Talking about the menstrual cycle is considered taboo in our country. When did you first get to know about it? Was it ever discussed at your home?
Like every household, I wasn't aware about menstruation. It was hardly discussed.
Slowly, as life progressed, I discovered about it.
But the literal understanding came about two years before we started making PadMan.
When I began working on the film, I realised that this is the kind of movie we should bring in front of people.
We should tell them that menstruation is not taboo, it's natural.
When I met Arunachalam Muruganantham, I realised how much he cared for his wife.
That's why he had invented the low-cost sanitary pad-making machine. He made the machine in Rs 60,000. Otherwise, the cost goes in crores.
I found his story very interesting.
I loved what he told me: 'Strong women make a strong country.'
I realised that is so true.
What's the point of focusing so much on defence weapons when your women are not strong?
It's shocking that 82 percent of women don't use sanitary pads. Either they don't have the money or they aren't aware about it.
There shouldn't be GST on sanitary pads. They should be free.
Women are excluded during those days.
They are made to sleep on the verandah or are forbidden to enter the kitchen and places of worship.
We should celebrate when a girl hits puberty, just the way we celebrate New Year or festivals like Holi, Diwali.
It will make the girl think that something good has happened.
When you hide it, she starts thinking, from that age only, that this is something I should be ashamed of.
When I came to know more about menstruation, I thought I want to make this film, be a part of it and produce it with my wife.
I am very happy -- not because the film will release on January 25 or how much money it will make -- but because it has got men talking about pads on social media!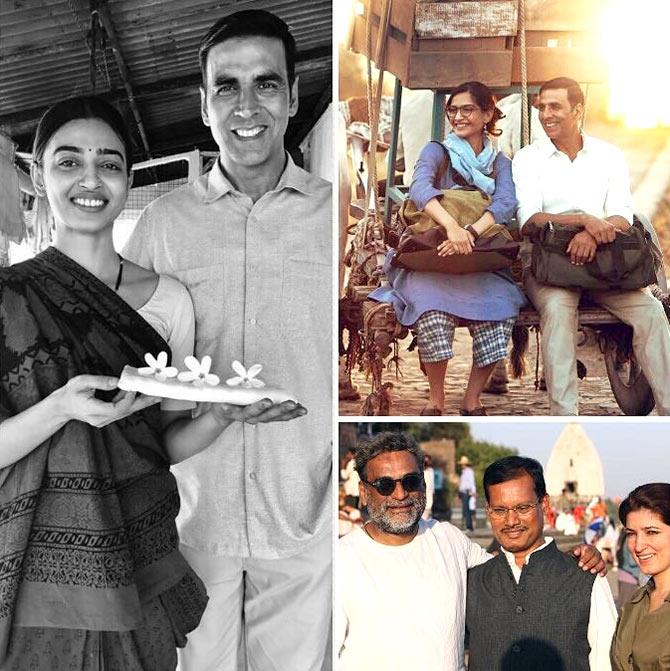 IMAGE: Akshay with his PadMan co-stars Radhika Apte and Sonam Kapoor. Bottom right: Director R Balki and Twinkle with the real PadMan, Arunachalam Muruganantham. Photograph: Kind courtesy Twinkle Khanna/Instagram
Do you think sending out a message in the form of entertainment creates more impact?
When a documentary comes on the screen, people go out to buy food or take a loo break. When the film starts again, their eyes are wide open.
When did you feel you need to be socially responsible with your films?
I always felt that way, but didn't have the money to make these films.
When I had the money, I started producing them.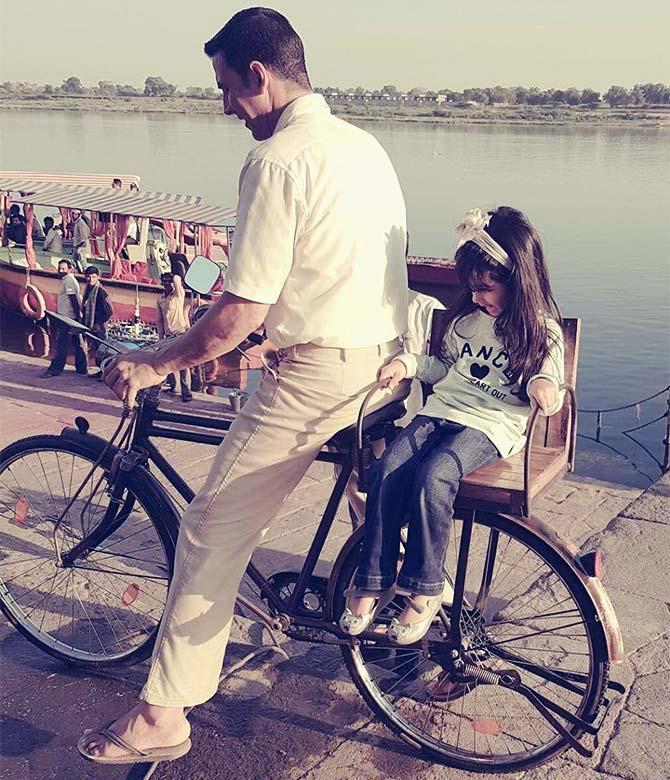 IMAGE: Akshay's daughter Nitara rides on PadMan's bicycle. Photograph: Kind courtesy Akshay Kumar/Instagram
Salim Khan said you have evolved with your choices as an actor unlike most others, and that you might leave them behind in the race.
It's kind of him to say such good words.
There is no rule or regulation how to make a hit film in this industry. There is no formula for success.
I don't know about my improvement, but I make sure my films are different.
After PadMan comes 2.0 where I play the main villain fighting Rajinikanth.
A lot of people asked me why I wanted to play a villain. But why not?
A hero will exist only if there's a villain. I liked that role and so I did it.
What was your takeaway from Arunachalam Muruganantham?
I drew a lot of inspiration from him for my character.
In the beginning, when I tried to strike a conversation, he would not talk to me.
Later, when we became closer, he told me he hates talking to men. He likes talking to women.
When prodded further, he said, 'Sir, they (men) are very slow. They take too much time to understand, unlike women.'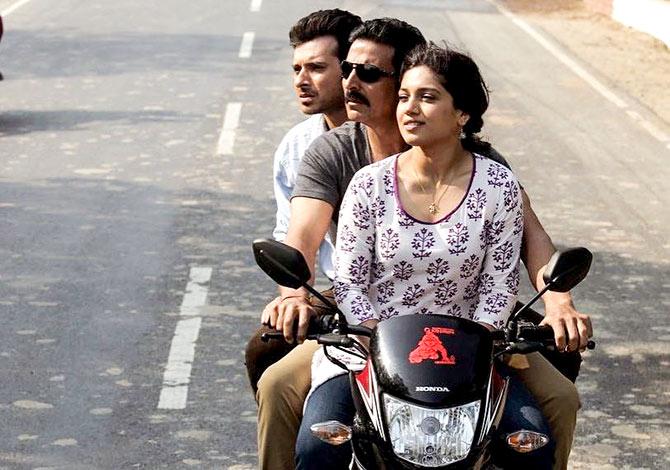 IMAGE: Akshay Kumar, Bhumi Pednekar and Vijay Kumar Dogra in Toilet: Ek Prem Katha.
How do movies with social messages influence rural India?
It makes more impact when it receives support from the government.
Toilet: Ek Prem Katha made an impact because it's a burning issue and received support from the government.
I hope they understand this (menstruation) too because this is not only the need of the hour, but also very important.
Since the last one and a half, two years, I have been studying, thinking, reading, understanding and meeting rural women.
The five days of periods are like hell for them. Not because of the period, but because of the people around them.
There isn't any proper hygiene for them.
In schools, boys tease the girls if they stain their skirt.
I was shocked when I came to know that in some areas, when a girl has her periods, people say 'uska test match shuru ho gaya hai (her five-day test has begun).'
Do you think children should be educated about menstruation in schools?
Yes. But more importantly, at home.
Let me share an incident. I have a friend called Gurpreet who lives in Punjab. He is an actor.
He told me that at around 1:30 am, he woke up to find his wife and daughter talking.
The daughter was telling the mother that she had started her period and didn't have pads. It was late at night and the mother said it would be difficult to find a shop.
Gurpreet went inside and just like how women shy back, they said nothing.
Gurpreet asked, 'You don't have a pad? Periods have started?'
The mother and daughter were shocked.
He took his daughter, drove to the chemist, bought pads and gave it to her.
He told me, 'Akshay, woh din hai aur aaj ka din hai, my daughter loves me immensely. She shares everything with me."
This incident changed his relationship with his daughter. Our men should understand it and break the barrier.
Do you think religion is one of the reasons for this taboo?
Yes.
Last year there was a film on the same topic, Phullu which went unnoticed.
How important is it to have a star drive such a message?
There is no formula that a film will work only if it has a star.
A small film may also do well.
At the same time, a star-driven film may also flop.
A film works on the content, not the actor.
Toilet: Ek Prem Katha was made on a budget of Rs 20-21 crores. PadMan has a similar budget.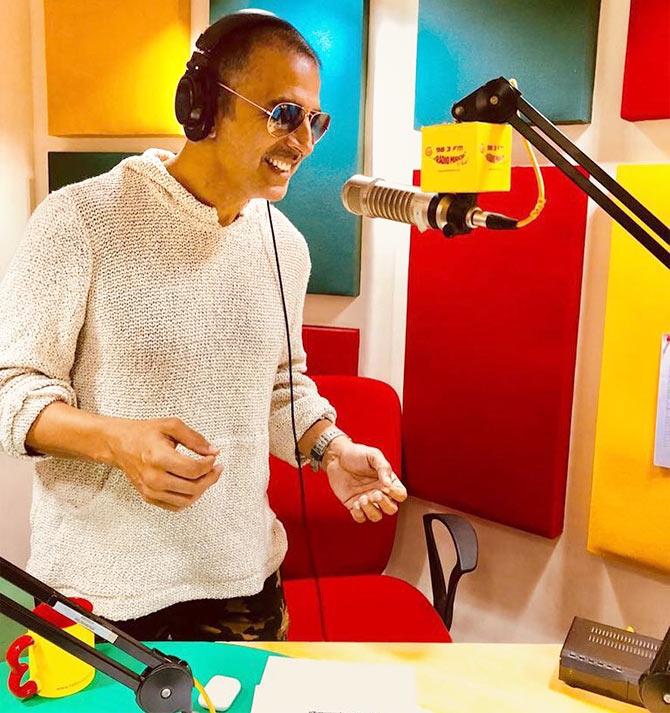 IMAGE: Akshay as an RJ. Photograph: Kind courtesy Akshay Kumar/ Instagram
After topics like open defecation and menstruation, is there any other social issue you want to do a film on?
Recently, at a meet-and-greet session at a radio channel station, a fan told me that I should do a film on dowry.
The way she suggested the subject struck me.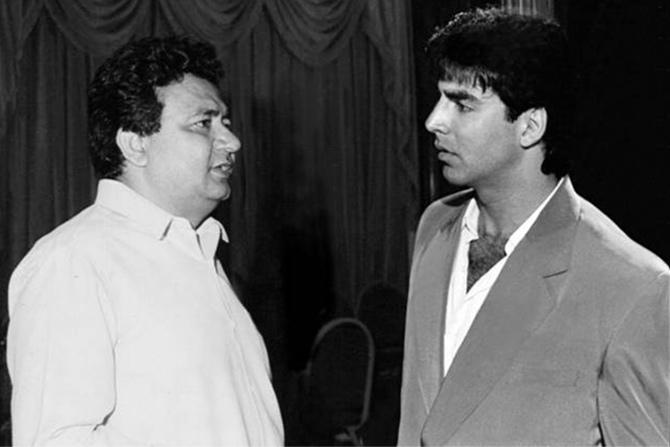 IMAGE: 'I had the good fortune of knowing Gulshanji well. My association with him started right from my first film Saugandh.'
'We shared many things in common and come from a similar background. And I am very excited to play him on-screen,' Akshay had said while announcing the film. Photograph: Kind courtesy Akshay Kumar/Twitter
What's the latest update on Mogul, the biopic on Gulshan Kumar?
It's still in the scripting stage.
Does delivering three-four films a year bring more pressure?
No. I have been doing it for 27 years now. To be precise, 27-and-a-half years.
I enjoy doing it.
I wrap up my films in 40, 50 days. I finish four films in 200 days, there's 165 days remaining.
What will I do with so much spare time?
I end up doing advertisements, attending ribbon-cutting ceremonies or doing shows (laughs).
Does your approach towards film-making change with every director?
I have worked with 21, 22 new directors and 17 new heroines in my career.
My process is that when I work with a director, I reciprocate the way she or he is.
I become like water; I mould myself according to them.