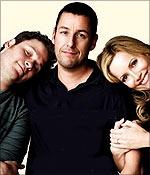 The big question being asked all of last week -- will movie fans support a more serious Adam Sandler? -- has been answered. And the answer won't please the producers and distributor of Funny People, a comedic drama with Sandler leading the cast, that opened at No 1 at the North American box-office but with a disappointing $22 million. But there was plenty of good news for a number of hit films including the latest Harry Potter adventure that are doing wonderful business in North America and worldwide.
But that is no consolation to Funny People director Judd Apatow, whose previous films Knocked Up and The 40-Year-Old Virgin were smash hits. The new film's mediocre opening is also a big disappointment to Sandler most of whose films (Bedtime Stories, Click) cruise beyond the $100 million mark in North America with a good run in foreign territories. Still, some critics believe that he has given an award worthy performance as a comic who suddenly discovers he has cancer and feels the great urge to make amends for his selfish life. Some believe his work in Funny People will fetch him a Golden Globe if not an Oscar nomination
The opening of his new film, which is yet to be shown in major markets outside America, led to some colourful headlines. No Joke, Funny People Falls Flat at the Box-office, said one.
But while Funny People spread a bit of gloom for Hollywood, there was plenty to cheer for other studios. Warner's Harry Potter and the Half Blood Prince has reached nearly $750 million mark worldwide in less than 3 weeks, with plenty more money to come. It looks like the film may not breeze past the $1 billion benchmark but it will glide past $900 million. It could become the highest grossing film of the year. And the hyper kinetic Transformers: The Revenge of the Fallen, from Paramount DreamWorks, has reached $800 million globally; it too is going to grab some more millions in the next four weeks. Also doing great business across the continents is Fox's Ice Age: Dawn of the Dinosaurs which is heading for $780-$800 million. And that is formidable since the audiences are primarily young children who won't pay the full admissions.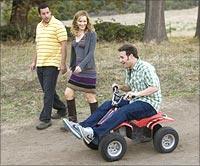 This summer has been very good for comedies, with The Hangover, from Warner, headed for a strong $400 million worldwide run, to be followed by the romantic The Proposal, from Disney, looking at a $300 million final gross. But Bruno, another comedy released by Universal, has performed below the expectations. While the outrageous comedy Bruno will end up with a small profit, analysts say another Universal comedy Lost World is an outright loser.
Funny People, Hollywood trade analysts now say, would be lucky to make $150 million worldwide, and that would not be enough to break even. Only a hefty DVD and Blu-Ray sale would help it achieve that and make a modest profit.
The film received mixed reviews but so do most hit films released throughout the year. In fact, some big hits such as the new Transformers got downright nasty reviews. Though The New York Times found Funny People unfunny and uninspiring, quite a few critics liked it.
'These are good days for screen comedy -- enjoy them while they last,' wrote Mick La Salle in San Francisco Chronicle. 'Filmmakers are trying new things, breaking with formula and putting the emphasis on honesty, whether it leads them into extreme harsh humor or into areas that mix comedy with drama. At the head of the innovators is Judd Apatow...'
'Funny People is a true brass ring effort, a reach for excellence that takes big risks,' La Salle added. 'It's 146 minutes, with a story that's more European in feeling than American. It's not tightly structured but concentrates on the characters and their lives. There are no comic set pieces, and the personalities aren't exaggerated. Virtually every laugh comes simply from people saying funny things that they know are funny.'
Some moviegoers complained that Funny People was a bit too long and that it did not connect well the comedy and serious elements.
What matters now is that those who liked the film will defend it in the days to come and provide it with a word of mouth backing so that it won't collapse in its second week.