'I have a big problem with many designers and I will say this on record: a lot of designers make clothes for young boys, not women. They are so petite, who wears these clothes?'
'It's a very wrong idea of 'beautiful'.'
'Is brown beautiful? Of course.'
'Is black beautiful? Of course.'
'You should be unique; we should celebrate uniqueness.'
Huma Qureshi on what really defines beauty.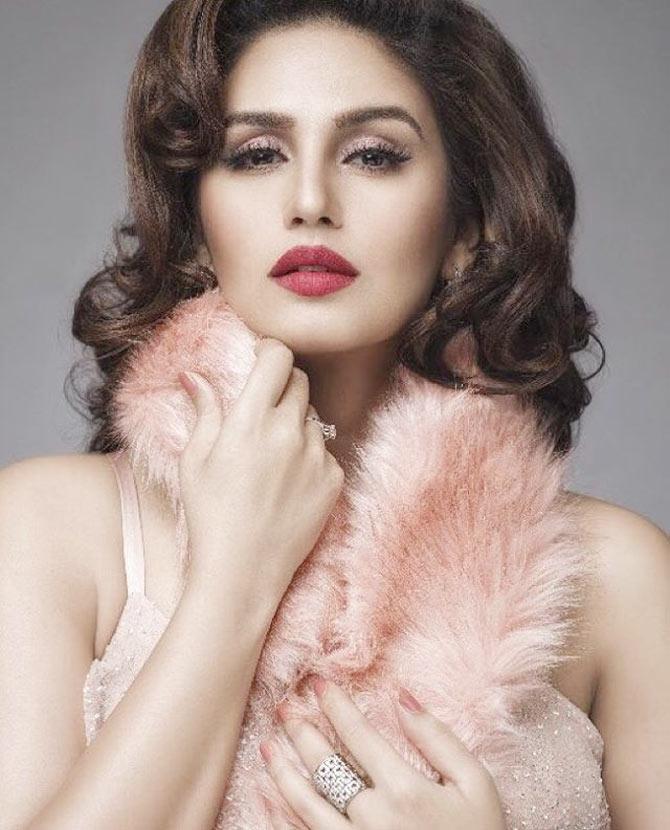 Photograph: Huma Qureshi/Instagram
"Akshay sir must have told you guys I'm dominating," Huma Qureshi begins, as we sit down for an interview.
"But I am not *that* dominating," she adds quickly. "In the film, he likes to get dominated."
Huma is referring to her new film Jolly LLB 2, where she plays Akshay's wife.
And she wants an husband like his reel character in real life! "Jo mere liye khana bhi banaye, paise bhi kama ke laaye aur thodi daant bhi kha le (who cooks for me, earns for me and gets some scolding from me too)," she says with a laugh.
"Akshay sir has done a very smart thing. All the women are going to love him and all the men will want to be like him. They will hate me," she says with a laugh.
How would she like to play it differently?
"I want to play Jolly. Why can't a girl be Jolly?" she asks. "Given a choice, I'll be the most corrupt Jolly, who will have a change of heart. In the end, she will become nice and save the world!"
The actress, whom we will be seeing on screen after 2015's Badlapur, tells Jahnavi Patel/ Rediff.com why we should celebrate her uniqueness.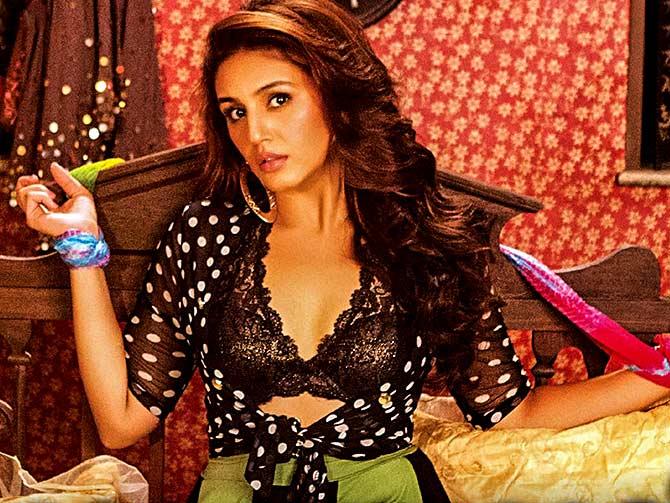 IMAGE: Huma Qureshi in Badlapur
What took you so long to sign a film after Badlapur?
Honestly, I got a lot of offers which were similar to Badlapur and I didn't want that.
Unfortunately, we live in a world which is so myopic that they only want to offer you what you have already done.
I didn't want to do another glamorous character, who was brash or a sex worker. That's also why I wasn't promoting Badlapur out-and-out. If I did, people would only ask, 'Oh you're playing a sex worker? How many scenes did you have with Varun (Dhawan)?'
It's a very disrespecting way to talk to not only women but also to an actor.
When I am doing a role, I don't think that I am getting to wear a mini skirt or show my stomach. I am doing a role because I am an actor. It's not nice to be asked those kinds of questions.
I took my time because I was not in a hurry. I want to do something different, something interesting. I have other hobbies to keep myself busy.
Akshay said he has followed a path set by Arshad Warsi, who starred in the first Jolly LLB. Did you follow Amrita Rao's path?
I don't know what he said but I think they are very different Jollys. That Jolly was from Delhi and this one is from Lucknow. The cases are different and the way they have played Jolly is different.
Arshad is a dear friend and I loved the first Jolly. You can't have comparisons; it's like a separate film.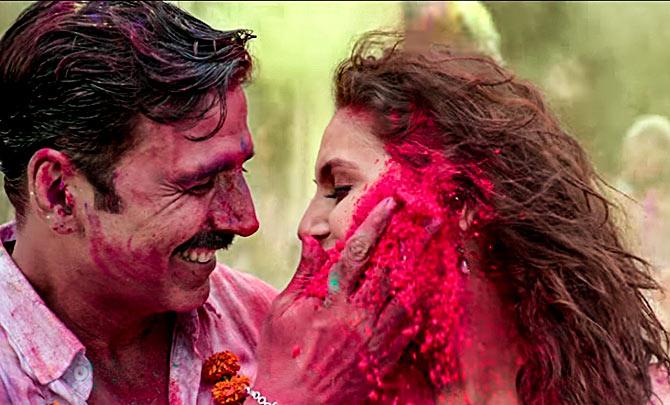 IMAGE: Akshay and Huma in Jolly LLB 2
Is this film more commercial than the first one?
Yes. It has got the singing and dancing, the masala... but it also has a lot of soul. It is a complete film. I can watch it with my family.
It has a good message. There's also patriotism. It's a wholesome film.
Was it different working with a mainstream star like Akshay Kumar?
Absolutely. I am very grateful because I feel my audience will increase now. More people will see this film. There may not be many, who have seen Badlapur or Gangs Of Wasseypur.
We were shooting a crucial scene in Hazratganj, Lucknow. There was an under construction building and people were climbing the scaffolding to see the shoot.
We were really scared and even his bodyguard was like, 'Sir abhi bohot tension ho rahi hai. Kisi ne patthar maar diya toh (I am worried. What if someone throws a stone?).
But I have to say that the people of Uttar Pradesh are so nice. They were shouting Akshay's name but once he waved to them, they became quiet. It's amazing to see that kind of love and fan base.
Do you think success comes only when he/she does a film with a superstar?
I don't agree. Before I came to Bombay to become an actor, I was doing theatre. My dream was to do just one film.
Gangs Of Wasseypur had two parts and 200 actors. I didn't think it would be that successful and go to international festivals. These things just happen. You should just do films that you like doing.
If you think that one should do a commercial picture because everyone is doing it and that one will become a big star after that, I think that if you don't have that grain in you, it will not happen.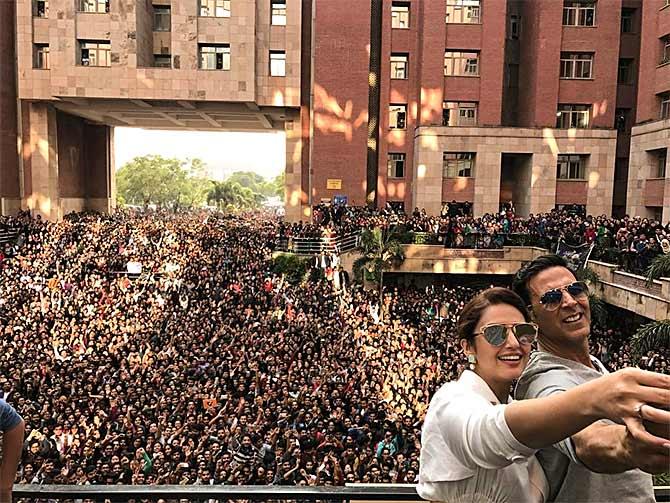 IMAGE: This scenario definitely calls for a selfie. Photograph: Huma Qureshi/Instagram
How is Akshay as a co-star?
He plays a lot of pranks. He took my phone once and messaged two-three actors saying, 'I want to marry you. I love you.' I had to call them and tell them that it wasn't true.
But he is very sweet and everyone loves him.
As an actor, I have so much to learn from him. We would be done by 5 pm everyday. It's amazing because you can go home, work out and spend time with family. I guess he wants to do that too. He doesn't work on Sundays.
My mother had come on the sets when we were shooting in Lucknow. She thinks he is the nicest person. He is so humble, he will pull a chair for a lady. We had lunch together.
Can you tell us about your upcoming film Viceroy's House.
It is based on the Partition and is being directed by Gurinder Chadha.
The last few months when India got independence and was also partitioned, in 1947, all the big leaders came to India and discussed how the country would be cut out, how the first government would be formed.
That house, which later became the government house, was then called the Viceroy's House.
There's also a love story between a Hindu servant and a Muslim translator.
I was very excited to work with Gurinder because she is Punjabi but a British citizen. She has a very balanced point of view of what really happened.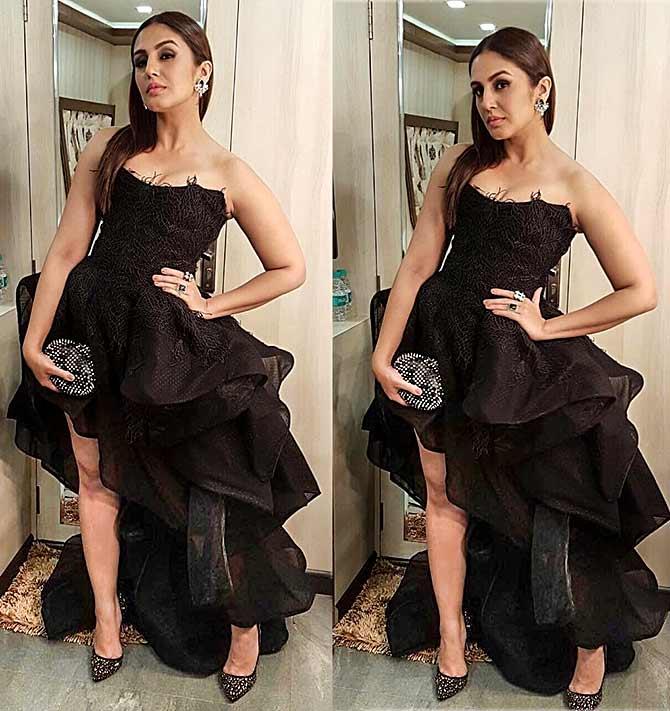 Photograph: Huma Qureshi/Instagram
You have always maintained that you will not be apologetic about the way you look. Do you now think better roles are being written for actresses irrespective of the way they look or the body type they have?
If you look at our Khajuraho temples, that's how conventional Indian beauties are supposed to look.
Whose standard of beauty are we really following?
I have a big problem with many designers and I will say this on record: a lot of designers make clothes for young boys, not women. They are so petite, who wears these clothes?
It's a very wrong idea of 'beautiful'.
Is brown beautiful? Of course.
Is black beautiful? Of course.
You should be unique; we should celebrate uniqueness.
Why can't we respect and appreciate being an individual? Why must there be a box? And why is it important to fit in that?
As an industry, we have evolved. Last year, Neerja and Airlift are amongst the best films. They didn't follow any norm or formula. As an actor, I feel blessed that good scripts are being made.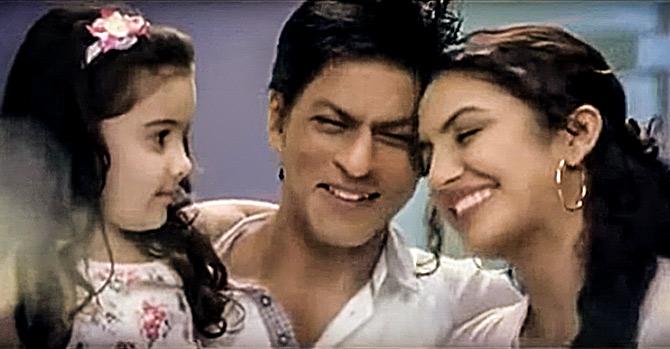 IMAGE: SRK and Huma in the ad
You have done an ad with Shah Rukh Khan.
I hadn't signed any single films. When I did this ad with Shah Rukh, I thought I can just go home now and boast to everybody.
I was in love with Shah Rukh Khan. Like all girls in the 1990s, all of us grew up watching Shah Rukh Khan and Kajol, thinking this is the perfect romantic couple ever.