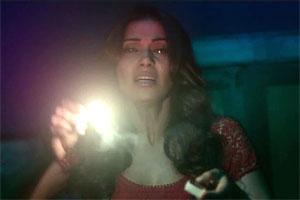 The Bengali babe makes a transition from bimbette to Mum Incredible in Aatma. Raju Nihalani reviews the horror film.

The last horror film I saw was Bhoot some years ago. It so spooked me that I change channels every time I glimpse horror on the telly. Some friendly persuasion compelled me to watch Suparn Verma's Aatma last evening. I am glad that I did.

Flanked by women -- one of whom watched only a part of the film, covering her eyes to the scary parts; the other digging her elbow into my substantial tummy each time a weird scene unfolded on screen -- I viewed Verma's film as an emotional, rather than a pure horror film -- a bitter custody battle fought between maternal instinct and the macabre.

One test of how interesting a film is for me is if it stays on in the senses the day(s) after one sees it. Aatma met my litmus test.

Unlike other cinephiles, I believe no film is perfect. Even the best admired movie wobbles at some point(s) under the burden of directorial inconsistencies or unconvincing performances. I have always savored the scenes in a film -- like when Aamir & Co gatecrash Kareena's sister's wedding in 3 Idiots and what happens in Boman Irani's office the next day.

The scenes in Aatma that linger on:
I had never seen Nawazuddin Siddiqui act before. I believe he was in Sarfarosh, but I don't recall him. What an actor! Verma blows us away in the court room scene, where Siddiqui, the vicious husband but devoted father, is told that he can see his darling daughter only for an hour a week, and only in his wife's presence.
The camera is on the actor alone; Bipasha Basu, who plays his wife Maya, and the actors who play her parents can only be glimpsed from the back. It is a clever scene, well put together, elevated by a great actor at the height of his ability.
Disbelief at first. Then helplessness. Then reckless reluctance to accept the judge's verdict. Then mounting anger. Finally fury.
In a scene that lasts at best for three or four minutes, Siddiqui captures the entire emotional gamut of a father's impotence. I have not seen such fine acting on the Hindi film screen for a long time, and I amaze that the movie business shunned Siddiqui for so long.
Bollywood moppets can suffocate you with their saccharine. As the child at the heart of the emotional tug of war between her parents, Doyel Dhawan makes a very impressive debut.
Doyel's vulnerability in the school scenes -- where she is unable to respond and retaliate against an irritating classmate and an insensitive teacher -- remind me of Jugal Hansraj in Masoom, which also had a child at the centre of a parental dispute. Like Shekhar Kapur did with this three kids in Masoom, Suparn Verma has a way of getting a child to deliver a convincing performance.
Ironically, the scariest scene in Aatma is the one where Siddiqui has not yet turned into a ghost. It comes just before the court room scene, when he turns on his wife for refusing to hand over her cell phone so that he can know who she had called, and then accusing her of trying to turn their daughter Nia against him.
Again, in a scene that lasts a few minutes, Siddiqui spans a range of emotions. From the brute who mercilessly batters his wife to the simpering, apologetic, pathetic human being who seeks her forgiveness, then transitioning to the caring father who tells his sleeping daughter that adults make mistakes too after his wife is taken to hospital.
I doubt if ever domestic violence has been depicted with such relentless brutality as Verma has done in this scene. It was horrifying. I can understand why Bipasha told Rediff's Patcy N and Ronjita Kulkarni that she wept for over an hour after the scene was shot.
Verma's stated obsession with horror can be seen in numerous sequences, most of which are well conceived and created. Only I wish the filmmaker's desire to show off the Dolby Atmos technology had been muted a bit. I had no desire to be alerted before something really bad was going to be happen on screen by the sound.
The director told Rediff's Nishi Tiwari and Sonil Dedhia that Bipasha Basu would win a National Award for her work in Aatma. I doubt if that will happen, but yes, for once, Bipasha is not the sultry bimbette she has trademarked in so many films. And even if her performance hits the occasional false note, there are enough scenes where she reveals that she can really act if given the right role.
It would be wrong to pitch Aatma as just a horror flick. Aatma is really about the inheritance of loss. A tableau of conflicting emotions played against a diabolic backdrop. I enjoyed the film, and will watch it again soon.
Rediff Rating: