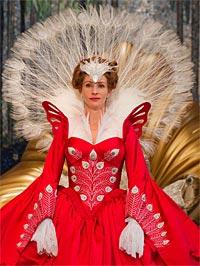 Julia Roberts -- called America's sweetheart for many years, thanks to such huge hits as Pretty Woman and Notting Hill and whose box-office appeal has suffered considerably in recent years because of Larry Crowne and the disappointing run of Eat Pray Love -- is the Evil Queen in Mirror Mirror, an adaptation of the fairy tale Snow White by the Brothers Grimm.

The movie looks different from director Tarsem Singh's previous hits, The Cell and Immortals. Tarsem is known for excessive violence in his films but they also offer visual splendours.

Immortals, which was made for $75 million, grossed worldwide a healthy $225 million and is currently a hit on DVD and Blu-ray, having grossed over $25 million in North America in its first week. If Mirror Mirror earns $150 million worldwide, it would be considered a success.

Roberts admits she did not have any interest in the Brothers Grimm tale till "Tarsem lured me in his luring way," she told reporters at a press conference recently.

Working with Lily Collins, who plays Snow White, was another attraction. Roberts thinks Collins, whose singer father Phil Collins is one of Roberts's idols, and the fact that Collins is an excellent artist, cemented her decision. "Just the one sentence pitch of it on the phone, 'Hey, they're doing this Snow White adaptation,' that didn't grab my attention," Roberts said at the press event in Los Angeles. "I am such a fan of Tarsem, I thought, 'Okay, well, I'd love to meet him. And if I have to go and sit and hear him talk about Snow White for an hour and then just talk about other things then that's what we'll do.' And he had such a great take on it and he had such a vibrant personality. I read the script that he had and I was really taken and really surprised and suddenly thought, 'Oh, wait a minute this is all coming together in this unexpected way.'"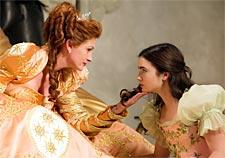 Tarsem had said in an earlier interview, "I have worked with many younger and newer artists but who can resist Julia Roberts?" And last week he said: "I just said, 'I know how to do a queen'. So that was my calling card."
Roberts, 44, is one of Collins favourite actresses. Collins, whose credits include The Blind Side and Abduction, says getting to work opposite Roberts was a real thrill despite their antagonistic relationship on screen.
"To be in a scene with someone that you grew up admiring so much and to have a moment where you're looking at somebody and they're being so mean to you and all you want to do is smile and giggle 'cause you are so happy, but your job is to stay petrified, it taught me a lot about having a poker face," Collins said at the press meet.
With millions of young women still fascinated by The Hunger Games which has grossed an astounding $160 million in four days in North America and $65 million outside the continent and will be soon opening in Italy, Spain and South Korea, Mirror Mirror may not open huge like Immortals. But it could still be a solid performer reviving Roberts's career and boosting Collins's profile.
The Hunger Games is expected to gross at least $60 million in North America over the weekend, followed by Wrath of the Titans which could gross $35 million while Mirror Mirror is expected to make $20-$24 million. Reviews for both new films are quite tepid with Mirror Mirror scoring better.
In the new 3D film Wrath of the Titans, Ralph Fiennes is back as brooding troublemaker Hades. He has been sent to rule the Underworld by big brother Zeus (Liam Neeson). Hades teams up with Zeus's son Ares (Edgar Ramirez), the god of war, and half-brother of Perseus (Sam Worthington).
Ares and Hades imprison Zeus in Tartarus, where Cronos, the father of the gods, takes away Zeus's power so that the universe is destroyed. Perseus is again called to save the world.
Big budget splashy movies with high voltage technical achievements often do very good business and Clash of the Titans grossed over $450 million worldwide. The new film should earn at least $400 million to warrant a sequel.
There is also the second movie on the same subject: Snow White and the Huntsman stars Kristen Stewart of Twilight fame in the leading role and Charlize Theron as the Evil Queen, and it is due June 1.
Some viewers might want to see that film instead of the Tarsem movie but Roberts is not worried. "It's funny when everybody makes such a big deal of there being two as if there had never been two movies with similar topics ever coming up at the same time," she mused last week. "I think of movies really as Noah's Ark. They do come two by two. It's kind of just how it happens."
And as for some viewers complaining the trailer of the movie was terrible, Tarsem has confessed he too did not like it and it does not reflect the vibrancy, colour and interesting twists in his retelling of the famous folk tale.