Two Kannada films will release on Friday, March 20, ahead of the Ugadi festival weekend.
Both films are made by well-known directors.
Raate
Director: A P Arjun
Cast: Dhananjay, Shruthi Hariharan, Suchendra Prasad, Bullet Prakash, Mohan Juneja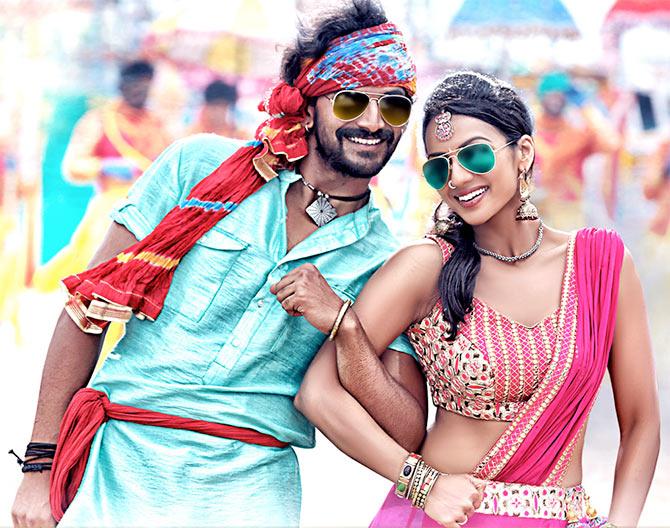 Image: Dhananjay and Shruthi Hariharan in Raate
Raate (pulley) is directed by A P Arjun. His two previous films, Ambari and Addhuri, both did well.
The film is produced by music composer V Harikrishna who has also composed the music. The songs have already become very popular.
The romance is between two youngsters from a village. Dhananjay, who plays the male lead Raja, says he is protective about his lady love and goes to great lengths to make her happy.
Says Shruthi Hariharan, "My character Rani is a village girl, whose life revolves around her Raja. The film is about how plans go awry because God has his own plans for you."
The film has been shot in Bengaluru and some forested areas.
Satya Hegde is the cameraman.
Krishna Leela
Director: Shashank
Cast: Ajay Rao, Mayuri, Rangayana Raghu, Achyuth Kumar, Shobhraj, Dharamendra Urs, Tabla Nani, Shwetha Srinivas, Sindhu Lokanath
Image: Ajay Rao and Mayuri in Krishna Leela
This film marks actor Ajay Rao's foray into production. It also heralds the entry of popular television actress Mayuri to the big screen.
Mayuri plays the title role of Ashwini in the daily television soap Ashwini Nakshatra and has become a household name.
Krishna Leela is about a real life incident that happened in 2010. Love blossoms between a school van driver and a flower seller through a SIM card.
"The film gives a realistic account of the characterisation although the names are imaginary," says Ajay Rao, who plays the driver beset with family problems, who faces them with a smile.
Mayuri says she plays a middle-class, innocent, college girl, who is "so soft and simple that she doesn't know how to use a cellphone."
The music is by Sridhar. Upendra has sung the title track and Puneeth has sung the Pesalu song. Both songs have become popular.
The film has been shot entirely in Bengaluru except for one song sequence that was shot in Sakleshpura.
Shekar Chandru is the cinematographer.