Three Kannada films will release this Holi festival, on March 6. Which of them are you most excited about?
Or would you prefer these Tamil releases instead?
Take a look:
Goa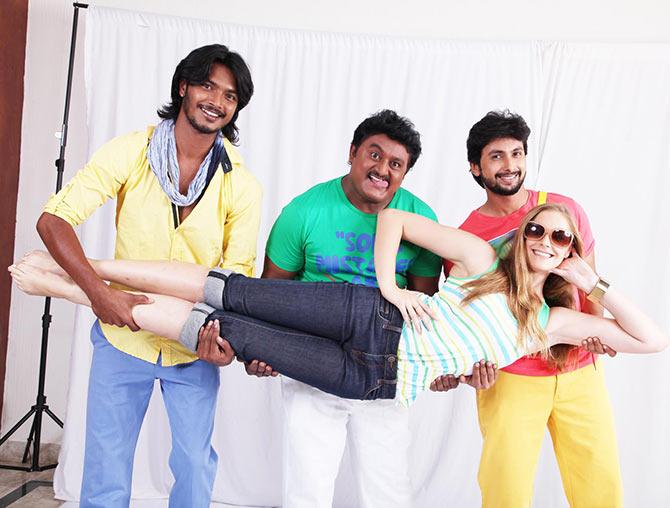 Image: A scene from Goa
Director: Surya
Cast: Komal, Sriki, Tarun, Sharmiela Mandre, Sonu Gowda, Rachel
Goa is a remake of Rajinikanth's daughter Soundarya's Tamil romantic comedy with the same title.
The Kannada version is produced by Shankar Gowda.
Director Surya says the screenplay and dialogues have been tweaked to suit local tastes.
The film is about three villagers, who visit Goa to fulfill their dream of meeting foreigners and marrying them. But their calculations go wrong and they land in trouble.
Some 75 per cent of the film has been shot in Goa and the remaining in Bengaluru, Mysore and Mandya.
The film has a star-studded cast of Bullet Prakash, Dharma, Shobhraj, Ramesh Bhat, Karisubbu and Ashok. Rachel, crowned Miss England and also a belly dancer, features in the film.
Rajesh Kata is the cinematographer and the music is composed by Arjun Janya.


Ondu Romantic Crime Kathe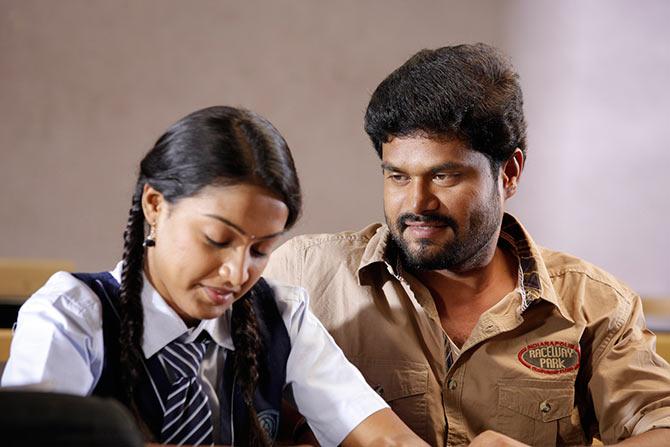 Image: A scene from Ondu Romantic Crime Kathe
Director: Sam J Chaitanya
Cast: Arun, Ashwini, Poojashri, Sonal, Lohit
Ondu Romantic Crime Kathe is a remake of the Telugu hit Oka Romantic Crime Katha.
Director Chaitanya says local crimes that have occurred in colleges will take centre-stage in the Kannada version.
"The film talks about why students are taking to crime when they should be enjoying themselves," says Chaitanya.
The Telugu film had an A certificate but the Kannada version has a U/A certificate.
Poojashri, who makes her debut in the film, says the film sends out a message to both parents and students.
Ashwini plays an schoolgirl, who is forced by circumstances to engage in criminal activities.
"This is a wake up call for students and parents to be alert to what's happening in campuses and how both have to handle situations carefully," she says.
Arun (Gombegala Love) plays a villager who comes to the city and gets initiated into crime.
The film has been shot in Mangalore, Mysore and Bangalore.
The music is by A K Vishal Sai. Ganesh is the cinematographer.
Director Sam Chaitanya has himself edited the movie. Lakshmaiah is the producer.


Flop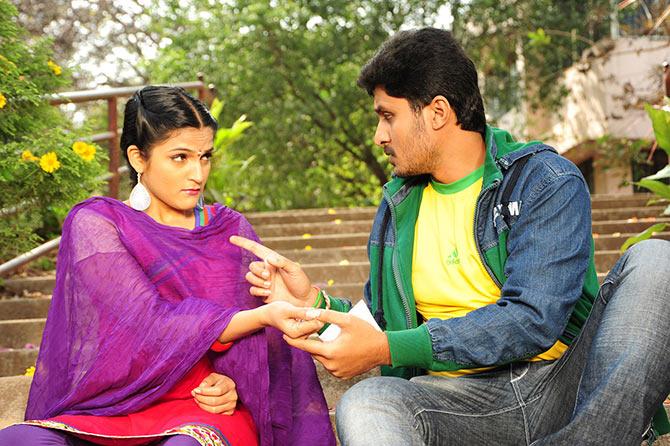 Image: A scene from Flop
Director: Karan Kumar
Cast: Vijeth, Sandeep, Akhil, Sukrata Wagle, Harini, Srinivasa Gowda, Gowrish Akki
Flop talks about failure being a stepping stone to success. According to director Karan Kumar, it is targeted at the younger generation.
Kumar says the film has no hero but four villains, one of them female, played by Sukrata Wagle.
The film has been shot in Bangalore.
Darshan is the cameraman and L N Sastry has scored the music. Devaraj, Lingappa and Chikkanna are the producers.