'...Your confidence.'
'You go through this emotional roller coaster ride, which affects your partner as well.'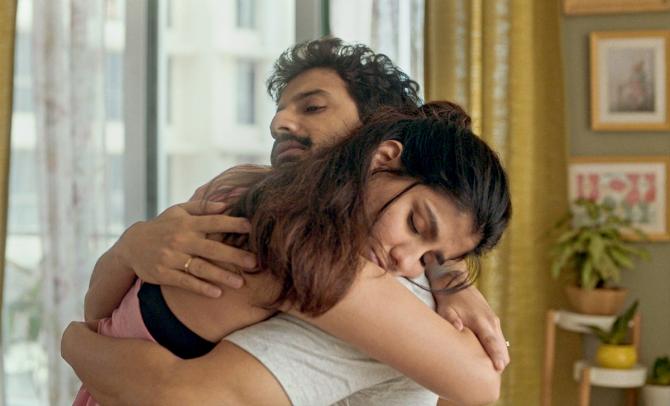 With the pandemic attacking us with renewed vigour, the entertainment industry has returned to working in the digital space. So casting calls, workshops and script-readings have gone back to Zoom calls and WhatsApp messages.
It's the ideal location then, for the second season of Unpaused, an anthology of stories around COVID times.
One of the stories in Unpaused Naya Safar is The Couple, directed by Nupur Asthana.
It stars Shreya Dhanwanthary and Priyanshu Painyuli, and is about the couple's struggle to cope in a pandemic world.
"It's about this girl who's been laid off from work for no reason and how they deal with it," Priyanshu explains. "When you lose a job, it affects your self-worth, your confidence. You go through this emotional roller coaster ride, which affects your partner as well."
"Priyanshu and I had shot for other things, so we had gotten used to the new way of working where everybody was masked up and wearing PPE kits," Shreya tells Ronjita Kulkarni/Rediff.com. "And we were going through our own tension because we had to be unmasked."
Still, she says it was an "easy-breezy, three-day shoot".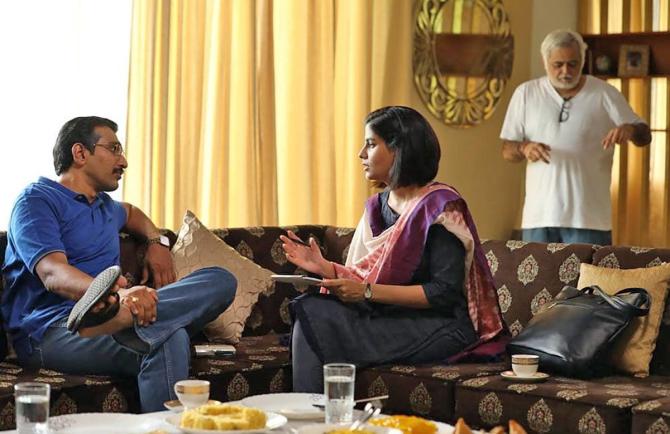 While they star in Unpaused, their own careers haven't paused at all. In fact, they have just taken off after years of struggle.
Shreya began her acting career with a Telugu film, Sneha Geetham, in 2010, but found success only recently with Scam 1992 and The Family Man in 2020.
Priyanshu began his career with the television series Band Baaja Baaraat in 2015, but achieved recognition after his performance in Mirzapur 2, which was followed by the Taapsee Pannu starrer Rashmi Rocket.
"With the advent of the Web, it has given a lot more opportunities for everyone. It doesn't matter which discipline you belong to -- if you are a writer, director, cinematographer, editor, composer or actor, it's opened up the playing field for everybody," says Shreya.
"Now, there are so many stories and so many opportunities. It's a fantastic time for anybody who wants to be in the industry," she says.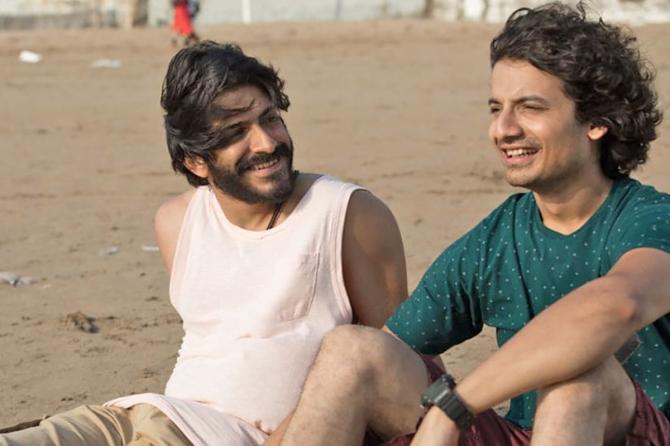 "It takes one or two good projects to get people's attention," Priyanshu adds.
"I mean I've faced a film which was quite big. We thought Friday ko film release hogi, and suddenly everybody on the road will be like, Oh my God, you are Bhavesh Joshi! But it didn't happen because we did not get a good release. But about two months later, when it came on Netflix, it got a fan following," he says, referring to Bhavesh Joshi Superhero, which featured Anil Kapoor's son Harshvardhan Kapoor.
"For me, every film and every project became a stepping stone in some way or the other. When Extraction came out, directors and producers looked at me differently. They were like, we can experiment with this guy. He is not just a guy who needs to be handsome. He can be a villain as well," he says about his Hollywood release, starring Chris Hemsworth.
"When Mirzapur happened, you are anyway in a world which was famous and big. When I entered that world, that's when I realised oh, this is what popularity feels like. Now, everywhere I go, people say that Robin bhaiya, yeh bhi theek hai, yeh bhi theek hai. Nobody asks me, "Hi, how are you?'," Priyanshu laughs, referring to his character in the series named Robin.
Those who watched Mirzapur 2 will know that 'yeh bhi theek hai' is Priyanshu's signature dialogue in the series.
Doesn't he wish Bhavesh Joshi Superhero got more love than it did?
"I wish more people watched the film. Box office is a different ballgame altogether. You do feel bad. but you also know that you made a good film which will find its way which it did, on OTT," he says.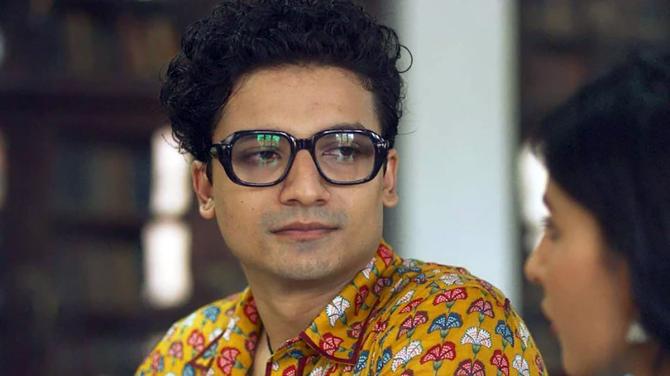 While projects like Mirzapur 2 worked out for him, there have been others that slipped from his fingers. Like Sacred Games.
Priyanshu had almost signed on to play the character Cuckoo, which was eventually played by Kubra Sait.
"They've been many like that," Priyanshu says. "Cuckoo was one of them in which I worked hard to get into the role and change myself physically. There was a lot of attempt gone into wearing five inches heels and getting used to it for a month, walking around in it, dancing in it.
"If the project stops, if someone else gets it... I don't know... for me, it's always been a playground. I'm not taking it seriously now. If the role goes, there's a reason behind it," he says.
"Shreya and I take sports references for this. Like this may be one match that I lost. It's okay, because I'm here to play a tournament. One match lost doesn't mean I'm leaving the ground," he says.
Shreya had her share of just-misses too, most notably Dhoom 3.
But she shrugs it off.
"Why are people talking to me about Dhoom 3? No, no, I just happened to come to Bombay at that point because they happened to be looking for a girl at that time. But I was not at all in the contention for Dhoom 3; I had braces then!" she explains.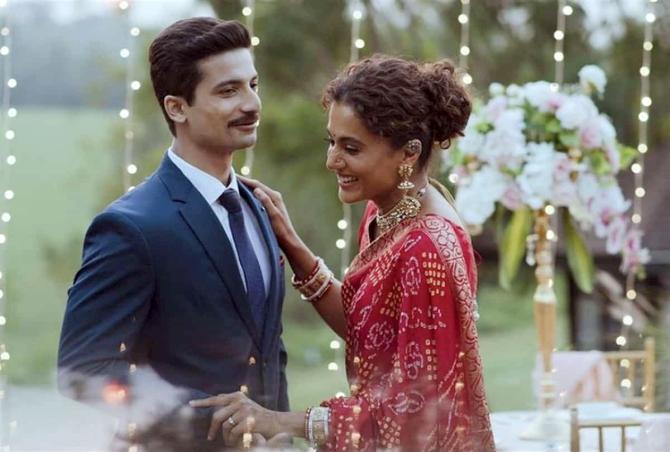 There's something else that Priyanshu and Shreya have in common: They both worked with Taapsee Pannu.
Priyanshu played the love of her life in Rashmi Rocket and delivered a subtle performance.
He played an army officer in the film, a role that was a sort of dream role since his father is a retired colonel.
"I have grown up in an army environment. For me, the idea was to play an army officer, who was very real. I could not make any mistake because my father was watching, his friends were watching, and my friends who are in the army were watching!" he says with a laugh.
"When I would watch films with army characters, I would find a lot of mistakes. So I wanted him to be a gentleman kind of guy. That's why you see that he is a softer, sweeter guy. Not all army officers talk in a commanding way with a heavy voice!"
Shreya will be seen in Taapsee's February release Loop Lapeta.
"It's a crazy film with a great ensemble cast. People are in for a ride for sure," Shreyas says.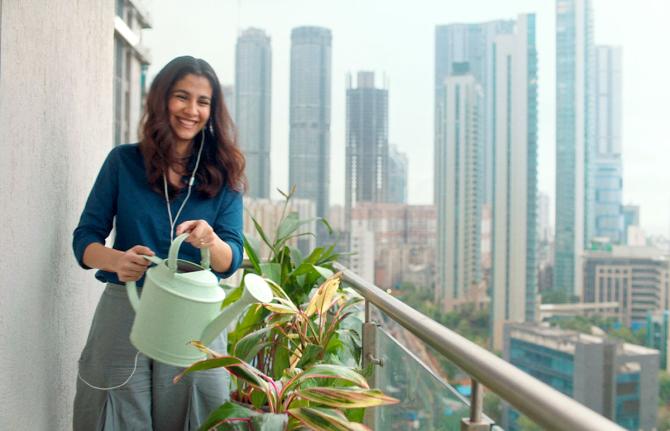 Do they feel Bollywood is opening its doors for them now?
"I want more doors to open, there are still some doors that are not open," Priyanshu answers with a laugh.
"It's never enough for you, right? You want more and more options for yourself. I feel Bhavesh Joshi opened doors for me because the industry got to know me. Extraction helped because people started looking at me differently. After Mirzapur, more stuff started coming my way."
"But you start getting choosy because the audience also wants you to keep doing different stuff. They don't want to see you in the same format otherwise they will get bored. I will get bored myself," he says.
"I'm trying to do what excites me. I definitely want to do romcoms. I just did a thriller which will come out this year. I have picked up a few interesting roles like Pippa. It was the most mentally and physically challenging role that I have ever done. It's an army role, but I have never been on the war front and this is a massive war film."
Directed by Raja Krishna Menon, Pippa is based on Brigadier Balram Singh Mehta's book The Burning Chaffees about his experiences in the 1971 War. The film also stars Ishaan Khatter, Mrunal Thakur and Soni Razdan.
Priyanshu and Shreya have a long list of directors they want to work with, and it includes Sriram Raghavan, Dibakar Banerjee, Anurag Kashyap, Shakun Batra and Vishal Bharadwaj.
"I want to work with the newer directors," says Priyanshu, "because the stories they tell are very different."