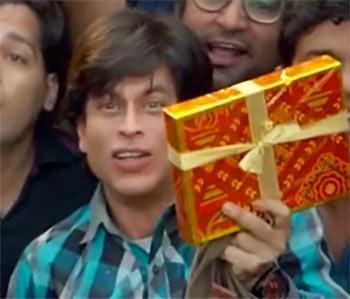 Why has Sushant Jain, the owner of Ghantewala, the famous sweet shop in Delhi's Chandni Chowk, sent Yash Raj a legal notice?
Shakya Mitra reports.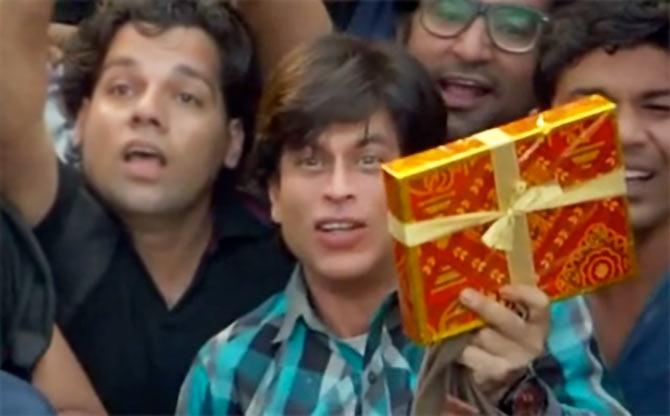 IMAGE: Shah Rukh Khan with a Ghantewala mithai box in the film Fan.
After the lukewarm response and mixed reviews it got, Fan could cause one more headache for Yash Raj Films.
The film has upset 40-something Sushant Jain, the owner of Ghantewala, the famous sweet shop of Chandni Chowk which downed shutters last year after a run of 225 years.
The film, which revolves around the shenanigans of an obsessive fan of a film star (both roles essayed by Shah Rukh Khan), has a scene in which the fan's father says that Sohan Halwa has been bought from Ghantewala specifically for the star. In a subsequent scene, outside the star's house, the box falls on the ground and gets trampled all over.
This was more than what Jain, a graduate of the prestigious Shri Ram College of Commerce in New Delhi, could stomach.
His lawyer Ankit Sahni raises three points: One, the name Ghantewala was used without obtaining the consent of the proprietor of the shop; two, the trampling disparages the brand; and three, when the contents of the box fell out, it was not Sohan Halwa, but Karachi Halwa that spilled out.
Sahni has sent a legal notice to Yash Raj Films, producer Aditya Chopra, director Maneesh Sharma, writer Habib Faisal, dialogue writer Sharat Katariya and Khan. A Yash Raj Films spokesperson admits that the notice has reached the company and it is being looked into.
Incidentally, this is not the first time that Ghantewala has featured in a YRF film. There is a scene in Yash Chopra's Chandni (1989) where Rishi Kapoor, upon eating a sweet offered to him by Sridevi, says that it is Ghantewala's barfi.
Another movie Chandni Chowk (1954), directed by Baldev Raj Chopra (uncle of Aditya Chopra of Yash Raj Films), showed the Ghantewala shop in its finale.
Ghantewala was established in 1790 by Lala Sukh Lal Jain who had arrived in Delhi from Rajasthan. It has catered to three generations of Mughal emperors and, after Independence, to several prime ministers and Presidents. There is a picture of Indira Gandhi flagging off a consignment of Ghantewala sweets for Indian troops in Korea in 1954.
Anubhav Sapra of Delhi Food Walks says that other than Sohan Halwa, Pista Barfi is the other popular delicacy from Ghantewala.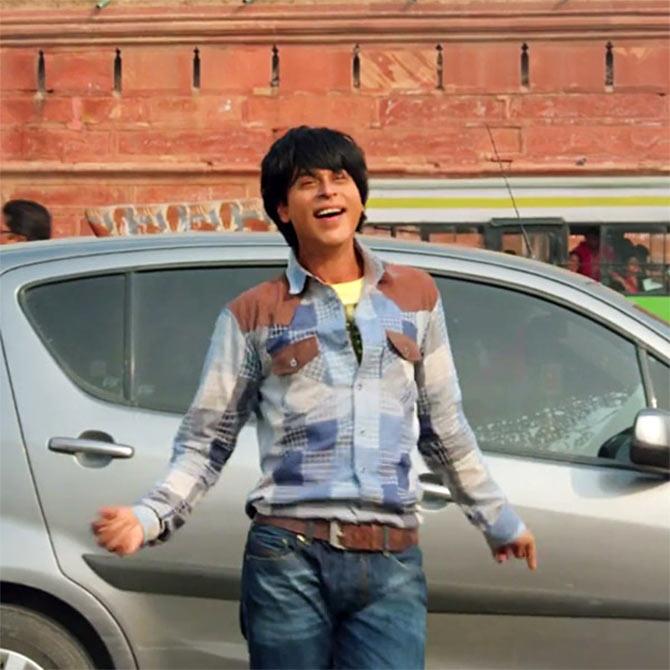 IMAGE: Shah Rukh Khan in Fan.
In spite of the heritage, Ghantewala was shut down last year.
A combination of regulatory hassles with the workshop being declared a polluting unit by the Delhi Pollution Control Committee, and dwindling business, perhaps forced the hand of the owners.
In chaotic Chandni Chowk, the shop now houses a bridal wear store. A board says that it is a unit of the Ghantewala family. At 4 pm, it isn't quite brimming with visitors, which is a far cry from the tales one hears of its iconic predecessor in the same location. Right opposite this store is a busy Haldiram's outlet.
Jain, a seventh generation descendant of Lala Sukh Lal Jain, is reluctant to speak on the matter and refers all queries to his lawyer, Sahni.
According to Sahni, there is good news for Ghantewala's loyal customers: Jain is in the process of setting up a new factory in Noida and Ghantewala will be re-launched later this year. The re-launch date has not yet been locked, though it could take place around Diwali.
This time round, its famous sweetmeats will be sold through various Ghantewala outlets spread across Delhi, the licences for which have been acquired.
Five years ago, after the 2011 Cricket World Cup, Yash Raj Films had sent a legal notice to the BCCI, the ICC and the Mumbai Cricket Association for playing songs from its movies without permission. Jain's notice completes the loop.