'When I met him, I was a behaving like a 16 year old!'
'He is incredible, very casual and chilled out.'
'He told me he would watch Gully Boy and then he said a dialogue from Gully Boy, 'Bahut hard!'.'
Gully Boy may have been Ranveer Singh's movie, but Siddhant Chaturvedi was the real scene-stealer.
Months after the film's theatrical release, the actor finds his career fast-tracked, and he's enjoying the attention.
"After the film's release, every day, every week, I am offered a new script," he tells Patcy N/Rediff.com.
How has life changed after Gully Boy?
People have been recognising me on the streets.
There is a lot of love and appreciation, and that is what I wanted.
I wanted people to appreciate my skills and my performance.
I don't want people to simply say, 'Oh my God Siddhant!'
I want them to say, 'You have done a great job.'
I would rather have their respect.
People on the streets mostly call me by my character's name MC Sher.
Nothing has changed at home.
It's the same dal-roti and dal-chawal.
I don't get any special treatment at home.
I just get taunted, that 'Ab tum toh star bangaye, tum yeh nahi karoge.'
So I still have to do my work.
I think it's necessary that things remain the way they are or you will lose your hold with reality.
It is necessary to remain grounded.
Has more work started coming in?
There is a huge change, work-wise.
Since the last three months, after the film's release, every day, every week, I am offered a new script.
People tell me I don't have to give auditions.
That feels nice, but I insist on giving auditions so that I will get a feel of the character and I will understand the script.
But they don't listen; they just offer me the film.
I haven't signed any film, but I have locked down two films verbally.
I am also doing brand endorsements for Tata Harrier. Soon, there will be three more endorsement announcements.
I am taking my time and doing things slowly.
I am not in a hurry.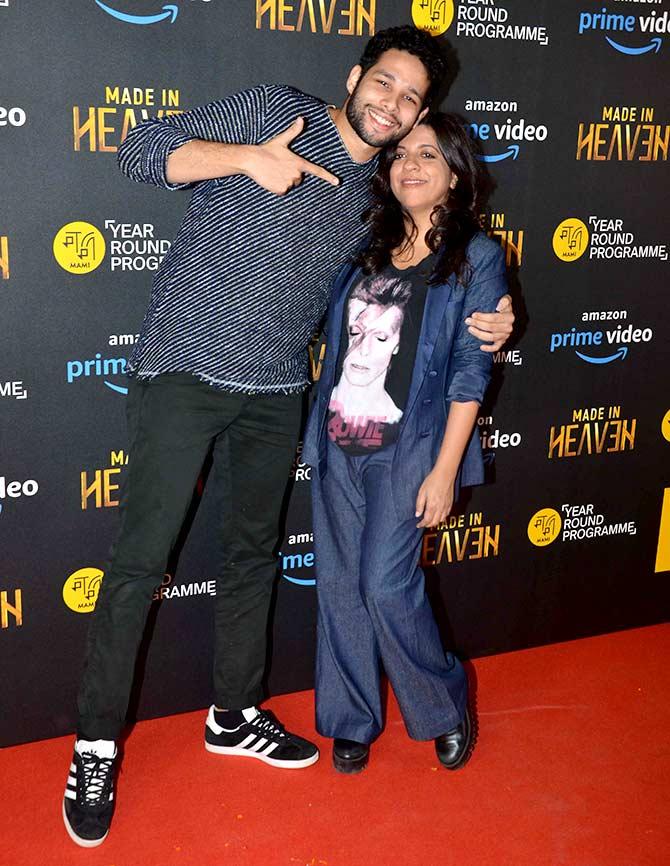 There is an interesting story of how Gully Boy Director Zoya Akhtar discovered you. Please tell us.
I have missed many family weddings, as I used to wait for my audition calls. Most of the time, the calls would not come and I would still be waiting.
So this time, I decided to go for my cousin's wedding in Kolkata.
But there was an Inside Edge (where he played an insecure cricketer) success party in Mumbai, and Ritesh (Sidhwani, producer) sir wanted me to come back.
So I left the wedding the next day, and came back for the party.
During the party, I was dancing with everyone.
When the song Gallan Goodiyaan from Dil Dhadakne Do played, I went to Zoya ma'am and started dancing, holding her hand.
She asked me who I was.
I told her I was an actor in Inside Edge.
So she said, you have so much confidence, why don't you audition for a role in Gully Boy?
The next day, I called Nandini (Shrikent, casting director) ma'am. She sent me a one-page dialogue and asked me to learn a rap song as well.
It's not easy to learn rap by heart, so I wrote my own rap and did my audition.
The next morning, Zoya ma'am called me and said she would be sending me the script and if I liked it, they would like to have me on board.
I was shocked that the the director herself had called me. Plus, she was giving me a choice and that I could decide after reading the script.
I read the script and told her that I loved it and I was on board.
How did Zoya guide you?
I was the last actor to be locked for the film.
I had only 20, 25 days, not much time to prepare.
I started writing my own rap.
Then, Zoya ma'am arranged a meeting with Ranveer Singh and the other rappers.
She asked me to do the research on my own, as much as possible, and then meet her. I was worried but she was confident that I would manage.
I was very nervous on the first day of the shoot. but once they said 'action,' I did whatever I understood from the script and my research.
After the shot, everybody started clapping.
Ranveer came to me and said 'Pehle din kisiko itni taliyaan nahin milti hai (no one has got such applause on his first day).'
He hugged me and said, 'Tu sahi kar raha hai (you're doing the right thing).'
I did not understand what was happening, so I asked Zoya ma'am and asked her if I was doing it right.
She said yes.
She sculpted me because it was my first film. She made me understand and made me calm.
She motivated me a lot.
When I was rehearsing or shooting, she would just remove a line or improvise a scene. The rest of the work she did on the editing table.
I have written all the rap battles in the film; she gave me that liberty.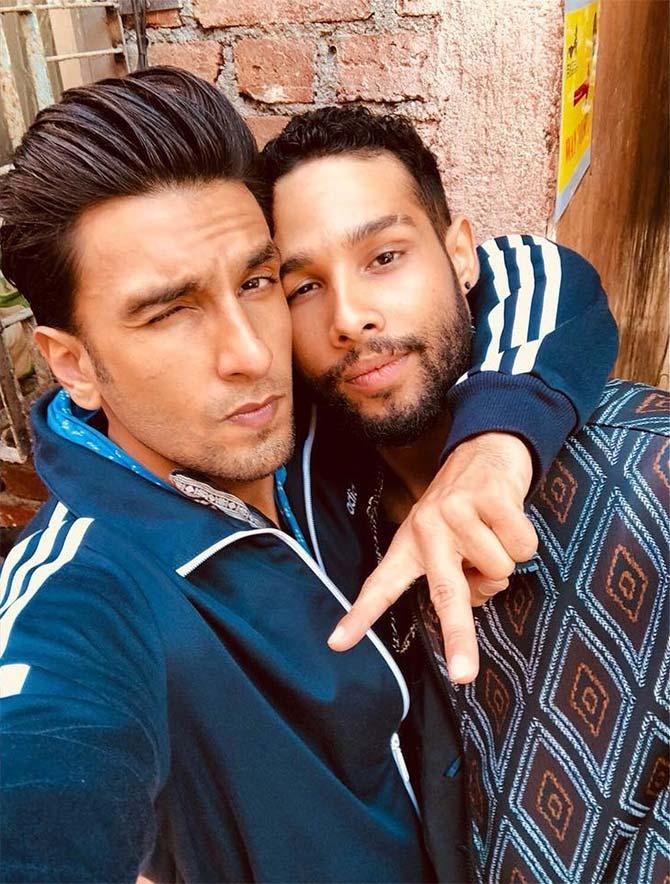 You play Ranveer's guru in the film and have the maximum scenes with him. How was it working with him?
We shared a great rapport.
There was a lot of love and respect.
When my next film got locked, I got the first call from Ranveer because he came to know about it and he wished me.
Our equation is the opposite of what you see in the film.
He guides me.
I learnt a lot from him.
When he would come on the sets, he would greet everybody. He was very normal. He did not show off.
We would rehearse and then shoot.
You don't have many scenes with Alia Bhatt. But did you learn anything from her?
Yes, we don't have many scenes.
I first met her when I was shooting Bhaag Bhaag Sher Aaya in the college campus and she comes running with Ranveer to listen to my rap.
I was shooting since morning, so by afternoon, I was exhausted because of all the 'cuts'.
When she came running towards the stage, she blew a kiss and said, 'Kya kar rah hai yaar tu! (what are you doing!).'
The moment she did that, all my exertion got over and I shot till evening.
I want to work with her in future.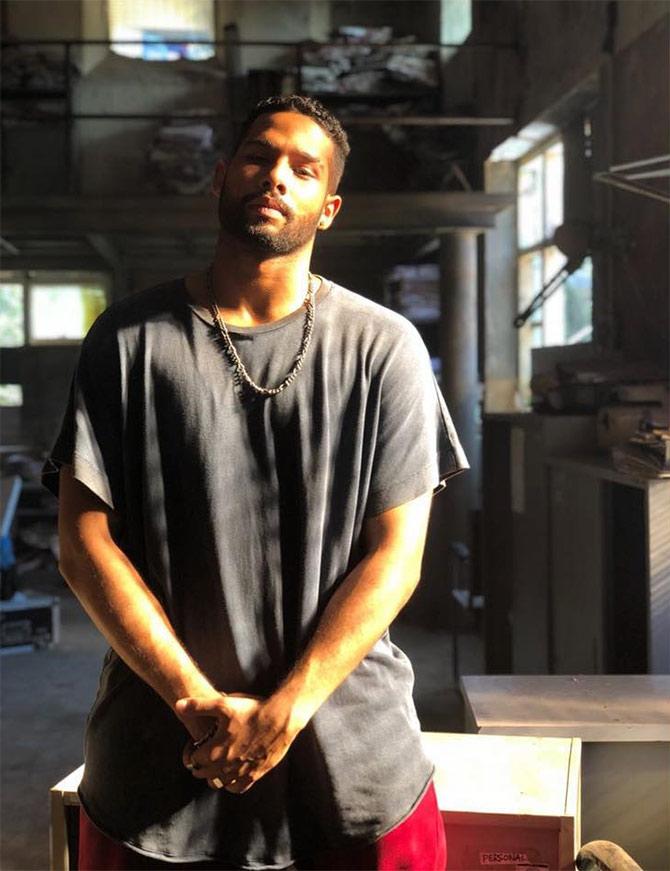 What was your parents's reaction after watching the film?
They were very happy.
My father kept asking ''Kya yeh tumhi ho? (Is that you?)'
I had gained muscle for the film and it released almost 10 months after the shoot.
I had lost all that weight.
I felt nice because if my parents can't recognise me easily, that means I have done a good job.
Which actors have inspired you?
The reason I wanted to be an actor was Shah Rukh Khan, Govinda and Salman Khan and Amitabh Bachchan. They will always be my idols.
But when I was struggling, I saw my contemporary strugglers were acting like Shah Rukh and Amitabh; their mannerisms weren't new.
So I started watching world cinema.
I also watched Bollywood films.
I liked Ranveer in the Ainvayi Ainvayi song from Band Baaja Baaraat. He has progressed a lot since then.
Ranbir Kapoor is a fine actor, he gets his nuances right.
The third actor I like is Vicky Kaushal.
I was in college when Masaan released. I felt nice that people from outside (the industry) were entering and doing well in the very first film. He blew everyone's mind.
Ayushmann Khurrana was my next inspiration because of his film choices.
I look up to people who are from outside of the industry and doing well.
It's very difficult to do that because of nepotism.
Nepotism is there and I would get demotivated. But when outside actors do well and get good work, I get inspired.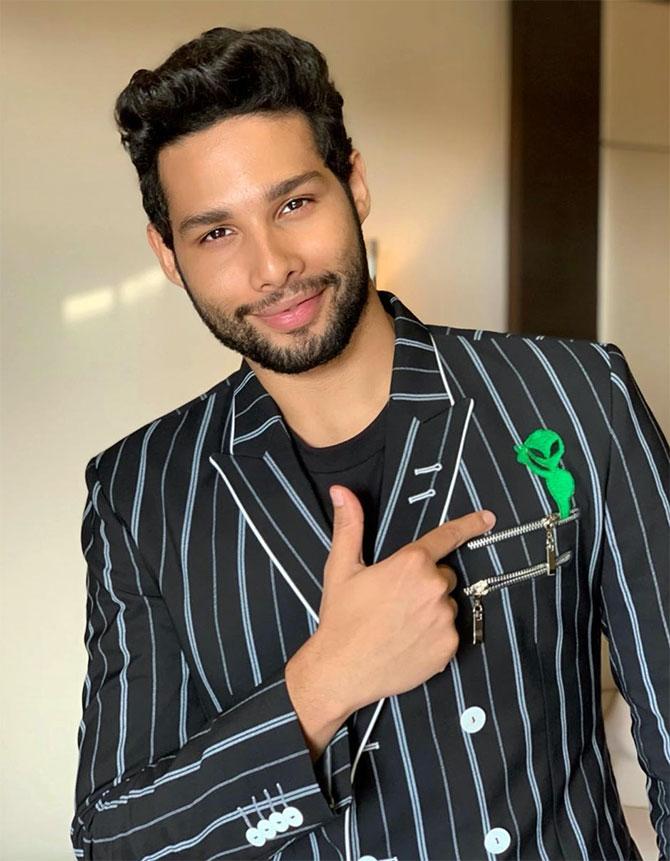 You dubbed Chris Hemsworth's voice in the Hindi version of Men In Black and you met him as well. How did that go?
I have been a huge fan of Chris Hemsworth. I have seen all his superhero films.
He is Thor, hamare bijli ke devta!
When I met him, I was a behaving like a 16 year old!
I was very nervous, but he is incredible. He's very casual and chilled out.
He had seen the Gully Boy trailer and my rap song.
He told me he would watch the film and then he said a dialogue from Gully Boy, 'Bahut hard!'