'I couldn't sleep for a couple of nights due to stress, wondering if I could do the role...'
'I am still enjoying my work and that is a huge pat on my back.'
'But I haven't done much work because I am lazy and choosy.'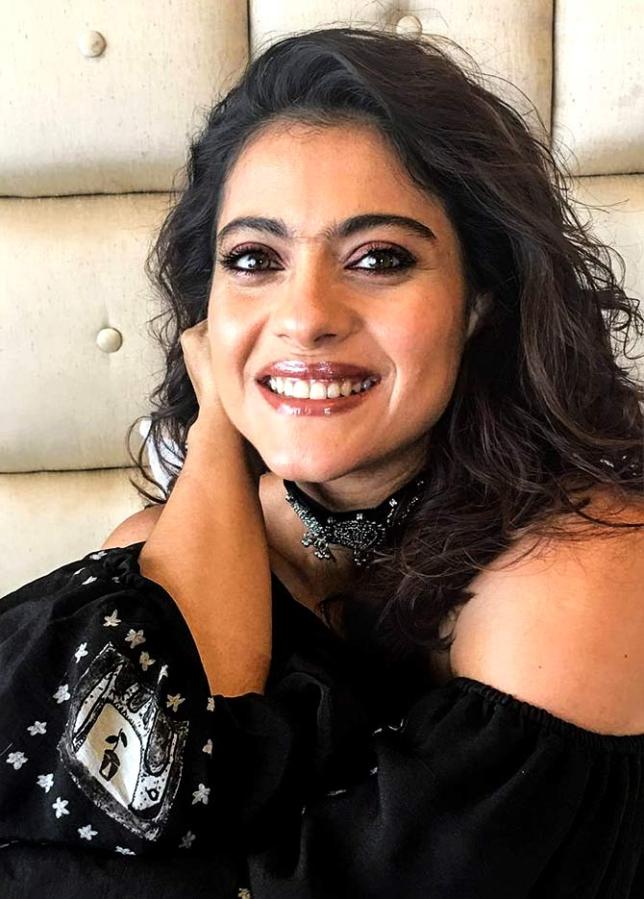 Photograph: Kind courtesy Kajol/Instagram
Kajol will share the screen with Dhanush in the Tamil film VIP 2, directed by Dhanush's sister-in-law Soundarya Rajnikanth.
The film will see Kajol return to Tamil cinema after 20 years -- she had made her Tamil debut opposite Prabhudheva and Arvind Swami in the 1997 film Minsara Kanavu, which was dubbed in Hindi as Sapnay.
Kajol discussed VIP 2, Karan Johar and nepotism in a conversation with the media.
Rajul Hegde listens in.
What brought you to Tamil cinema after 20 years?
When I did Sapnay, I would sit with my assistant for two hours every night and study Tamil papers and dialogues for the next morning.
I was traumatised!
I had not studied so much even for my Standard 10 exams! (laughs)
After that, I decided no more other (regional) language films that I don't understand.
But the VIP team insisted on narrating the script to me and I loved it.
I asked them if they were planning to change it to Hindi and they said that 50 per cent of my dialogues were in English.
The rest, even if I speak in Chinese, they will dub it.
How difficult was the shoot?
The first two days were really hard.
Fortunately, Dhanush, who is also the writer of the film, and Soundarya worked along with me.
I couldn't sleep for a couple of nights due to stress, wondering if I could do it.
I had butterflies in my stomach.
But by the third day, I understood the rhythm of the language, the flow, and it become easier.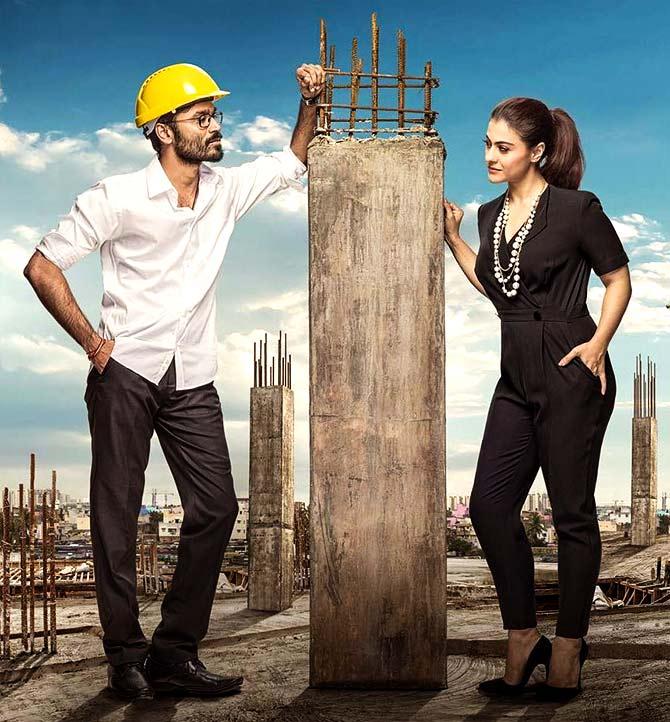 IMAGE: Dhanush and Kajol in VIP 2.
Your character looks interesting in the trailer.
I liked the character, and the story.
I have seen VIP Part 1.
My character Vasundhara is a self-made woman, who has always done things her way and succeeded.
Raghuvendra (Dhanush), on the other hand, comes from a different background. He has different ideas, thoughts and is very stubborn.
When they clash, it's more of a personality and ideology clash than anything else.
And both are convinced that they are doing the right thing.
As an audience, you will decide who is right or who is wrong.
I have definitely infused the character with more life than what was originally written in the script.
Once you start shooting, things do change.
Most of the time, the writer sees that what he has written comes to life in a completely different way.
Sometimes it lives up to his imagination and sometimes it surpasses it.
Is it easy to play a character if one can relate to it?
Very much so!
You should take a particular part from the character that you can identify with.
You exaggerate and elaborate it and make it believable.
That's the whole thing about choosing characters.
I identify a lot with her. She is self-made and self-confident.
I started working early as well.
There are major differences too.
There's a line that says the top is a lonely place, and Vasundhara comes from there.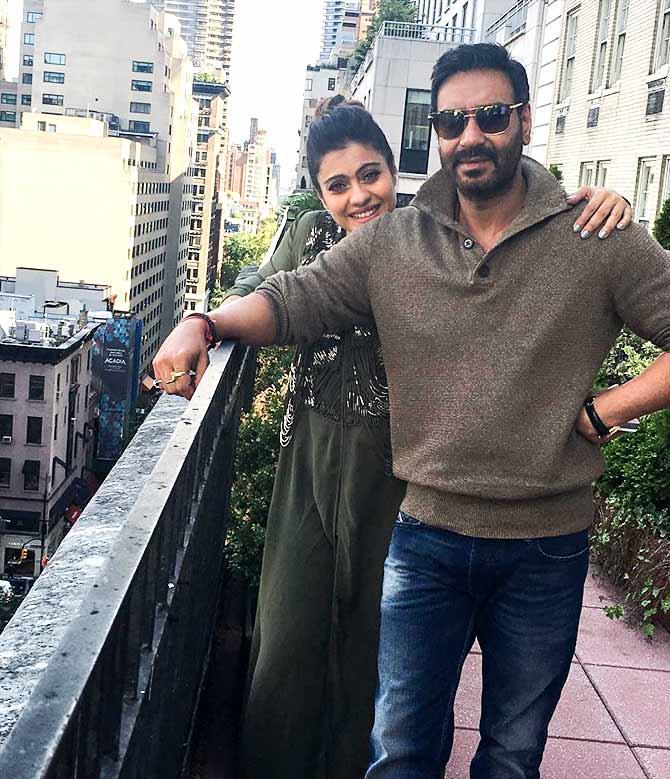 IMAGE: Kajol with husband Ajay Devgn. Photograph: Kined courtesy Kajol/Instagram
Were you lonely when you were at the top?
I was never lonely. I always had everybody around me. I made sure of that.
What did Ajay say about the VIP 2 trailer?
He said it's a nice commercial trailer. He liked it.
He can't judge my performance because he hasn't watched the film yet.
But I have told him that I have done a good performance. (Laughs.)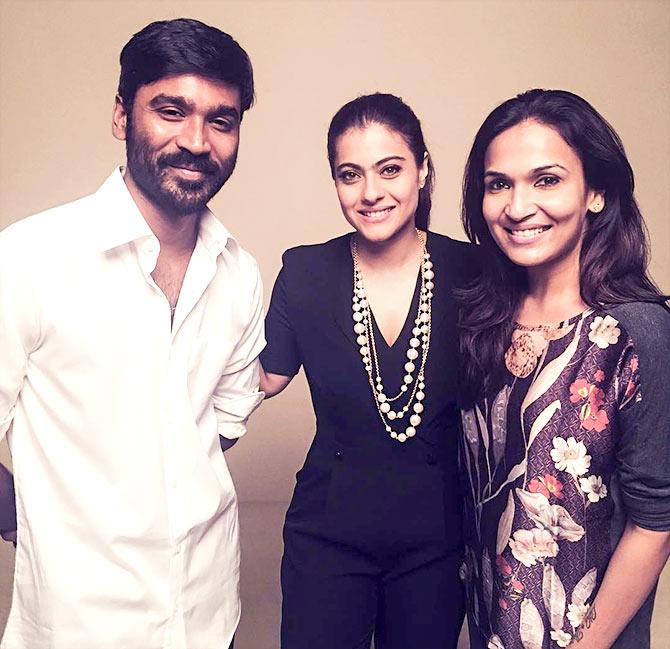 IMAGE: Dhanush, Kajol and Soundarya. Photograph: Kind courtesy Kajol/Instagram
How was it working with Dhanush and Soundarya?
He is an intelligent man and a fine actor.
Since he has written the script as well, it was a plus point.
I could tell him if I didn't like a line and he would change it.
We didn't have to call the writer on set! (Laughs.)
Soundarya is a very clear director.
My character was well written so that made my job 20 times easier. My director knew what she wanted.
You will complete 25 years in the industry soon.
I am still enjoying my work and that is a huge pat on my back (laughs). But I haven't done much work because I am lazy and choosy.
Why has nepotism become a buzzword these days?
I think it is a debate brought on by two personalities who have decided to quote-unquote each other.
I honestly think it's a moot point because every child wants to grow up and be like their parents.
Lawyers' children grow up and become lawyers, and doctors' children grow up and become doctors.
It is an open world. Anybody can become anything they want to become.
People who succeeded in the industry have succeeded because of their talent and hard work.
Are you open to working with Karan Johar again? (their relationship went kaput because of a tweet)
I am not answering any questions on that.
If any of my other friends want to offer me a film, I will definitely do it.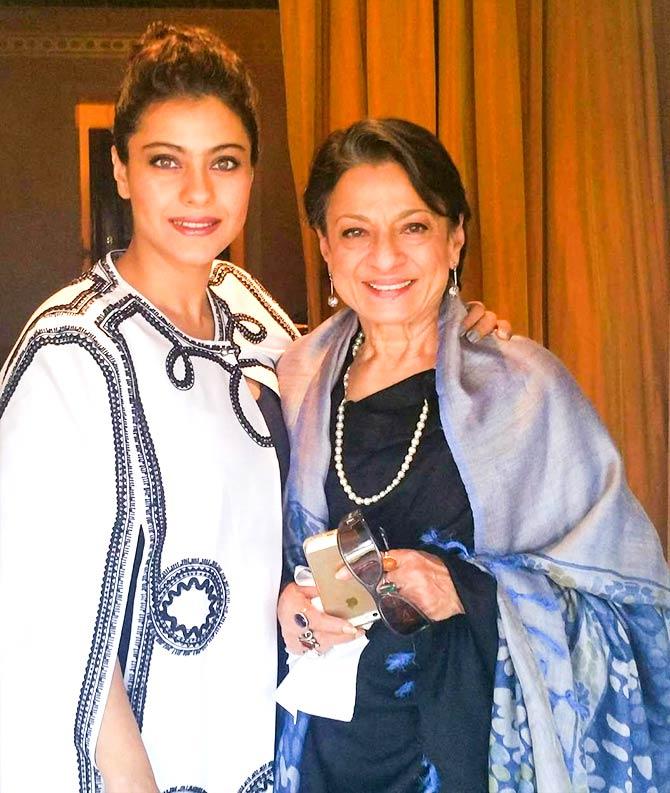 IMAGE: Kajol with mum Tanuja. Photograph: Kind courtesy Kajol/Instagram
Your mother Tanuja made her debut on television with Aramabh. Do you watch it?
No, I don't.
But the snakes in the serial are fake because my mother is petrified of snakes.
Even the fake ones give her the heebie-jeebies!
My mother is one of the finest actors I have come across in my life.
She is amazing, fabulous... I have no words to describe her.