'I know many actors living outside India put on accents in films because they think that is how Indians talk. I avoid that.'
I don't have to prove anything through my accent.'
'My psyche is Indian.'
Anupam Kher gives us his 500th film!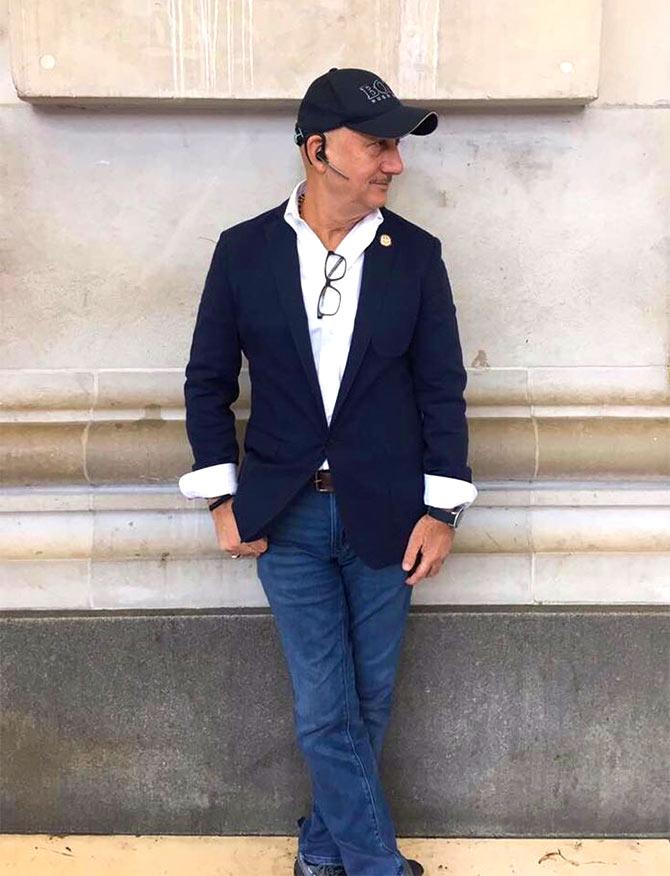 Photograph: Kind courtesy Anupam Kher/Twitter
Anupam Kher is one of the busiest actors in Bollywood.
Since the early 2000s, he has also been acting in a number of significant international productions -- from Gurinder Chadha's Bend it Like Beckham (2002), Ang Lee's Lust Caution (2007) to David O Russell's hit Silver Linings Playbook(2012).
In his latest international project, The Big Sick, Kher plays a Pakistani-American character, father to the stand-up comic and actor Kumail Nanjiani (Silicon Valley).
The autobiographical film -- based on a script by Nanjiani and his wife Emily Gordon -- won the audience award at this year's SXSW Film Festival.
Produced by Judd Apatow and directed by Michael Showalter, the film also stars Holly Hunter, Ray Romano, Zoe Kazan (who plays Nijiani's wife Emily) and Indian actors Zenobia Shroff (Ek Main Aur Ek Tum) and Shenaz Treasury (Delhi Belly).
The Big Sick is a sweet, romantic and hilarious film. It is also one of the rare times I did not cringe at the representation of South Asian characters in a Hollywood production.
'We wanted to portray undiluted desi-American experience in a mainstream comedy,' Ninjiani wrote to me on Twitter. 'There are complex issues to portray.'
Kher will be seen later this year in a big Hollywood production, Hotel Mumbai, the 26/11 Mumbai terror attack story, now being presented by Harvey Weinstein. He also starts in a Netflix series, The Indian Detective.
Aseem Chhabra spoke to Anupam Kher by phone about his career and what makes him take projects outside India.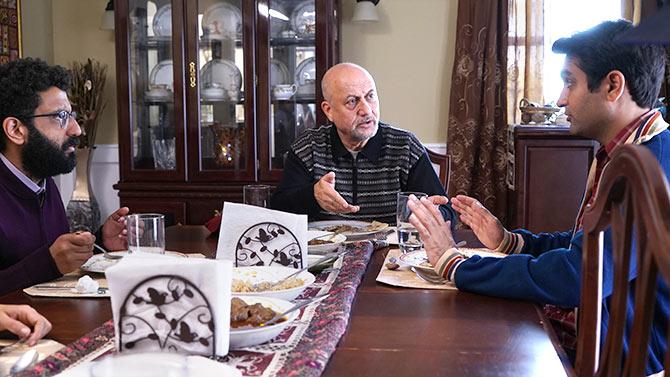 IMAGE: Anupam Kher chats with Kumail Nanjiani in The Big Sick.
I have seen you in so many films, but the one thing I noticed watching The Big Sick was that your acting style was more nuanced.
The ease with which you were doing comedy in this film was very different than the way you perform in Hindi films.
Are you aware of it?
Yes, I am. It's like if you go to a French or a Chinese restaurant, you can't order Tandoori Chicken. You have to adapt to your environment.
I am very proud of the work I have done in Indian comedy films because that's what was demanded of my characters.
Also, we cater to so many people in Hindi films. I am the same actor who has done Dil, Beta and at the same time, Khosla Ka Ghosla.
I have done different kinds of characterisations depending on the demands of the scripts.
I appreciate your question because indirectly, you are praising my ability to do different roles differently.
Yes, I see that. Your first film Saaransh was so different than anything you did after that.
I was 28 when I did Saaransh and there itself I was breaking convention.
But when I do The Big Sick or Silver Linings Playbook and I just recently did a Netflix series with Russell Peters called The Indian Detective, it is a different kind of a thing.
I am sure your directors work with you, but what different acting muscles did you use in a film like this?
First of all, I think in Hindi and have to translate that into English.
Everyone seems to understand English. You don't have to add the acting part of it.
Sometimes the word conveys the emotions.
But when a Hindi-speaking actor wants a Telugu and a Bengali person to understand him, that is where the exaggerated form of acting comes in India.
So the emotions and gestures are more heightened. It doesn't happen all the time in India now.
If you see Khosla Ka Ghosla, it is very subtle.
When I am do an English language project, if I have to say, 'I'm really ashamed of you,' I can just say that.
I don't have to really act it out.
If I ask someone to get out, I don't have to shout.
Just saying 'Get out' is sufficient.
But in India when I say 'Nikal jao yahan se,' I have to gesture with my hand and I have to show that I am angry.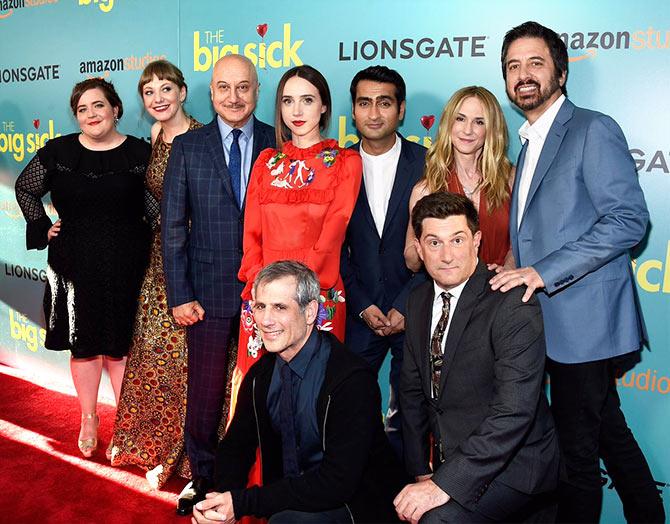 IMAGE: Anupam Kher with The Big Sick team at the film's New York premiere. Photograph: Kind courtesy Anupam Kher/Twitter
I could see that you were really enjoying working in The Big Sick.
I really enjoyed it because the team was open to improvisation.
So the whole film was like a workshop.
Also, it was a very spoken English.
Communication was more important than the formation of the dialogues.
Once I knew the character, I could change around a little.
And they were open to the suggestions.
Strangely, the last scene with Kumail, which I think is my best scene, was the first to be shot.
They had to do it because of location issues.
Also, Kumail and Emily were on the set and Kumail was portraying himself, so it was easy to ask him if some changes were okay.
It was Kumail's father's wish that I should perform the role.
One of Kumail's former agents is a woman named Priyanka. I know her too.
She called me up and said there is an actor called Kumail Nanjiani and he is making a film and his father's wish is that you should play the father's role.
She told me that Kumail would send me the script, but I asked her for his number.
I called him and told him, 'I am Anupam Kher,' and he thought it was a prank call.
We talked, but then again he asked me, 'Are you sure you are Anupam Kher?'
So he called me back and I told him, 'I am doing your film.'
You had not read the script?
No. It happened within 15 minutes of our conversation.
I told him, 'As an actor, I want to respect what your father has asked and you should fulfill your father's wish. And I am the person who can fulfill that wish.'
But I also told him that I would read the script and further discuss my character. I asked him for that option.
Did you meet his father?
On the second last day of the shoot. But I didn't feel the need to.
He wanted me to have a French beard because his father had it. Mamala emotional tha (the matter was emotional).
I read the script. The first draft had some typical Asian father-mother moments, so I suggested some changes.
What you see in the film is an improvised version of the first draft.
You have done so many films.
This is my 500th film. So it is a landmark film.
Have you reached the stage where you say no to films?
I have said no to many projects. Every role can't be done by me.
I have said no for many reasons -- the script is not good or I don't want to do it or I don't have the dates or the money is not enough.
'No' is a very powerful word, it should be used when you have to.
Now I only do three to four releases every year. But in the beginning, I worked a lot with almost 20, 25 releases.
How do you react when the work comes from abroad, when an Ang Lee or a David O Russell approaches you?
What are you looking for now in your work outside?
It is a different horizon.
I want to challenge myself as an actor and you get challenged only when you are not in a comfortable zone, when you are with other people who are equally good or much better than you.
Also, when I work abroad, in my mind subconsciously I think I am representing my country.
Sports people represent their country officially. But when I act in Silver Linings Playbook or Hotel Mumbai, I am primarily referred to as the Indian actor.
So when I saw your tweet where you commended my performance in The Big Sick, to earn that mention I immediately felt the need to call you.
Well, I thought you were very good in the film.
All performances were strong.
Holly Hunter is such a terrific actress and the writing was so good.
But I felt there was something very fresh about your performance.
Yes, it is always important for me.
I am very happy with the work I have done in Hotel Mumba with Dev Patel. That film has been picked up by Harvey Weinstein.
I was honoured at a Jerry Lewis event called the Legionnaires of Laughter Awards.
So interesting things are happening.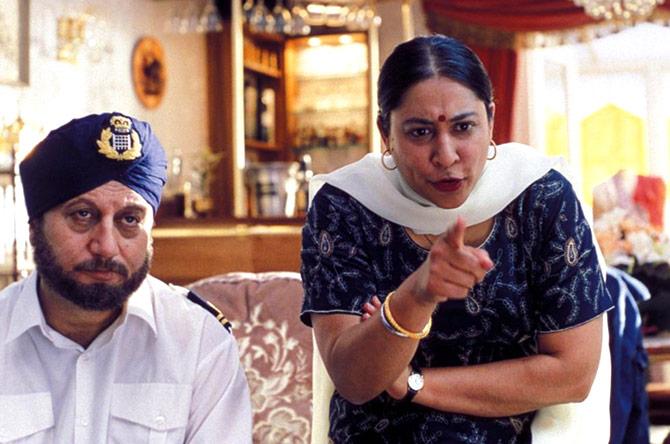 IMAGE: Anupam Kher and Shaheen Khan in Bend It Like Beckham.
You played a Sikh immigrant in Bend it Like Beckham. You were an Indian therapist in Silver Linings Playbook. Here you play a Pakistani American.
What does it take to play different ethnicities and also the roles of immigrants in the West?
In Bend it Like Beckham, there is this essence in your character that is very real.
I always believe that when people go to a cinema hall, it becomes dark and the film starts, everything else is forgotten if the story works.
People may go with what they have heard about the film, but once it starts there is a relationship between the film and the audience.
Similarly when I am working, the most important thing for me is the dominating emotion of the film and I need to stick to what is being said.
My character is part of the story and I need to be sincere to that part. That's it.
In all of the films I have done, I have consciously avoided sounding like a cliched Indian character.
I always tell my producers and directors that I will not change my accent to sound like a cliched Indian.
This is how I speak. If you notice in The Big Sick also I speak the way I do regularly.
I know many actors living outside India put on accents in films because they think that is how Indians talk. I avoid that.
I don't have to prove anything through my accent.
My psyche is Indian.
I am playing a certain South Asian character here and we are all very similar.
When Karan Johar released Ae Dil Hai Mushkil, many people, including some politicians, began to say that Pakistani actors should not act in Indian films and should not play Indian characters.
How would people react now when as an Indian, you are playing a Pakistani-American role?
That was said in the context of a terrorist attack. I wrote a letter to the terrorists when there was a massacre of children in Peshawar.
When it comes to your country, you should take a stand and especially in reference to a certain incident that had happened.
In this film, I play a character and I told you how it happened.
I am sure as a journalist, this question came to your mind when you watched the film.
But I want to approach the film from the point of the story.
I understand, but as a journalist I thought it is important to address the issue.
These people (the film's PR team) have suggested that we should focus on the film and not bring up other side issues.
We can talk about it later.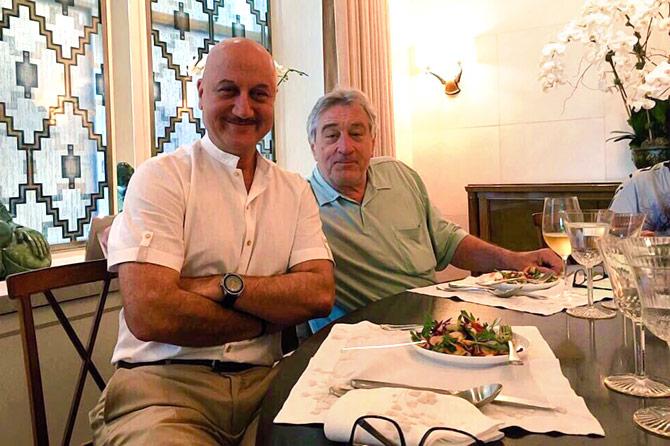 IMAGE: Anupam Kher with Robert De Niro. Photograph: Kind courtesy Anupam Kher/Twitter
How was your lunch with Robert De Niro?
Oh amazing!
That's my one achievement of being part of international cinema.
I feel very humbled and honoured that he considers me a friend and he invited me to his house on Father's Day.
Even to receive a message from him on my mobile phone is the biggest award I can receive.
But you are such a big actor yourself...
But that does not take away from the fact that as an acting student, I used to look up to him.
I felt the same when I met Dilip Kumar for the first time.
How can you forget that he (De Niro) is the man who acted in The Godfather Part II, Taxi Driver, Awakening?
As an actor, I will consult him and talk to him as an equal.
But in my heart of heart, he is the ultimate.