The gulf between Hindi cinema's finest current actor and his contemporaries widens with each film. But even Irrfan Khan, in Mick Jagger's words, can't always get what he wants. Raja Sen tells us why that's not a bad thing.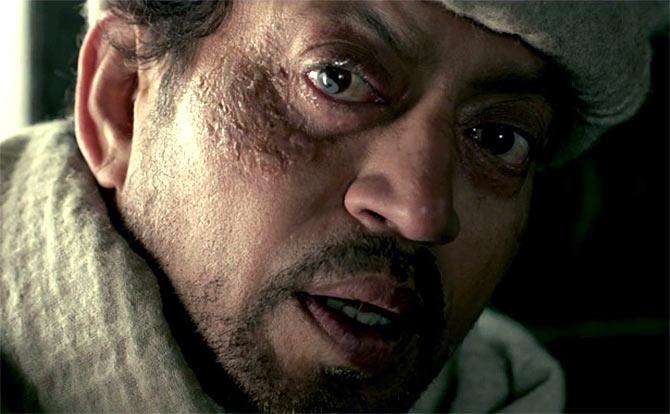 IMAGE: Irrfan Khan in Haider.
In the early 1990s, working on a Sunday morning Doordarshan show was a significant living for any performer -- particularly one as comfortably budgeted and as popular as a gigantic fantasy hit called Chandrakanta.
But mouthing melodramatic lines with wizardy overtones was bound to tire an actor longing to reveal his chops.
Weary of catchphrases and repeating mannerisms, Irrfan Khan appealed to the show's makers to kill his character, Badrinath.
"I said 'yaar, maar do mujhko' aur unhone maar diya'," he guffaws. "Then I went off somewhere, but 15, 20 episodes later I got a phone call."
They wanted him back.
"'You killed me, what can I do now?' I asked.
They said 'Nahin nahin, now you can play your twin brother. Somnath'."
Two decades after being compelled to play his own twin -- who behaved exactly the same way as his brother, since that was popular "except this time he was dressed in golden clothes" -- Khan speaks of his television excursions with significant amusement, yet it isn't hard to see what showrunners saw in the man.
Some of the finest actors in the history of motion pictures have not been leading men. They are character artists, shouldering the film discreetly, lending believability to key moments and energy to flagging narratives.
Yet of these infallible, nuanced and brilliant actors, only a select few have that ineffable quality summed too-conveniently up by the words 'screen presence.'
It is a quality that allows a performer to take charge of a film, to hold it by the reins and tug it forward, seemingly single-handedly. It is a quality that virtually comes with its own cape, for it lets an actor be a hero.
No wonder TV producers handed him catchphrases and let him be the magnet pulling viewers in.
No wonder even that Vishal Bhardwaj -- who largely eschewed overstylised touches in his Haider -- gave Irrfan Khan one helluva entry just before the intermission: The screen blurs, we hear crunching snow, and a bassline so saucy you could dip a cheeseburger in it.
The blur remains while the inscrutable figure in the distance comes closer, closer and the bass gets louder, raunchier till -- finally -- the blur clears and we see Khan swagger onto the screen, wearing sunglasses, the rockstar who owns that sensational bassline.
"It's the kind of entry for which you want to become an actor," agrees the actor, smiling.
Another thing that made Khan want to become an actor was Naseeruddin Shah's back.
One of Irrfan's first epiphanies about his vocation took place when, while watching Shyam Benegal's 1977 masterwork, Bhumika, he felt something emanating from Shah's back -- probably during the one intense scene Shah has with Smita Patil where the actor, with exaggerated pomposity, glorifies the idea of dying "while making love or just after making love."
"I remember watching it the first time. He had a minor character in the film. Woh aate hain thodi der ke liye. There was a scene where I felt like unke back se kuchh emotions bahar aa rahe hain! I could feel what is going on inside him through his back! And that fascinated me."
It is an odd thing to say, and Khan is aware.
"His back, yeah. Maybe because that was the extent to which he had pulled me in. And I saw Dilip Kumar in a film and felt he's in some other zone. Mujhe laga ki they have broken this dharra (mould) of mundane life and gone into a realm which is a mystery. That mysticism captured me."
"I wanted to experience it. Like kids who see ice-cream and just have to have it, like that, I wanted to... I wanted to own this. Whatever it is. Whatever they are going through."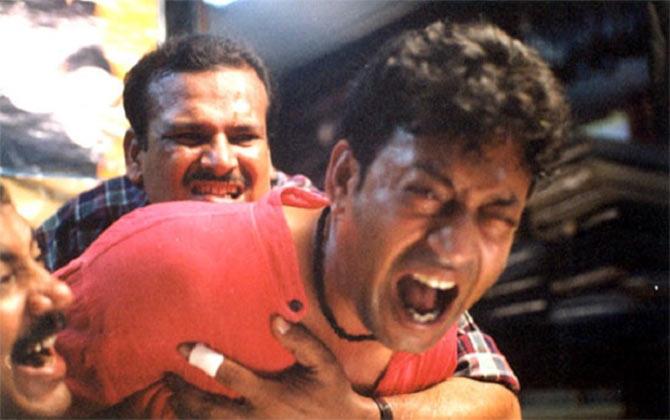 IMAGE: Irrfan Khan in Haasil.
Irrfan Khan wanted to rub his eye
Cast as a lathail -- literally, a man who wields a stick -- he took his place in the background during in a play in Jaipur, holding said stick as firmly as he could.
He had one job, as they say.
Then an insect flew into his eye and it began to water. Steadfast, he didn't wipe the tears and kept standing, lath in hand.
"People forgot the play and started staring at me," he laughs.
This was a time when Khan, having identified that he wanted to go to the National School of Drama in Delhi, was trying to make sure he had been in the specified number of performances under his belt to qualify for the admission test.
"We did (Preston Sturges') Guinea Pig, some things by Badal Sarkar and (G P Deshpande's) Uddhwast Dharamsala. I didn't enjoy myself. People used to like me in them, I don't know what they used to like."
Shy, thin and "not conventionally good looking," Khan struggled with insecurities I'm certain are familiar to most struggling actors.
"Yes, There are some patterns. Actors get fascinated by acting, or the fame and whatever, and they emulate somebody. And a few actors then discover themselves and stop emulating, and move on and become their own actors. And this is something one doubts about oneself -- about their 'look,' this doubt of 'is my face good enough' -- and would have haunted everyone from Amitabh Bachchan to Dilip Kumar to Mithun. Everyone."
Overthinking came easy to the actor, to the extent that he considered doing a Master's degree in psychology "to understand human beings better" before going to drama school.
"Then someone told me ki abe yaar reading psychology doesn't help you understand man," he laughs. "I had a very naive approach. I used to think that I'll act the f*** out of a role, grow old to look old for a role, show everyone what an actor I am. Fully passionate. But at NSD, I realised I was very shy. I should have done street theatre for six months and dealt with the shyness. I should have been more open, and that's why it was a little difficult for me to become an actor. I was very odd as an actor."
The drama school atmosphere helped more than the curriculum.
"See, NSD doesn't have a system. As in, there is no school of acting. We don't have one. We had the (ancient Sanskrit treatise) Natyashastra uss zamaane mein, and today in the West, because of (Russian theatre director Konstantin) Stanislavsky, there is a school where they teach you technique," he explains.
"Here we take a little from here, a little from there. They introduce all kinds of systems to you, and you mix and match and see what works."
"What does miming have to do with acting?" Khan wondered, as a theatre student surprised by seemingly irrelevant exercises. "Now I realise it all makes sense after you have learnt the craft. It helps you after your foundation is strong.
"That's why sometimes when I go to drama schools and talk to students, I tell them don't try to analyse it, just trust in it and do it. Let it be. Don't try to be insecure, or try to secure yourself by deciding 'this is what will help me in this way,' and 'this won't be useful to me.' Don't come to a conclusion, and how (what you learn will) incorporate certain things in you, you'll never know."
Ever an introspective youth, Khan began to discover himself as he worked.
"It helped me as a person. I started looking at myself as a product of different influences. That is the biggest education. If I would have been in Jaipur, or if I wouldn't have come to drama school, I wouldn't have seen myself objectively. I am a product of my genetics, my social influences, my cultural influences... That was the biggest education."
The other big takeaway from drama school was watching and obsessing about foreign films. Khan had only watched a handful of international films before NSD -- "like Enter The Dragon and Towering Inferno" -- but now he found himself hungrily opening up to world cinema and, perhaps more importantly, discussing it all night with equally passionate peers.
As an actor, his inspirations began to evolve then and, he insists, are still evolving.
"Earlier in drama school, when you see some craft in an actor, it fascinates you. And then, slowly, you get to a point that when you see craft in an actor, you don't like that performance. You learn not to see the craft at all, then you like non-acting. When you don't see any kind of manipulation, or anything being done for effect."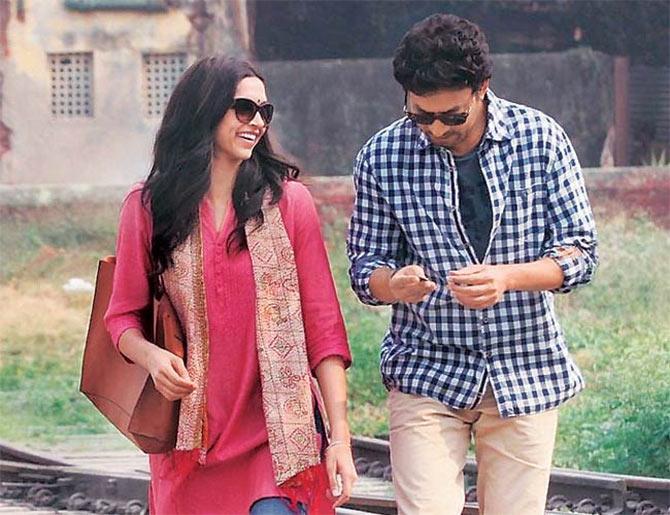 IMAGE: Deepika Padukone and Irrfan Khan in Piku.
Irrfan Khan wanted to do The Martian
Headlined by Matt Damon and based on the novel by Andy Weir, Ridley Scott's The Martian is one of 2015's most successful Hollywood releases.
In it, Chiwetel Ejiofor plays a NASA director for the Mars mission called Vincent Kapoor. The name appears curious for a British actor of Nigerian descent, and for good reason. It was written with Khan in mind, the actor having liked the script and principally agreed on the film.
Scheduling issues got in the way as Khan was, at the time of The Martian's first schedule, shooting a diametrically different kind of movie.
"I loved the Piku script. I loved the writing," says Khan of the Shoojit Sircar film that sets him up as leading man opposite current Bollywood empress Deepika Padukone. "I didn't realise how refined it would be. I assumed it would be a kind of broad comedy, but no. That is the first script where I felt I needed to have a narration. I read the script, liked the script, but I called Juhi (Chaturvedi, the film's screenwriter) and asked for a narration because the rhythm and the sur of the dialogue is so peculiar I had to hear it from the source. And I was sure the film is going to give something special to the audience."
In the terrific film about a peevish Bengali girl and her cantankerous, constipated father, Khan plays the cooler, more distanced character, a pragmatic, level-headed man who has his own baggage and tries not to let it show.
It is a charming performance Khan pulls off with a marvellously light touch.
"There were so many obvious things in the film that Shoojit (finally) eliminated. Like there was a clear underlining where Deepika's friend comes to the house and they sleep together -- it was a statement -- but he edited it so intelligently. So the audience starts imagining it for you. That is a technique we don't have as storytellers in India. The audience becomes lazy, it just starts waiting to be fed."
The idea of a lackadaisical audience frustrates him -- he conjures up a disturbing visual of them sitting passively in recliner seats saying, in Hindi, "come, come and f*** us, we're waiting" -- but he's immensely optimistic.
"The way the audience has matured is fantastic. The proof is a Talvar where there is only fact, where there isn't a filmi thing at all, facts and information, facts and information again and again. Even if you miss 10 minutes, you won't be able to catch up. It's so intricately woven in facts and information... Success for a film like that is a great sign for Indian cinema."
Meghna Gulzar's Talvar is an admittedly tough watch, a film about a real-life murder case that captivated the nation.
Written by Vishal Bhardwaj, the film takes a stand in favour of the accused who have been wrongfully imprisoned, and Irrfan plays the investigative officer -- tightly wound, hard-to-read, a man who would rather play arcade games on his cellphone than look a suspect in the eye.
It is a calm, realistic performance of stunning nuance -- in my review I wrote of 'the way he grimaces for a split-second while trying to remember the name of his wife's pills, as if he were flexing a memory muscle' -- and Khan is right: it's impressive that a film like that is a commercial success.
It's hardly surprising that an actor working with some of the finest directors in world cinema -- Michael Winterbottom, Mira Nair, Wes Anderson, Ang Lee, Ron Howard, Danny Boyle -- is stimulated by leaving things unsaid and to the imagination.
It is only now, Khan feels, that Indian audiences are opening up to not wanting things spelt out. "Like in The Lunchbox, some people ask why don't you tell us if they meet or not? I tell them it's all there, it's all subtly shown, but the truth is that they want to wonder. People want to imagine it for themselves. They want to get engaged intellectually with cinema, and that is a fantastic thing."
Khan himself has only just begun to believe.
Both he and producer Anurag Kashyap pleaded to Lunchbox director Ritesh Batra to make that meeting clear.
"We told him that yaar don't make this an arty film, let's show them meeting."
But Ritesh stuck to his guns.
Similarly Piku featured an emotional beat that made Khan cry, but Sircar -- in a bid to avoid overt sentimentality -- sliced it off during the edit.
"It's where I leave the Calcutta house and Deepika goes and looks at the Tullu pump (the water pump he had mended), and I was overwhelmed by that moment in the script. When I saw the edit, that moment was not there! I said 'Shoojit, yaar, what are you doing? I know you're trying to leave the emotion out of it but this is such a saaf moment, a pure moment.' He said 'trust me, trust me, trust me.' And that's what. He knows the music of the story. He doesn't want to destroy the baarikh sur (the precisely poised pitch) of the film."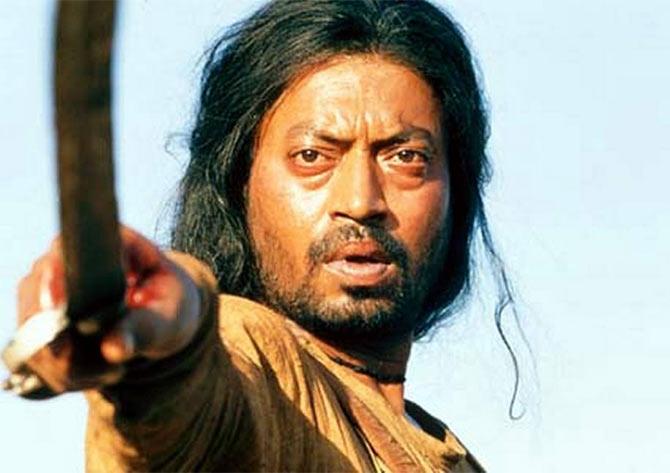 IMAGE: Irrfan Khan in The Warrior.
Irrfan Khan wanted to be a henchman.
Back in the television days, when Khan, exasperated with creatively stifling roles, was praying for the big screen, he used to hope that he -- with his unruly look -- would at least get to play a third-string villain.
It took a while for this to materialise, but finally Khan was cast in a Mahesh Bhatt film he refuses to name.
"Bhattsaab first cast me as a lawyer, and then a villain," he says, speaking fondly of the volatile director. "Except while doing the villain role I told him that I'm not going to get beaten up, main maar toh nahin khaoonga," he laughs, before breaking into an outraged Bhatt impression: "Are you crazy? If the villain doesn't get beaten up, the film will!"
So then did he get beaten up, for the film's sake?
Irrfan smiles a sly smile. "Not a lot. Even he understood that here is a tedha (crooked) kind of actor."
The roles were crooked too, and it wasn't until his big break in Asif Kapadia's The Warrior, a fine British film, that Khan began to believe in himself even though the film was hardly seen in India and didn't affect his stature here. That changed with Tigmanshu Dhulia's Haasil, where he was a memorable villain and won a Filmfare Award for the best performance in a negative role.
"I was not aware of my screen presence at all," says Khan. "And then I got Warrior. And when I saw the film, for the first time, I realised my presence, what presence even means. So you discover it at some point, but you can't play off it."
Revelling in the power of an increasingly dominant personality, Khan began to loom larger in films like Charas, Haasil and Maqbool.
"I began to fall into the trap of that presence. I started to speak a certain way, give more room to that aspect of the personality. And I was feeling good about it until (Mira Nair's) The Namesake. I started reading the script and realised that everything I have done to bring out my presence is going to become a hurdle for this role."
"When I read that script and that (Jhumpa Lahiri) novel, I felt that this is a guy you won't notice. If he's around, he'd be someone you don't pay attention to -- and I didn't know how to do that. I didn't know the craft to... How to make myself unnoticeable?"
Khan used the challenging international projects to precisely hone his skills. "When I was doing television, I hated saying so many things. Why can't you see it on my face? And exactly the opposite happened with Warrior. Even if I'm talking and my hand moved to my face casually, Asif would stop to ask me why I took my hand there. I said I didn't think, it just happened. So he would say 'no, it'll distract. It'll distract from the nucleus. Less is more.'"
"And that was exactly what I was looking for, that I don't need to do anything, I just have to place myself in the situation. No manipulation, no indication, no demonstration. Just be."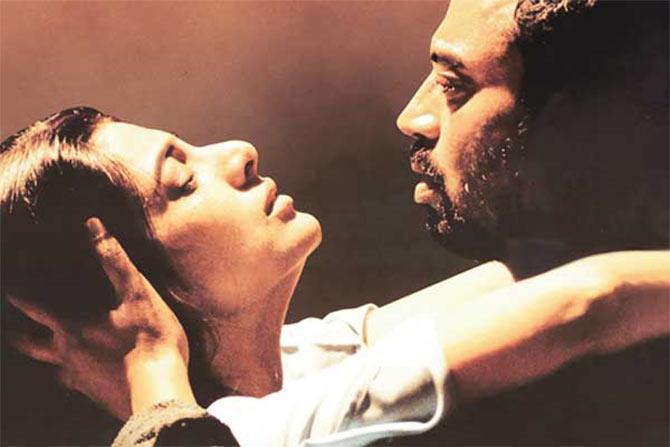 IMAGE: Tabu and Irrfan Khan in Maqbool.
Irrfan Khan wanted Maqbool to have a raw, visceral lovemaking scene.
An ambitious Macbeth adaptation, Vishal Bhardwaj's Maqbool established Khan as one of the country's most distinctive talents.
"I didn't even read the Shakespeare play again, or watch any Macbeth films. I just felt that I was getting a chance to do the kind of love story I was longing for. For me, the story of his ambition was secondary. I never emphasised on it. For me, it was the story of Nimmi (the heroine, played by Tabu) and (Khan's) Maqbool; it happened to be Shakespeare."
"What I miss in Maqbool...," he says, trailing off with a sigh. "I wish we had a lovemaking scene where we could see the chemistry of two bodies. Where it doesn't remain physical, it goes on to a different level. Where everything is pure, there is no lust. You want to submerge into each other and dissolve. We couldn't. We did shoot a love scene but maybe we were just not ready, or we were shy. All of us were shy."
A scene like that today, with Bhardwaj, Khan and Tabu all at the height of their powers, would certainly be a whole other story.
In a position to be highly choosy with the roles he takes on, Khan has been craving overwhelming love stories, tales of heartbreak and passion and desire.
"For me in The Lunchbox, the character's behaviour and his rhythm was a... byproduct. For me, the love was important. There is some spark that has come alive in what is a dead life, and he is just hovering around it. And he doesn't know whether to touch that or not to touch that, but some wave is moving inside him and he's just in a zone. Alive."
To prepare, Khan zeroed in on a line in the script where his character describes how his smell felt like his grandfather's smell.
"It was such fine writing, I kept repeating that voiceover again and again to find my rhythm. But no. I had to imagine Nimrat (Kaur, his heroine), because for me, it was very important to fall in love. They showed me faces of actresses but as soon as I saw Nimrat I said this is her. With her, I could imagine myself falling in love -- and liking it. So as an actor, this also becomes important sometimes that you don't push yourself, but instead... you find your triggers."

Now he'd like to do impossibly romantic films and substantial action movies here in India, while he'd love to show the West his unchained, goofy side we saw in Anurag Basu's Life... In A Metro.
But as an actor clearly what he wants the most are roles that demand his commitment.
"I'm longing to do a film about music where I could play an instrument, or where I could sing. That would be a great thing. A gift. So my homework becomes my high."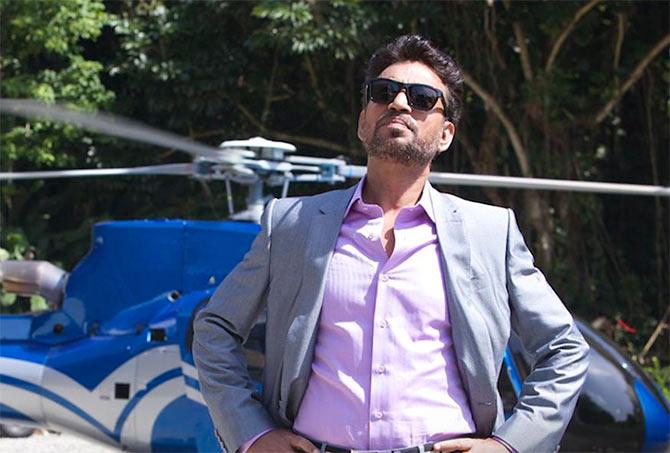 IMAGE: Irrfan Khan in Jurassic World.
Irrfan Khan wants me to switch my recorder back on.
The actor has been in the year's highest grossing film, Jurassic World -- "as a statement," he claims, which makes sense, considering he plays an Indian who owns the theme park, not an Indian who works there as a coder -- and has headlined Jazbaa, a mainstream action movie opposite eternal superstar Aishwarya Rai.
These were bad movies, but anything that gives Irrfan attention and expands his cache, it can be argued, is a good thing and can only lead to more successes like Piku and Talvar -- the year's finest films boasting of the year's finest performances.
Now, after a long, frank and freewheeling conversation, the man sculpting those performances wants me to switch my recorder back on. And I do.
"There are very few directors in this generation, very few of the new and exciting directors, who rely on the strength of the story," he says. "Even the interesting directors are always trying to contemplate 'bringing in a big star next time to make the next film bigger.' Even though they are recognised for the other thing: The kind of zone they have created, the kind of stories they are telling. They got their recognition from those stories, but somehow they don't feel confident. It's a strange kind of neech-jaat feeling, you know? As if they are from a substandard community till they work with a star."
This is a fact, and one that rankles with Khan.
His annoyance appears, at first, ironic, considering he is now a full-fledged star. But perhaps it is this very mindset that forced him to become one in the first place. Like he says, he never pictured himself wearing sunglasses and getting out of big cars, but here we are, sitting in the back of his SUV a day before he goes off to shoot a film that can't afford him.
This, then, is what makes the big turkeys worthwhile. Give him something he wants -- a sensitive part of a lovelorn violinist, I suggest -- and Irrfan Khan is all yours.