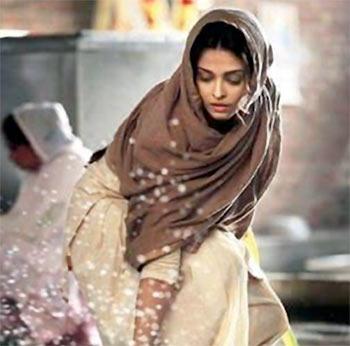 'Aishwarya is the most beautiful woman in the world. I still remember when I was in school and college, I used to see her in commercials and I always felt she was the best.'
Darshan Kumaar gushes about his new co-star.
Darshan Kumaar is working with the 'most beautiful woman in the world', and he's very excited.
The young actor will be seen in Ash's next film Sarbjit, directed by Omung Kumar.
Not that he's not worked with gorgeous Bollywood actresses before -- he's already played husband to Priyanka Chopra in Mary Kom, and was Anushka Sharma's worst nightmare in NH 10.
Darshan chats with Jahnavi Patel/ Rediff.com, and tells her what it's like working with Ash, and the character he would really like to play.
What convinced you to take up this film?
The script, the director, the producer and my role. The main thing was my role because I think he is the face of humanity. Whatever he has done is beyond a common man's comfort zone.
He faced a lot of trouble because he was defending Sarabjit, an Indian in Pakistan. His family also faced problems. I felt he was the hero of the film.
Was it easy to get the mannerisms of the character?
It was tough. He is a lawyer, with a different kind of body language. They get very little time in front of the judge, so they try to do things fast.
Their body language also becomes very active; they are active all the time.
My character (named Awais Sheikh) is very active and lean, and because of that I had to shed more than 10 kilos within 10 days. He has a different kind of personality -- he plays with his shirt -- and he is very positive.
Catching his body language and accent was tough. In Pakistan, their Urdu has a Punjabi touch. I would download his videos and watch them.
Depicting a real character is really tough because the audience can google him. But I think I managed somehow because he (Awais Sheikh) called me. He isn't in Pakistan; he had to leave the country because he was fighting for Indians. He lives in Sweden. He told me that he felt like he was performing. That was a big compliment for me.
Did you get a chance to meet him?
No. He came here to meet Omung sir (Omung Kumar) but I couldn't meet him.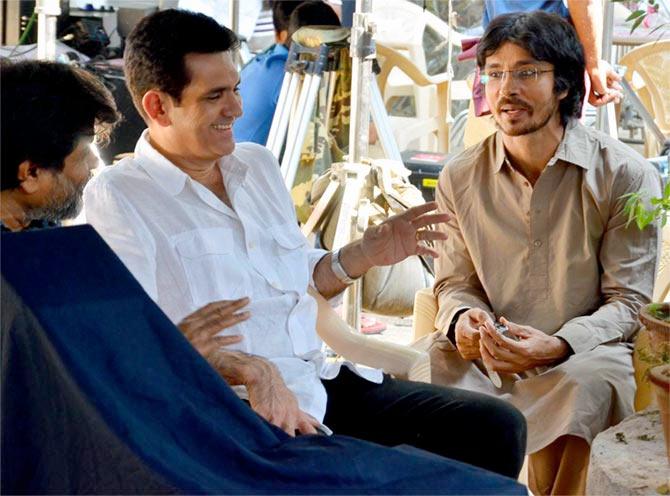 IMAGE: Omung Kumar and Darshan Kumaar on the set of Sarabjit
Did you meet any lawyer to learn the nuances?
I did. Catching their language from watching films isn't possible, so I thought I should go to the courts and see how they behave.
I am a celebrity, so it isn't easy to go there. So I would dress in simple clothes, cover my face and go and observe them for hours.
One of my friends is a lawyer, and I asked him about the typical words they use and how they approach judges.
How was it working with Aishwarya?
I think I was the last one to be cast in the film.
I was so excited because Aishwarya is the most beautiful women in the world. I still remember when I was in school and college, I used to see her in commercials and I always felt she was the best.
When I learnt that I was working with her, I got very excited. I wanted to meet her and perform with her, as she is a good actor.
When I started working with her, I realised she is very caring.
When I told my friends that I was doing a film with Ash, they were so jealous.
You aren't playing the lead in the film. Was that ever a matter of concern?
I always think the script is the hero of the film. When I read the script, I felt all characters have their journey.
I felt Awais Sheikh is also a hero in the film. He comes in the latter part of the film but what he does only a hero can do. You need courage to do these things.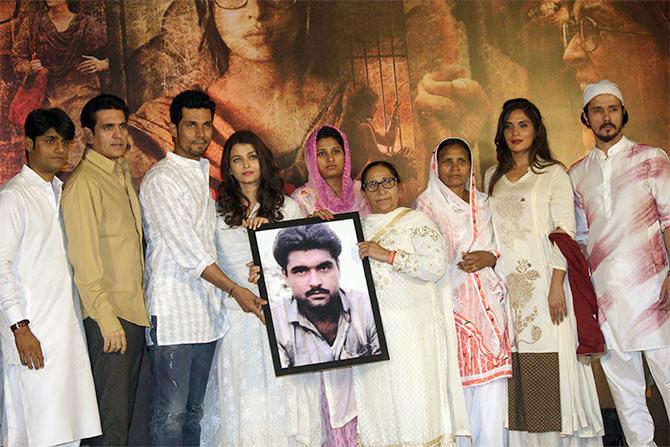 IMAGE: Omung Kumar, Randeep Hooda, Aishwarya Rai Bachchan, Sarabjit Singh's daughter Poonam, sister Dalbir and wife Sukhpreet, Richa Chadha and Darshan Kumaar. Photograph: Pradeep Bandekar
Have you met Sarabjit Singh's family?
Yes, I met them during the Punjab shoot, and also after we finished shooting.
Dalbirji (Dalbir Kaur, Sarabjit's sister) is very kind and nice. She calls me everyday, she has become family.
Are you a director's actor, or do you have your inputs?
I am a method actor, and have a theatre background.
I'm a one-take actor. In NH 10, there were no second takes.
In Mary Kom, there's a scene where I have to propose to Priyanka Chopra. There was a long dialogue, and they said I wouldn't do it (in one take) but I did.
Touch wood, I am famous for that!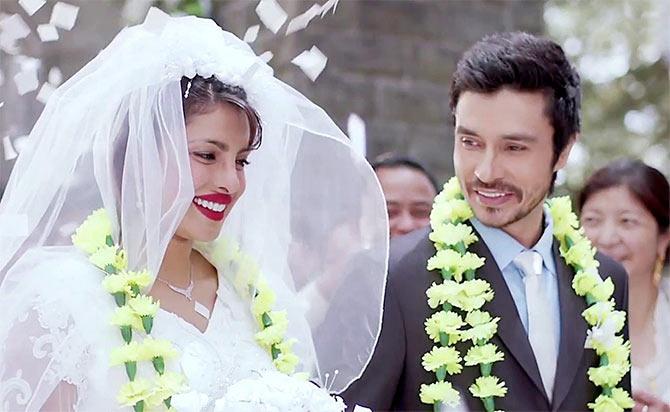 IMAGE: Priyanka Chopra and Darshan Kumaar in Mary Kom
Has the theatre training helped you?
Yes, in every way. Theatre is must for any actor. When you perform (in a play), you see the audience reaction right away. You know where you going as an actor. It's a great feeling.
What kind of roles do you want to explore?
I want to play James Bond. The sky is the limit.
What are your future projects?
My next film is Mirza Juliet, which is releasing after Sarbjit. It is a love story with a political background.