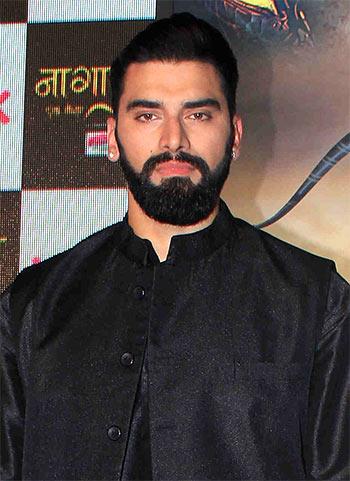 'I have worked really very hard to look a certain way.'
'When I came to this industry, I wanted to be different. But when I started working, I realised they wanted everybody to look like Hrithik Roshan and still be different. That doesn't work for me.'
Nikitin Dheer gets candid about his journey in the industry and his new television show, Nagarjuna... Ek Yoddha.
Nikitin Dheer aka Tangaballi of Chennai Express is all set to make his fictional debut on television with Life OK's mythological show Nagarjuna... Ek Yoddha.
The fantasy drama, which will go on air from May 30 at 9 pm, features Anshuman Malhotra and Pooja Banerjee in the lead roles.
Nikitin, who became a household name after participating in the adventure reality show Khatron Ke Khiladi, season 5, plays the role of Astika in Nagarjuna.
The 36-year-old actor says that, though his character has shades of grey, he isn't playing the quintessential villain.
As Nikitin gears up for his new innings, he tells Rediff.com contributor Rajul Hegde what to expect from his fictional character and why he won't do a reality show with his actress wife Kratika Sengar.
What brings you to television?
I was looking for something substantial to make my transition into television and I thought this show was the right opportunity. The journey of this warrior is challenging and exciting.
I have been offered roles of Gods, demons, Ravan and Kansa in the past but never found it exciting.
My fans tell me I do characters that are dark and grunge; I feel this is an opportunity to show a different aspect as an actor.
Were you in a predicament about taking up a television show since you were a part of a successful film like Chennai Express?
Not at all. Today, the television industry is 10 times bigger than Bollywood in terms of revenue and market reach. I have two films coming out -- Houseful 3 and Ali, so I am doing films side by side.
I started working at the age of 17. People think it is easy for me since my parents belong to this industry; it's not. It's hard, especially with the way God has made me physically. Sometimes it's a great boon; sometimes it's not.
I don't want to let go of whatever I have, especially in the movies. By the grace of God, everybody knows me, including my actor friends, and I am approachable. But I wanted to explore a new horizon. This character and serial allows me to do that.
Does your physique limit you from playing certain kind of roles?
Rohit Shetty and Shah Rukh Khan allowed me to do what I wanted to and, after four years, people still remember me for that particular role (Tangaballi in Chennai Express).
If the director gives you freedom, you can create magic as an artist. In my case, my personality and the way they used my body language (in Chennai Express) were the strong points.
The case is same in this show as well, but they are using other aspects of my personality too. It will automatically create something new and magical. Maybe, the next time I meet you guys, you will remember me for my character, Astika (smiles).
Are you playing an antagonist in the show?
Astika is a nice man but has grey shades; he's like Karna in the Mahabharata but stuck on the wrong side. He has sworn his loyalty to the throne and has his reasons for what he does.
You are playing father to an actor who is almost your age.
I am too young to play anybody's father but we are all immortals in the show so it's okay (smiles).
You have a tough exterior. What is the real Nikitin like?
I am like any other normal, middle class guy. As for the exterior, that is just because of my genes. I have worked really very hard to look a certain way.
When I came to this industry, I wanted to be different. When you go to Hollywood, you have actors like Arnold Schwarzenegger, Bruce Lee and Sylvester Stallone who are different. They all do action.
But when I started out in this industry, I realised they wanted everyone to look like Hrithik Roshan and still be different. That doesn't work for me. I think being an individual is important.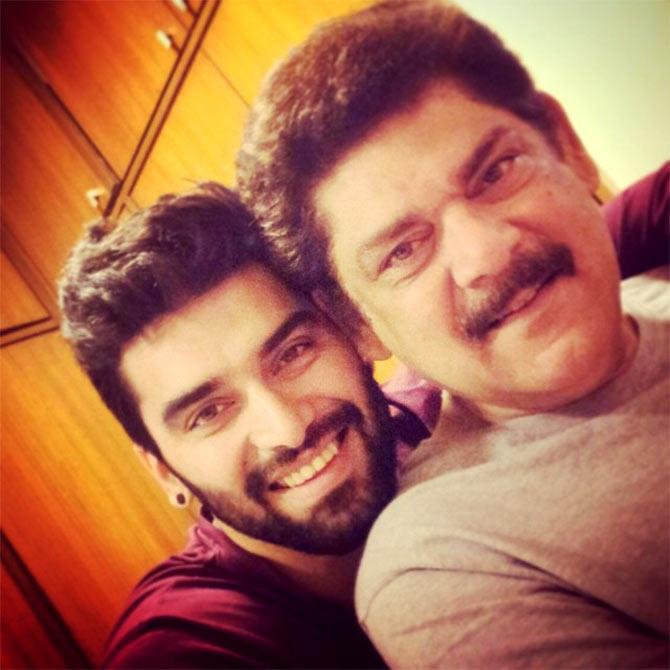 IMAGE: Nikitin with his father, Pankaj Dheer. Photograph: Nikitin Dheer/Instagram
What childhood memories o you have of your father, Pankaj Dheer?
I grew up on the sets of Mahabharata (Pankaj Dheer played Karna). That's when I decided to become an actor.
The actors there shared great camaraderie. The people from Mahabharata are still our friends. They all came for my wedding. It's difficult to find this kind of friendship today.
Every film I have done, I have made at least one friend. I am still in touch with them.
My father struggled a lot in the industry. We have been brought up in such a way that we work and live fearlessly and our intentions are right. I see a lot of people who think 10 times before they say or do something. I am not like that.
Of all the characters your father has played, which is your favourite?
Karna, obviously. Another character I enjoyed watching was Shivadutta in Chandrakanta (a fantasy-based television series). I think it's rare for such magic to happen on television.
Any interesting incident that you can recall while your father was shooting for Mahabharata?
The mace that they used in the fight scenes was made metal coated on wood. I remember one battle scene between Karna (Pankaj Dheer) and Bheem (Praveen Kumar). I think I was eight years old and it was a Sunday. During the fight sequence, Bheem hit my father with the mace and his fingers got badly hurt.
After the wound was dressed, Dad returned to the shoot. Again, Bheem hit him at the same place. I picked up a stone and was about to throw it at Praveen Kumar but my father stopped me. I didn't talk to Praveen Kumar for a long time (laughs).
You said your character is similar to that of Karna from Mahabharata played by your father. How does that make you feel?
I think its destiny. I have been offered the role of Karna several times on television but, for one reason or the other, it did not work out.
The character I am doing now is not even remotely linked to Karna but is still a lot like him. I just hope my father watches it and feels proud that I have done a good job.
Do you watch your wife Kratika Sengar's show, Kasam?
I enjoy watching May I Come In Madam and Bhabiji Ghar Par Hai. But I don't watch Kasam for because I don't like someone else romancing my wife.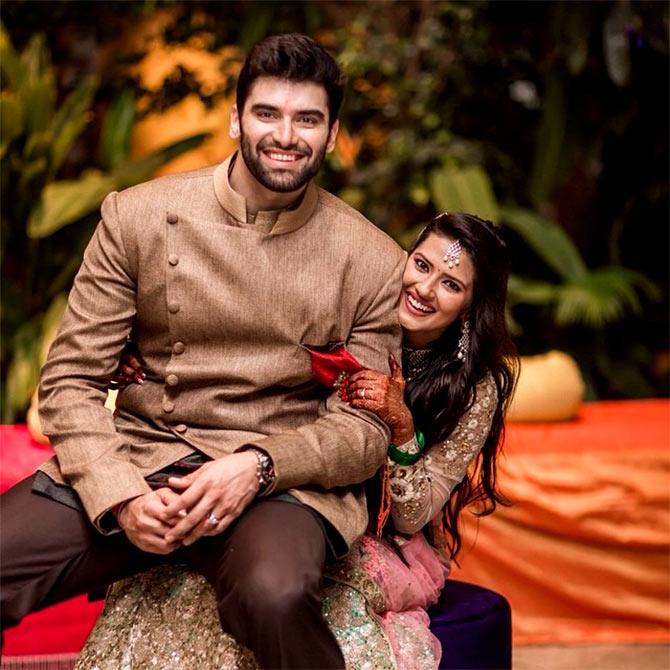 IMAGE: Nikitin shares a light moment with his wife, Kratika Sengar. Photograph: Nikitin Dheer/Instagram
How has life changed after marriage?
It's changed for the better. Marriage makes you strong in many ways. It provides a lot of security to an individual and anchors both the partners.
Will you work with your wife in a reality or fiction show?
I don't want to do a reality show with my wife because I want to keep my personal life private. The good thing about marrying an actress is that she understands the trade.
People get personal in such shows and get judgemental about your relationship. I don't have any issue when someone comments on my acting capabilities but I won't appreciate anyone commenting on our personal life. No fiction shows too. I am happy the way things are.
You have a good physique. What are the do's and don'ts to be fit?
I eat simple, homemade food. I don't get into the six pack battle.
You have to be strong and healthy. My idols have been actors like Dara Singh, Dharmendra and Vinod Khanna.
They were fit. I have a body which is aesthetic. I want have something that I can keep for rest of my life. I don't do short cuts.
Can you tell us about your workout regime?
I fight thrice a week and I do free hand exercises thrice a week as well. I don't do too much of weights.