'He must have had a gala time playing that part.'
'When I got a chance to do that in Toofaan, I absolutely relished it.'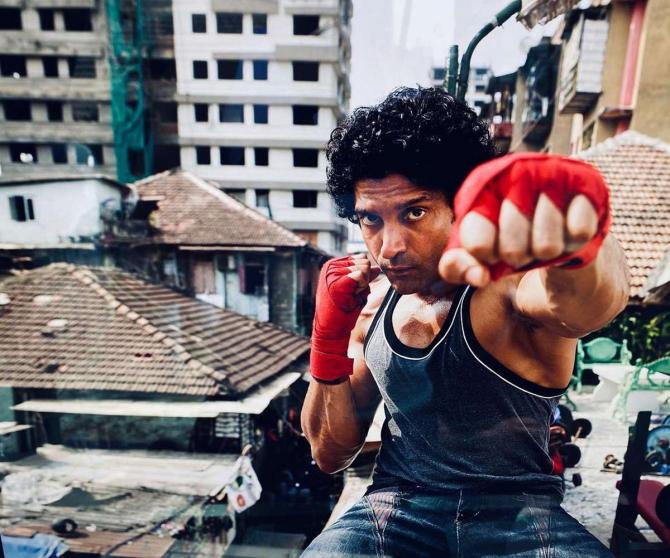 Eight years after Farhan Khan and Rakeysh Omprakash Mehra hit a home run with their film Bhaag Milkha Bhaag, the actor-director duo hope to recreate the magic in Toofaan.
Farhan plays a Mumbai goon who, fighting against all odds, goes on to become a boxing champion.
The actor underwent intensive training for the role and told the media: "The canteen was being shifted around every day, so I could not find it. Only the wonderful smell of rotis and naans would float in and inspire me to take on my opponent."
Rediff.com Contributor Mohnish Singh listens in.
How thrilled are you to bring Toofaan to the world?
I am very excited.
There is, of course, sports and drama in the film, but the big thing for me really was collaborating with Rakeysh again.
Bhaag Milkha Bhaag has been the most amazing adventure that I have been on as far as making a movie is concerned.
Lightning, they say, very rarely strikes the same place twice, so I'll be standing in the same spot for that lightning to hit me again (laughs).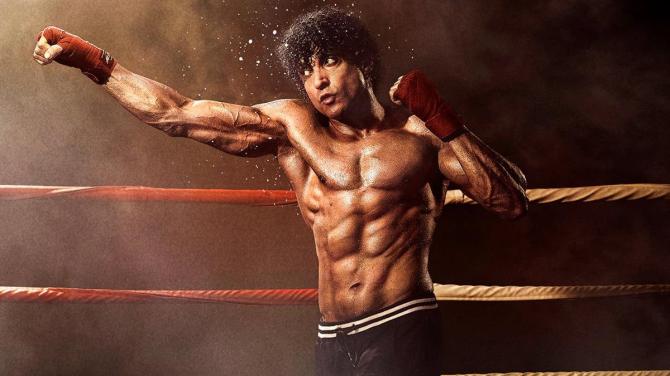 We heard that your prep and training to play Aziz Ali was very demanding; you packed four years of training into one. How challenging was the experience for you?
It was like a leap training. Every four years, I train for one (laughs).
I have managed to keep myself fit most of the time.
So whenever I need to start doing something new, I already have the advantage of having a basic level of endurance and fitness. That really helps.
I started training for boxing in October-November (2019), and we started shooting the film in August (2020).
While growing up, I have seen many films on boxing, so the excitement that I would also be a part of such a film was always there.
Those fights and montages of training, all of that is very exciting when you get into it.
But as you start training for the sport, you realise that no matter how fit you consider yourself, however much endurance you have, you are not fit enough to take on the sport of boxing with that attitude in mind that 'Ho jayega'. It is not possible.
It is an extremely demanding sport.
If you ask any sportsperson which sport they think is demanding, they will probably tell you it is boxing.
There is obviously a physical aspect to it, but there is a mental aspect to the game as well. Even an emotional aspect.
It is like playing chess with your opponent, but here, you are using your body to play it.
You are constantly engaged.
So it was difficult learning it, but at the same time, very, very exciting because of what we were going to make.
The fitness aspect is just one part of the film, but the whole film is not just about that. It is actually about what is going inside that you are able to see on the outside.
How did you resist the sumptuous food present on the sets?
I would say I did not get the invitation (laughs).
I was never invited nor allowed to gate-crash.
The canteen was being shifted around every day, so I could not find it.
Only the wonderful smell of rotis and naans would float in and inspire me to take on my opponent (laughs).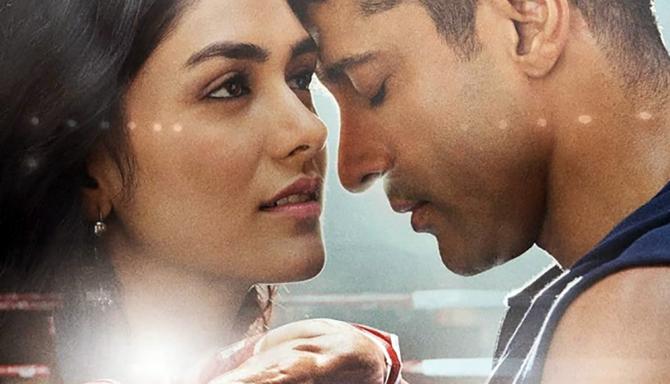 How was it working with Mrunal Thakur?
I really feel that when a script is written, the characters in the film end up finding the right people to portray them.
It just happens.
I do not know what you call it... Serendipity?
I messaged her after I saw the film the first time, saying that I cannot imagine anybody else in the part of Ananya apart from her.
I just cannot imagine it.
It was like this role was written for her.
She has made it her own. She just owns it.
This is just the beginning of her career. She has a long way to go and we all are very excited to see what comes next.
In the film, you portray a goon from Dongri (south Mumbai) who eventually makes the choice of becoming a boxer. How was it playing two shades of the same character?
I had a wonderful time playing the character of Ajju.
It is a full, let-your-hair-down kind of part.
We all are students of films and we all fantasise about things when we see them on screen.
When I saw Aamir Khan in Rangeela, I thought, 'He must have had a gala time playing that part.'
I mean, you can have fun playing that character and saying things that are on your mind.
There is this carefree, I-give-a-damn kind of attitude.
When I got a chance to do that in this film, I absolutely relished it.
Working with Hussain (Dalal, writer) was very helpful. He is from the area where we shot the film. It is where he grew up.
He knows the lingo, the body language... he knows those people inside out.
So borrowing all those little, little, things and the combination of wonderful styling that was done on the film was wonderful.
Vijay Maurya's dialogues were the icing on the cake.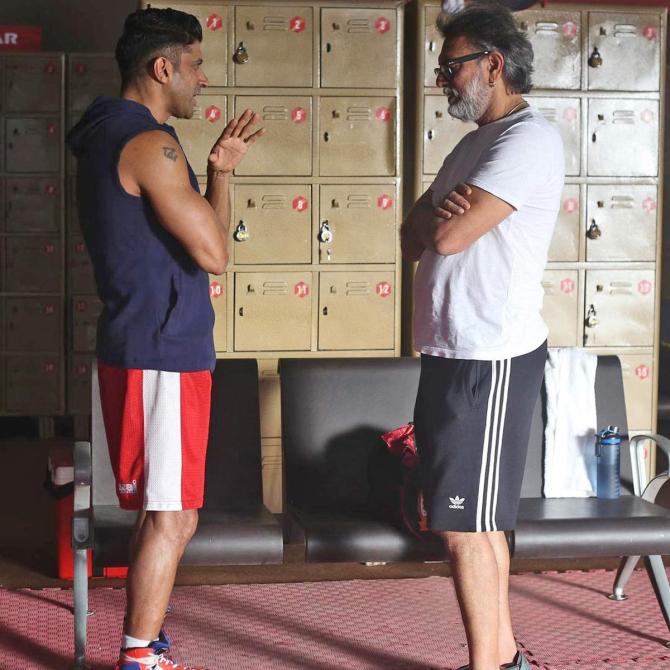 What was it like shooting on real locations?
I must thank all the people that lived in the Nagpada area (central Mumbai), where we shot.
They were so warm and hospitable.
Every single door was open for us to come and take a break, have a cup of tea or just sit under the fan.
It really felt like we were shooting with our friends and family.
What makes Toofaan stand out from other sports films?
I feel is that all of us at some point or the other in life have been guilty of labelling somebody or judging somebody.
To just break it down very, very broadly -- whether it is religion, caste, skin colour, social demographic or even the level of education -- when you meet somebody and can tick those three-four boxes, it gives you a sense that okay, this is this kind of a person.
We have all been guilty of that.
This film challenges those notions on a very, very, big level.
It tells you there is no point in judging anyone.
When you want to try and understand someone, it cannot be so generic.
It is important to take the time to understand that person individually.
The underlining tone of this film reflects that.
The most cliched way to say it is do not judge a book by its cover.
That is why a person like Ananya, which is played by Mrunal, is such an important catalyst in Ali's life -- she's someone who gives you that sense of belief in yourself, who gives you the sense that you can be more than what the world has dealt you.
Everybody has a talent.
It may not be recognised.
It may be untapped.
It may go unnoticed for your entire life.
But everybody has something in them that they could potentially offer the world if they have the right system, structure, support system, love, and trust in place.
So this film is about that.