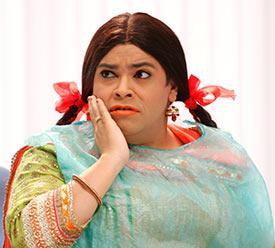 'I love Jhalak and I love Palak. But bringing them together on one platform is way too exhausting,' admits Kiku Sharda.
Comic actor Kiku Sharda is finding it very hard to juggle between his shows -- he's been shooting for four television shows -- and it's taking a toll on his health and family life.
"I have Akbar-Birbal, FIR, Comedy Nights With Kapil and Jhalak Dikhhla Jaa to shoot all at once," says Kiku. "It is an impossible schedule. I am shooting for 18-20 hours every day, and barely get four hours of sleep. I don't get to see my kids at home, so I invite them on the sets. Time management has become a very big problem."
To ease the strain on his schedule, Kiku had taken a break from one of his serials. "I had taken time off from FIR for three months," he says. "But its makers didn't like my absence. I don't blame them. To me, every serial is important. If they felt I was neglecting them, they have every reason to pull me up. So I am back to shooting FIR. That means extra burden on my time. But I have no choice."
Jhalak and Palak, says Kiku, have been the biggest source of strength and stress for him.
"It's not that I don't enjoy doing both. I love Jhalak and I love Palak. And I love bringing Palak to Jhalak. But bringing them together on one platform is way too exhausting. I have to constantly think of dancing, and of dancing like a woman with feminine expressions. Plus, I have to plan songs that two women -- 'Palak' and my choreographer -- can perform together," he continues.
Kiku says dancing on Jhalak Dikhhla Jaa is an exhausting job. "I am shooting the whole day. Then in the evening, when I'm exhausted, I am dancing vigorously on the show. It's not easy. Luckily, Jhalak is a finite show. It will wrap up in a few weeks. Then I can breathe easier," Kiku says.
The popularity of Kiku's creation Palak grows by the week, and Kiku's loving it. "Palak has got amazing spirit and energy. In her mind, she is a hot woman with guys breaking down her door."
How do Kiku's kids react to the 'hot woman'?
Laughs Kiku, "When I am dressed as Palak, my kids are too shy to hug me. When I am dressed as myself, they are all over me. They think of Palak as relative of mine, a loud, aggressive, embarrassing aunt. Even Palak's mother Pankhudi, whom I've created as a crass old woman, is a very popular character. So is Lachcha, my Bihari avatar on Comedy Nights With Kapil."
Kiku plans to add new character traits to Palak. "I've invented a whole back story to her appearance on Comedy Nights. Palak is full of adventures. Right now, she loves reciting shayari -- which is awful -- but she thinks she is a great poetess. She may start learning karate soon or practising magic tricks."