'Right now, it is like thousands of fireflies floating in my mind.'
'I've heard Aamir Khan is making the Mahabharat, but the Mahabharat is open to so many interpretations.'
'It really doesn't matter how many times we visit it.'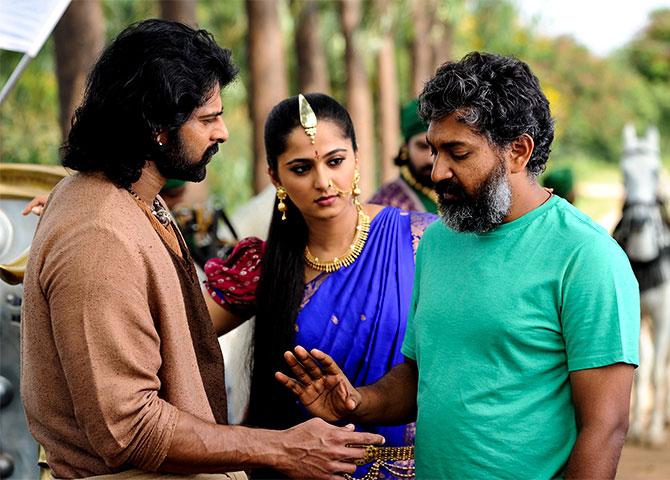 How has life changed for S S Rajamouli after Baahubali?
The director behind 2017's biggest blockbuster looks back on the Baahubali experience with Subhash K Jha.
Are you itching to get back to film-making?
Not at all.
I am just happy to be doing nothing for the past six months.
There's no anxiety to get back to film-making as I know it's something that I can start as soon as I am ready to get back to work.
Right now I am enjoying the process of having a normal life, spending time with my wife and daughter, catching up with friends and relatives whom I haven't met for years.
It's been 8 months since Baahubali concluded its epic journey. Do you look back on the experience with wonderment, as we do?
I don't know whether wonderment is the right word for me.
I look at the experience with much pleasure and gratitude.
Baahubali took five years of the lives of all of us connected with it, but I wouldn't want to change a single moment of the experience.
It was exhausting, but deeply satisfying.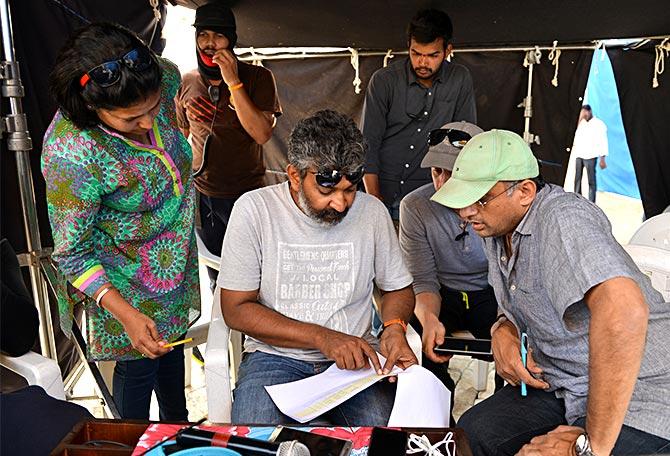 Did you ever think that the two Baahubali films would acquire such super-cult status?
When we set out to make Baahubali we just wanted to tell a story that would appeal to the child within all of us.
See, there is a child in all of us, but we are embarrassed to show it because it goes against the tenets of adulthood.
When we go to a fair we all want to hop on to that merry-go-around and go dizzy in glee, but most of us just stand and watch our children having fun on those wooden horses.
I wanted the child in all of us to come out in the open.
That was my motive and inspiration, if you want to call it that.
How on earth did you think those Chandamama or Amar Chitra Katha tales would work in this day and age?
I believe to this day, the stories that our grandmothers told were the most interesting.
Why do we still cherish those stories? Because they were innocent and heartfelt, not embellished with artifice.
In ancient times when soldiers returned from the battlefront they sat around the fire in the evening quietly until one of them began telling a story.
Then suddenly all the fatigue and trauma of the battle front would be forgotten.
Even today I think people go to cinema to forget the battles of everyday life and just have fun.
Is that why so many films are flopping? Because they are unable to provide fun? Or is it because ticket prices are too prohibitive?
Ticket prices are a different discussion altogether.
I wouldn't like to comment on what kind of films are not working, but I will say a lot of films that are working are very interesting.
In Telugu cinema I find a lot of films in 2017 were worth the audience's time and money.
You see, there are so many alternative to the movie theatre experience.
You have to make it worth the audience's while.
What about your next film? The nation wants to know.
(Laughs.) All I can tell you right now is that I am working on a project.
I don't want to do a costume drama or a period film next.
It will be film a set in contemporary times this time, but again it will hopefully be as much fun to watch as Baahubali.
And yes, I am making it in Telugu.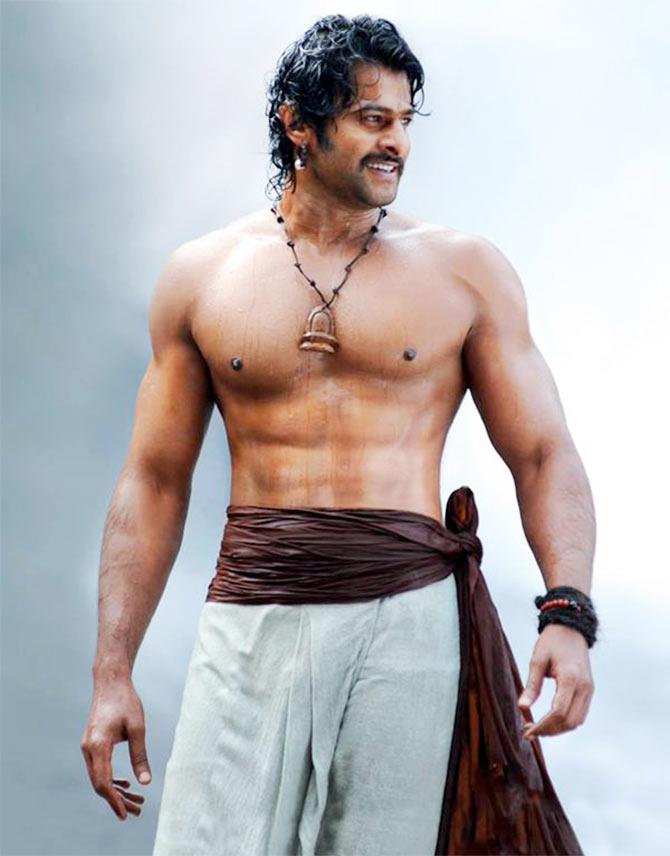 Would it star Prabhas?
No! No! Prabhas and I have been together for five years.
We need a break from each other.
Prabhas is busy with his other commitments and I've my own commitments.
We will, of course, work together again in the future.
What about your plans of making a film on the Mahabharat?
Right now, it is like thousands of fireflies floating in my mind.
It will be some time before those ideas concretise.
I am in no hurry to do the Mahabharat.
Aamir Khan is doing his own version of the Mahabharat.
I heard about that, but the Mahabharat is open to so many interpretations.
It really doesn't matter how many times we visit it.
What do you think of Prabhas doing Saaho after Baahubali?
I know no other actor as intelligent as Prabhas.
What I really like about Prabhas is his mature and sensible self-assessment.
He knows exactly what he is worth. No more, no less.
He neither overestimates nor underestimates himself.
When he got into Baahubali he knew exactly what he was doing.
He know the impact the film will have and the influence his character and performance would exercise.
He surrendered himself completely to Baahubali, as he has surrendered himself to Saaho now.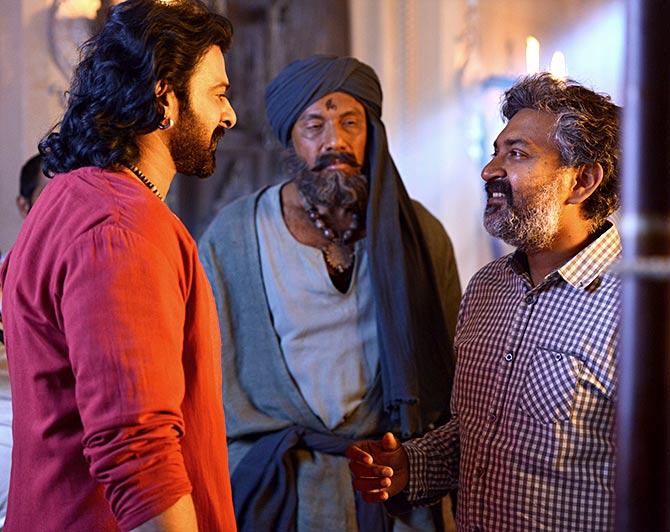 Do you meet Prabhas and the rest of the Baahubali team?
We've all moved on.
Of course, we connect, but everyone had other commitments waiting for them.
Finally, are you moving into a new home now?
No, not at all.
I am very happy in my two-bedroom flat, which has been home for years.
It has enough space for the three of us.
Even for Baahubali's director?
Specially for him. (Laughs.)