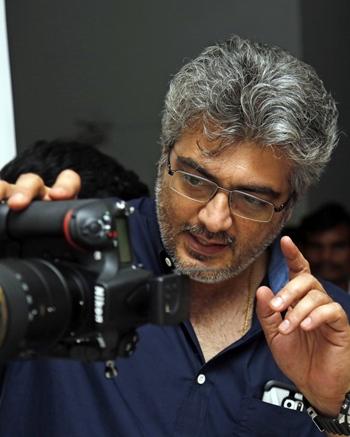 Actor Ajith's generosity is legendary in film circles.

He is known to go out of his way to help those around him. Last year, the Mankatha star built new homes for his entire staff.

His exceptional kindness is once again generating a lot of buzz.

The actor took time off from his busy schedule to help Appu Kutty of Azhagarsamiyin Kudhirai fame get a makeover.

Appu, who won the National Award for his brilliant performance as a village simpleton in the film, met Ajith during the shooting of Veeram.

Appu played one of the supporting characters in the film.

When Ajith learnt that Appu was stuck with the same style and was performing similar characters for nearly a decade now, he suggested a makeover.

Putting his photographic skills to good use, Ajith set about giving Appu a new image.

In this brief conversation with Rediff.com, Appu Kutty tells us how much Ajith's thoughtful gesture means to him.

For nearly a decade now, I have been acting in similar roles, looking almost identical in every film.

My big hair and beard was an essential part of my rural get-up in director Suseenthiran's Vennila Kabadi Kuzhu and Azhagarsamiyin Kudhirai.

The films won me much recognition and nationwide acclaim too.

But people began to identify me with that character, that appearance. I have not been able to shake off that image.

I met Ajith sir during the shooting of Veeram. He asked me why I pursued the same kind of roles.

When I explained my predicament, he suggested that a complete makeover would help people look at me differently.

I was working on several projects and could not afford a makeover at that stage.

Later, he got busy with his next film Yennai Arindhaal.

Finally, last month, he called me again and we decided to go ahead.

At first, I did not understand how huge this was going to me.

He often photographed people on location and I thought he would just take a couple of pictures of me too.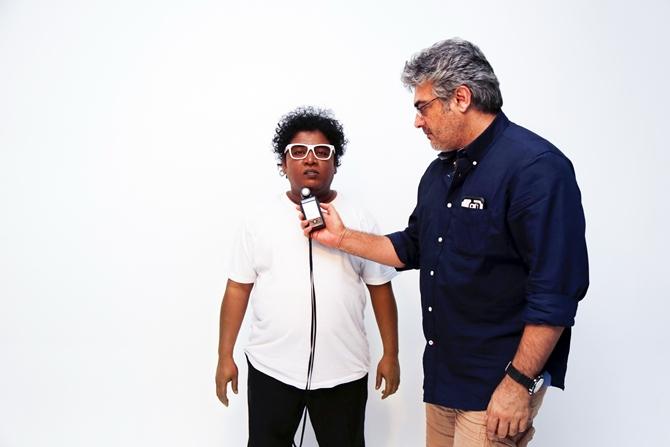 VOILA! Appu Kutty post-makeover!
But I was totally stunned.

He brought in his personal make-up man, hair stylist, costume designer and even an art director for the shoot.

Together they worked to give me a totally new image.

Ajith sir patiently taught me how to pose before the camera and work on my expression. He guided me every step of the way.

On his suggestion, I have also decided to revert to my original name, Sivabalan.

When I saw the pictures, I could not believe it was me.

His thoughtful gesture has got me so much publicity. The pictures of the shoot have gone viral.

I have been approached by a couple of filmmakers and if things go well, audiences will see a different side of me.

I am also a part of Ajith sir's current venture, Thala 56, directed by Siruthai Siva. My schedule starts next month.

It was a thoroughly enjoyable experience working with a wonderful human being like Ajith sir.