It was a special day for Vicky Kaushal when he visited the Indian Army's Uri base camp in Kashmir and spent a day with the jawans.
Vicky became a household name after he scored a blockbuster with Uri: The Surgical Strike (2019), based on the September 28-29 surgical strikes that followed the September 16, 2016 terrorist attack, which claimed Indian soldier's lives.
The Indian Army hosted a musical event Umeed Ki Seher in Uri for the first time after India and Pakistan agreed to a ceasefire at the Line of Control.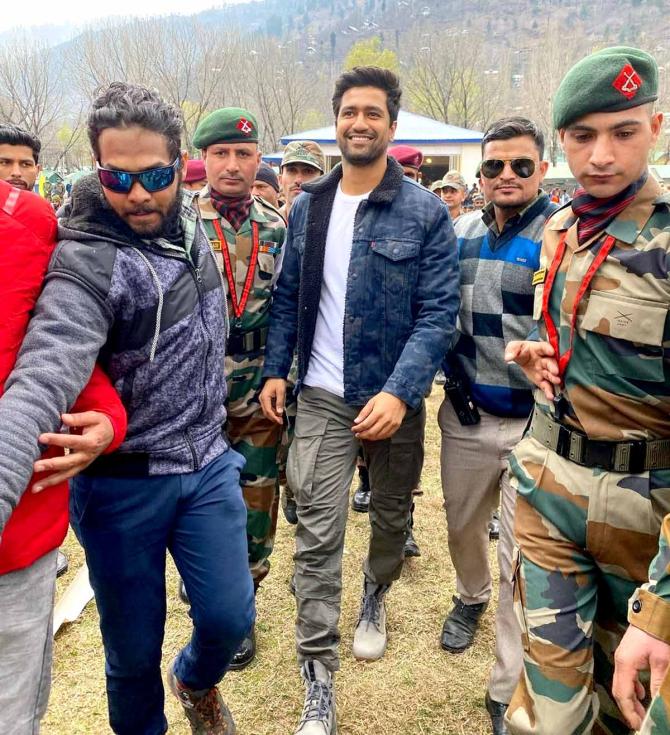 'My heartfelt thanks to the Indian Army for inviting me to the Uri Base Camp, Kashmir,' says Vicky.
'Thank You for giving me an opportunity to spend a lovely day with the locals who were so full of warmth and amazingly talented. It is the biggest honour for me to be in company of our great armed forces. Thank You. Jai Hind!'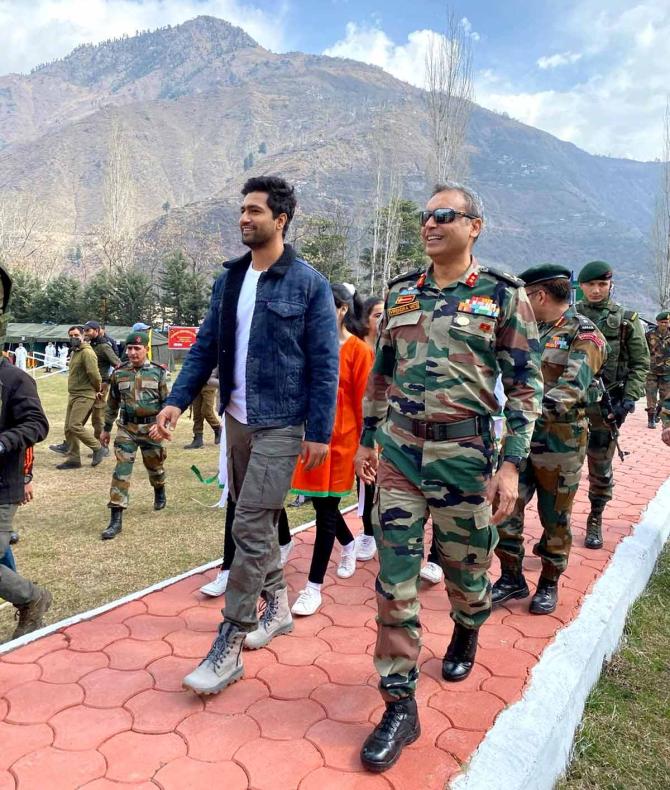 Vicky had stated that shooting Uri was 'exhausting', but 'playing the role was an honour'.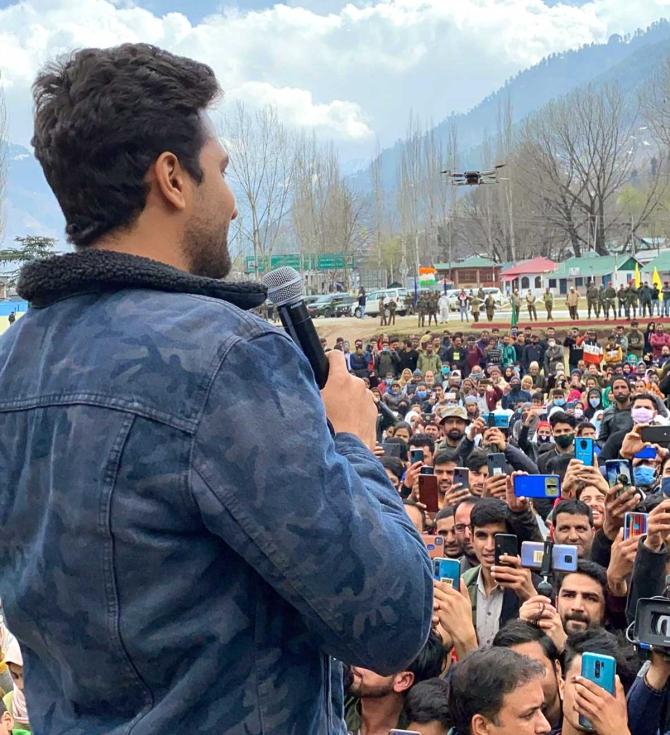 A star moment for Vicky as the crowds can't get over him.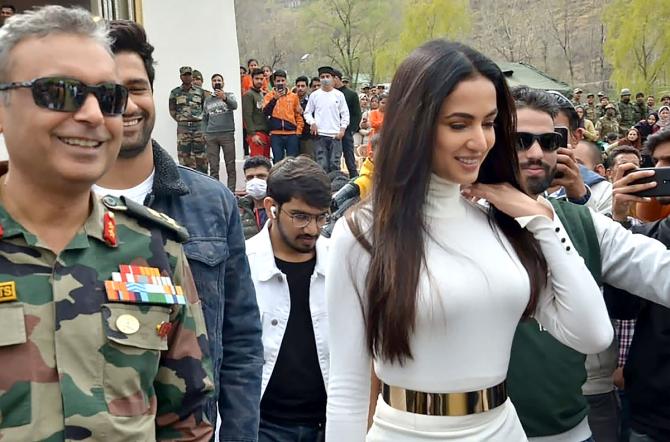 Sonal Chauhan accompanied Vicky on the trip.
Sonal has worked in J P Dutta's war film Paltan, based on the clashes between Indian and Chinese troops in Nathu La and Cho La in 1967.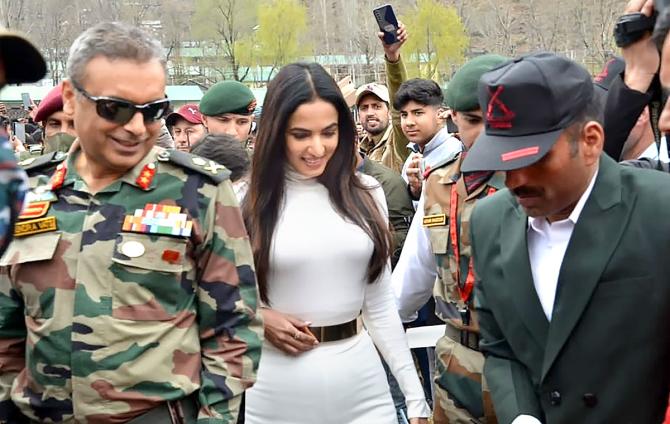 'What an honour it has been to be a part of this Army Event and witness the youth of Uri showcase their amazing talent,' Sonal writes about her experience.
'Thanks to the beautiful people of Uri for the love and warmth. And a big Thanks to the Indian Army for inviting me and giving me the honour and the opportunity to spend a beautiful day with the real heroes. I consider myself truly lucky to have had this opportunity. No words will ever be enough to thank you guys for what you do every day to keep the country safe. Jai Hind.'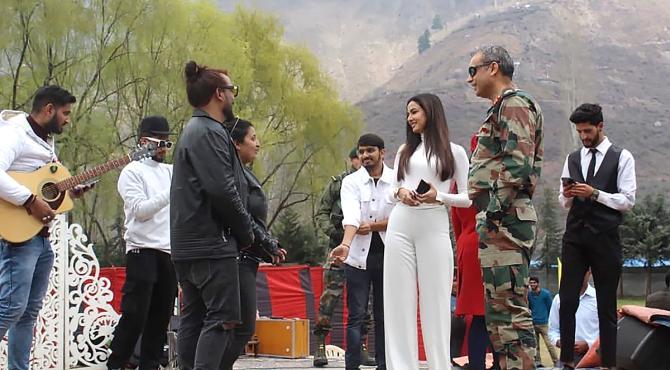 There was a performance for the stars as well.
This was Vicky's first visit to Uri. Later this year, he will play Sam Maneckshaw in Meghna Gulzar's biopic on the legendary general who led the Indian Army to victory in the 1971 War.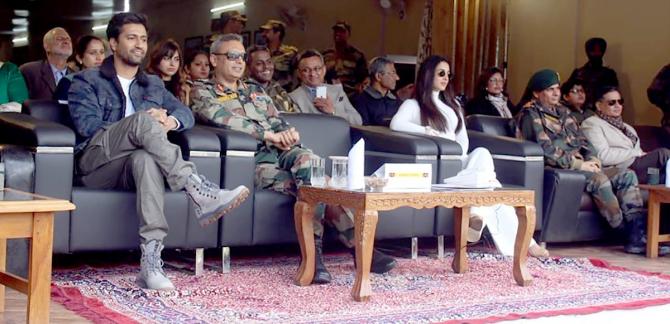 Vicky and Sonal watch the show organised by the army.