All this and more in Subhash K Jha's Bollywood Buzz.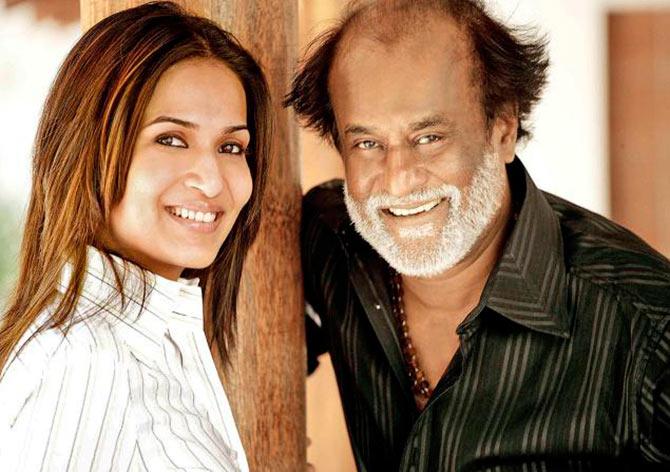 IMAGE: Soundarya Rajnikanth with her dad. Photograph: Kind courtesy Soundarya Rajnikanth/Twitter
What does Rajinikanth want to do with Tamil Nadu politics?
Other than inform the nation that he intends to practice 'spiritual politics,' there is no clear cut policy, not even a name for his political party.
Does the superstar -- who returned to Chennai on Tuesday, March 20, after his Himalayan pilgrimage -- want to initiate a political party at all or is he still meditating over the possibilities?
"Rajinikanth," confides a source closes to him, "is currently in the process of concreting his plans."
"He went on his annual pilgrimage for 15 days which political observers are connecting to his political plans. This is not the case at all. Rajini undertakes a teerth yatra every year," adds the source.
"He is giving the impression that he will make big announcements about his political plans when he returns from the pilgrimage when in truth, there is no plan yet," reveals the source.
Apparently, the one thing that we can expect from Rajiniknath's politics is his daughter Soundarya's active participation.
"Soundarya will be Rajini's right-hand person. She will be the go to person for all political queries regarding Rajinikanth. She will handle all the day-to-day political activities and all the liaison work," says the source.
The possibility of a coalition with Kamal Haasan is also "very strong", the source believes.
Says a source close to Kamal Haasan, "Kamal says his chosen colour for politics is not saffron. Rajini seems unsure of what his chosen colour is, but he has footprinted his politics on MGR (the late Tamil movie superstar, AIADMK founder and chief minister) M G Ramachandran, which means Rajini will continue to act in films, though not as frequently as earlier."
In an interview some time ago, Soundarya told me, "My dad never made any career plans. He is a very simple human being. He has never forgotten where he came from. As his children, my sister Aishwarya and I learnt this from him, to never forget our roots."
"With our dad, there are no two faces. What you see is what you get. Whether it is a fan or a producer, he treats them all the same. He has been down to earth all his life. He will never change."
***
J P Dutta returns with Paltan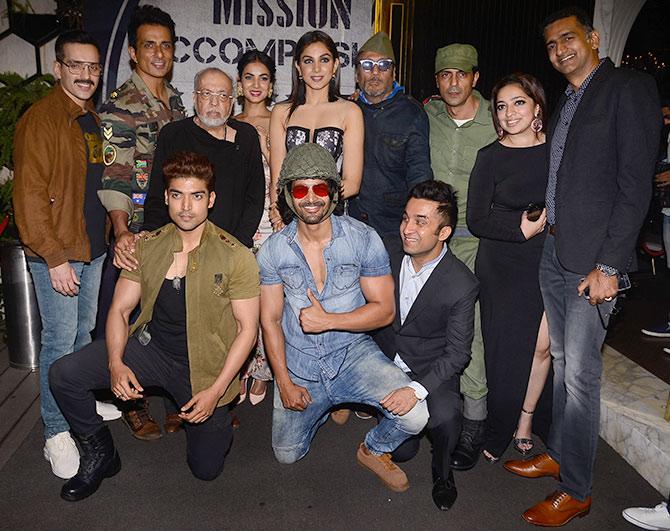 IMAGE: J P Dutta with the Paltan cast: Luv Sinha, Sonu Sood, Sonal Chauhan, Monica Gill, Jackie Shroff, Arjun Rampal, J P Dutta's daughter Nidhi and producer Sujay Kutty. Sitting: Gurmeet Choudhury, Harshvardhan Rani and Siddhant Kapoor. Photograph: Pradeep Bandekar
In spite of many setbacks, J P Dutta seems satisfied with with his new war film, Paltan.
"This was my first film without my father (O P Dutta wrote the dialogues for all J P Dutta's movies earlier). One reason why I feared returning to film-making for so long is because I didn't have my father anymore to hold my hand," JP says.
"I can't tell you how smoothly the shooting in some of the toughest terrains went, and it's all because of my elder daughter Nidhi, who took charge of the entire production. Both my daughters have been a tremendous support. I am lucky to have Nidhi and Siddhi to support me at this stage of my career," he adds.
With Paltan, JP returns to direction after 12 years.
"How time flies! I still remember every detail from the shooting of Umrao Jaan in 2006. That's when Abhishek and Aishwarya (Bachchan) fell in love. It was a very special time," he recalls.
Umrao Jaan didn't do well, and it broke JP's heart.
"It was my first romantic film. I guess audiences identify me with war epics. Seeing me do Umran Jaan was a culture shock for them. So here I am, back with a war film. I hope the audience gives it the same love that they gave my earlier war films, Border and LOC Kargil."
***
Shahid in Woh Kaun Thi?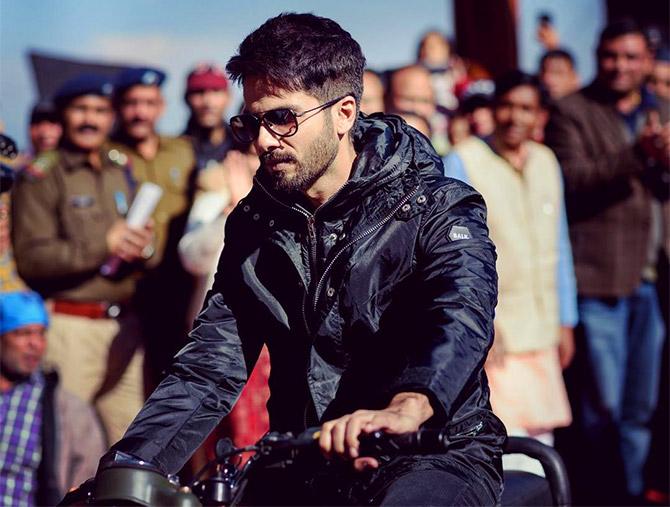 IMAGE: Shahid Kapoor on the sets of Batti Gul Meter Challu. Photograph: Kind courtesy Shahid Kapoor/Instagram
Since producers KriArj Entertainment have decided to remake Raj Khosla's 1964 classic Woh Kaun Thi, the casting process has begun in right earnest.
One hears Shahid Kapoor, who is playing the lead in KriArj's Batti Gul Meter Chalu, has been penciled in to play the role Manoj Kumar played in the original.
Shahid, it seems, will give his nod only after meeting the legendary actor.
"Shahid feels it is only proper to touch base with the original cast and crew," a source close to the project reveals, "but not many of the people associated with the original film are still alive."
"Director Raj Khosla and music director Madan Mohan are no longer with us. Sadhana, who played the spirit in white, is also no more. That leaves us with Manoj Kumar. Shahid will meet the veteran as this version of Woh Kaun Thi is meant to be a tribute to the original."
***
'Irrfan is irreplaceable'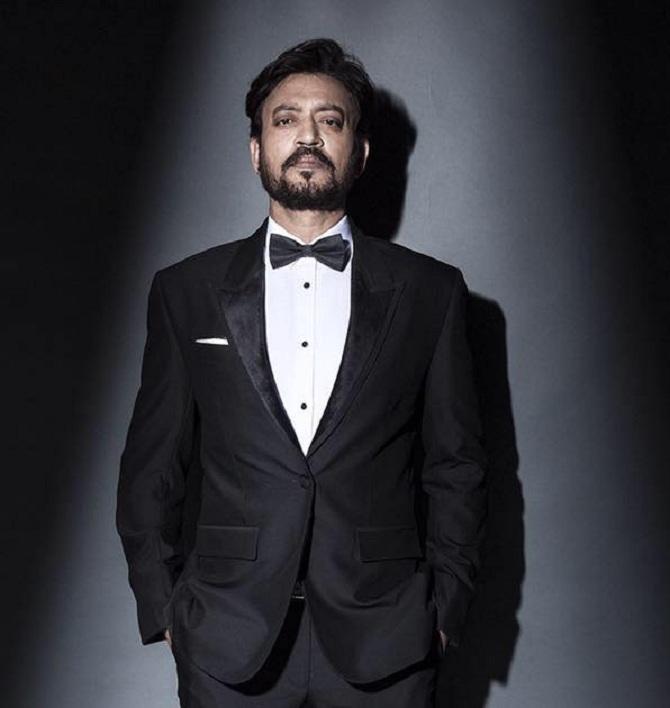 Photograph: Kind courtesy @IrrfanOfficial/Facebook
Vishal Bhardwaj's proposed film with Irrfan has been put on hold until the actor recovers completely.
Says the film's producer Prernaa Arora of KriArj Entertainment, "For Vishal Sir and me, there is no question of replacing Irrfan Sir. He is irreplaceable. The project we were doing with him remains his. We will make it whenever he is fully recovered."
Prernaa will now team up with Bhardawaj on Chhuriya, which will go on the floors in April.
While Prernaa is unwilling to part with the details, it is reliably learnt that the film tells the story of two fiercely competitive sisters who won't stop at anything to get even with one another.
***
'We don't aspire to be a blockbuster'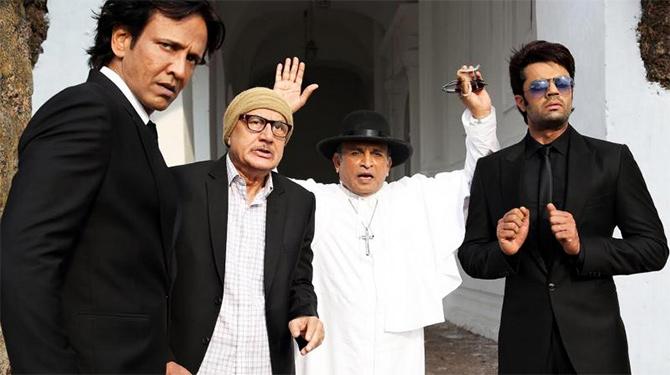 IMAGE: Kay Kay Menon, Anupam Kher, Annu Kapoor and Manish Paul in Baa Baa Black Sheep.
Debutant director Viswas Paandya has chosen an unusual comedic subject for his first film, Baa Baa Black Sheep.
"It is the story of a contract killer masquerading as a cashew nut seller, played by Anupam Kher, who must now reveal the family business to his son (played by Manish Paul) to carry the bloody legacy forward. The humorous pandemonium that ensues forms the crux of the plot, says Viswas whose father Jayendra Pandya was a well-known producer in the 1970s and was associated with renowned film-makers like Hrishikesh Mukherjee.
"The world I have created in Baa Baa Black Sheep is far removed from the cinema my father was associated with. I grew up on everything from David Dhawan to Guy Ritchie," confesses Vishwas.
"Today's moviegoers look for stress-busters in their cinematic experiences. That's what we've tried to provide in our film. If nothing else, audiences should come away with a smile."
Baa Baa Black Sheep is pitched against Rani Mukerji's Hichki on March 23, but Vishwas isn't perturbed.
"We are a small film and we are aiming at a small release. We don't aspire to be a blockbuster. We only want to entertain," he says.
Vishwas's wife, the well-known television actress Prachi Shah, is not part of his film's cast.
"She was there to support me from behind the camera," he says.