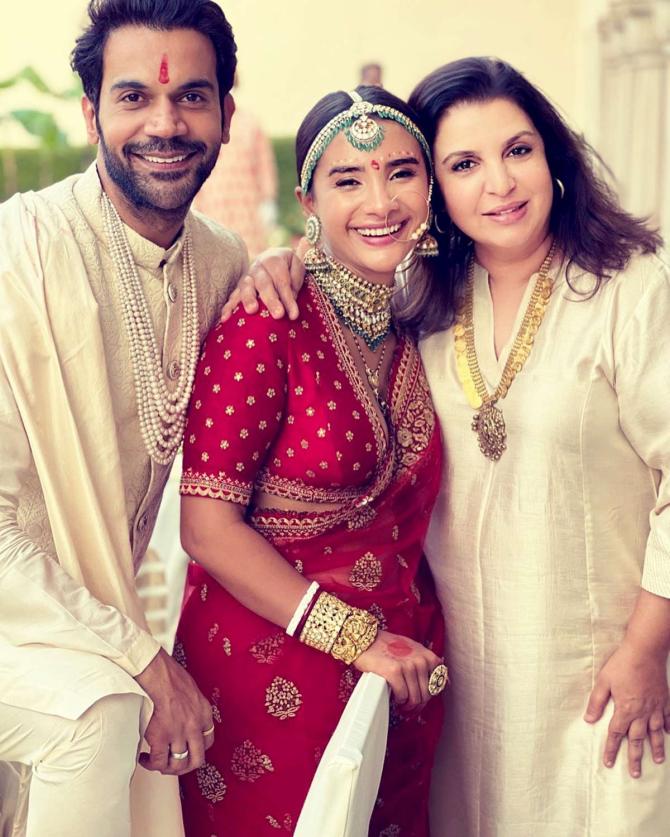 After being in a relationship for 11 years, Patralekhaa and Rajkummar Rao wed on November 15 at Chandigarh's Oberoi Sukhvilas Spa Resort.
The couple posted pictures from their wedding on Instagram, with loved-up captions.
'Finally after 11 years of love, romance, friendship and fun, I got married to my everything today, my soulmate, my best friend, my family,' Rajkummar wrote. 'Today there is no greater happiness for me than being called your husband, Patralekhaa. Here's to forever .. and beyond.'
'I got married to my everything today; my boyfriend, my partner in crime, my family, my soulmate...My best friend for the last 11 years!' Patralekhaa posted.'There is no greater feeling than to be your wife! Here's to our forever.'
Farah Khan, who attended the wedding, captioned this picture: 'You don't marry the person you can live with.. you marry the person you Can't live without.. @rajkummar_rao & @patralekhaa .. urs was the most beautiful and emotional wedding n I know the marriage will be the same.. lov u Raju&Goldy.'
The couple wore beautiful Sabyasachi ensembles on their wedding day.
Patralekhaa wore a red tulle embroidered buti sari, paired with an embroidered veil. The Bengali bride had a Bengali verse penned by Sabyasachi on her veil.
She also wore handcrafted Sabyasachi Heritage Jewellery in 22k gold with uncut diamonds, pearls and emeralds.
Rajkummar wore an embroidered raw silk ivory jacket with gold plated Bengal tiger buttons, paired with a Bangalore silk kurta and churidar. He completed his look with handcrafted Sabyasachi Heritage Jewellery in strands of cultured Japanese pearls.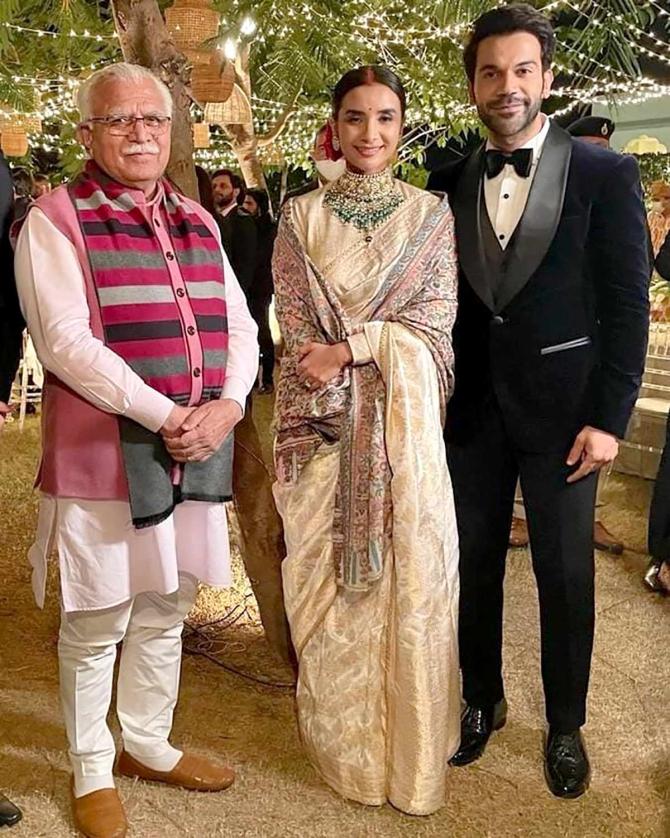 The wedding was followed by a reception, attended by Haryana Chief Minister Manohar Lal Khattar, among others.