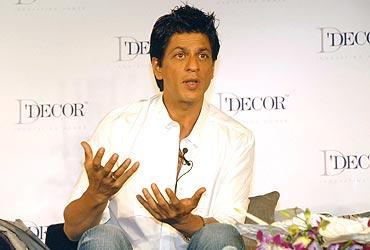 Artist Subodh Gupta has always had immense scope. He moves seamlessly between painting, sculpting, installations, photography and even performances. Now, he may add Bollywood to his impressive repertoire.
The first hint came from the Bollywood Badshah himself.
Shah Rukh Khan on Wednesday tweeted: 'have my friend subhodh gupta, one of the most sought after & talented artist sculptor from india. humble & sweet...shooting for us today.'
The actor didn't elaborate on what the New Delhi-based artist was shooting for, or how big the role was.
SRK and wife Gauri have been admirers of Gupta's work for a while. They had attended his exhibition at London's prestigious Hauser & Wirth galleries in last October. Gauri had reportedly said she hoped Gupta, who is famous for his sculptures and installations made from stainless steel utensils, would consider creating something for their home.
We don't know if Mannat, SRK's home, now boasts a work by Gupta, but news from inside the house is that the Khan's are gearing up for Eid. And SRK is hoping to make his son go traditional that day.
'Made sherwani for aryan & myself...selling him the concept of sherwani as the garb of neo from matrix. hope he buys it & wears it on eid,' he posted on Twitter.
We'll watch out for updates on both Gupta and Aryan, SRK.
Photograph: Pradeep Bandekar