'My mom, dad, sister and husband often yell at me to get off the phone. but I say, let me check this picture for the last time...'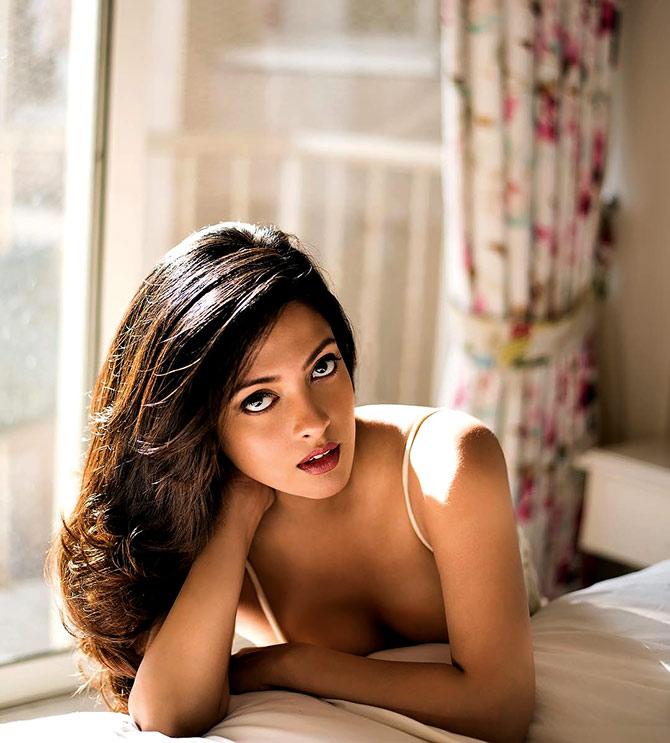 Riya Sen returns to the spotlight with a Web series Poison, co-starring Arbaaz Khan and Freddy Daruwala.
The petite actress started her career with Falguni Pathak's hit music video Yaad Piya Ki Aane Lagi and went on to make movies movies before venturing into the digital space.
She looks back at her career and tells Rediff.com Contributor Ramesh S, "When I look at my earlier work, I often wonder why I acted like that, why I wore that dress, why I said that dialogue... Why couldn't I do it better?"
How has your journey been?
It's been good and bad. But most of it has been so exciting that I don't want to change a minute of it.
It has been a learning process, and I feel lucky to have started at a young age.
Now, I am doing the kind of work I have always wanted to do.
It's very difficult to sit, wait and be patient.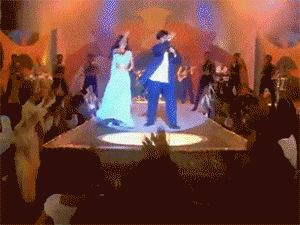 Tell us about Falguni Pathak's music video, which made you known.
I was in Calcutta and my parents had an offer for me to feature in Falguni Pathak's music video, produced by Universal Music.
I was in Class 9 then, and pleaded to decline the offer because I was too shy.
My parents explained that it was a once-in-a-lifetime opportunity.
I was in tears because I was too shy and conscious in front of the camera.
Eventually, I landed in Mumbai for rehearsals and met the three other girls who were also in the music video with me.
They were also young and new to the industry like me.
Though we were all shy teenagers, we became best friends.
I remember that signature step in the music video. It took me seven days to perfect it.
I was so shy and scared that I couldn't even lift my hand for the step.
Then, it became a rage and the music video turned out to be a superhit.
Even today, people I work with love me for that song. They ask me to do that step sometimes but I politely decline (laughs).
I remember my first public appearance at some show in Surat. I nearly fainted after seeing the huge crowd.
But that started my journey of fame. I did more music videos with Universal Music.
After that, I did a lot of adverts, and then movies and now, Web series.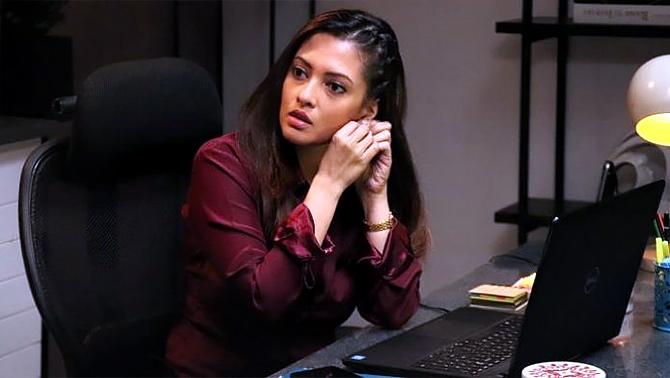 What was your experience working in shows like Ragini MMS: Returns and Poison?
When I look at my earlier work, I often wonder why I acted like that, why I wore that dress, why I said that dialogue... Why couldn't I do it better?
I realised I was too young then and not confident.
Today, I can take up any role and make it mine because I have that experience. I got that after working with great directors, even in Calcutta.
I am getting roles now without any song or dance, roles which have some connection to the story and are substantial and challenging.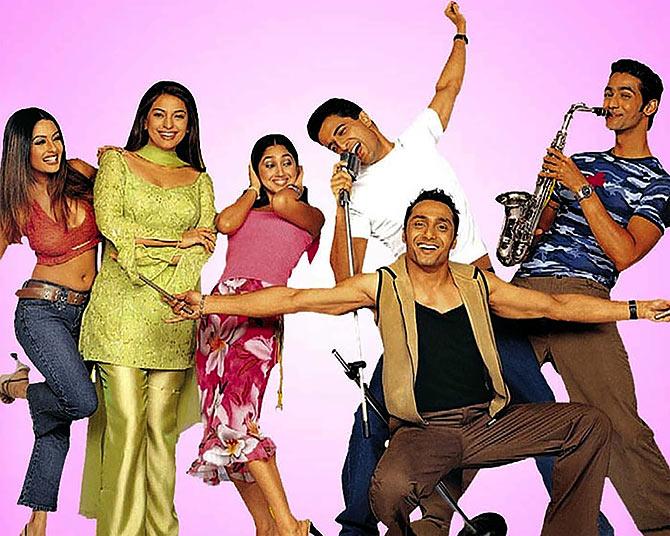 People still remember you in Jhankaar Beats.
Jhankaar Beats is a great movie with fabulous music.
But when I see myself in it as an actor, I feel so tiny and young.
I feel I could have acted better (laughs).
You come from a family of actors including your grandmother Suchitra Sen, mother Moon Moon Sen and elder sister Raima Sen. Do you feel any pressure?
I love the fact that I am a part of these three generations.
I would be lost in this industry if I wasn't a part of it.
I like the fact that I come with a lineage and have a filmi background.
That never added any pressure. Instead, it helped me in my career.
Whether my films worked or not, people loved me because they love my mom, sister and grandmother.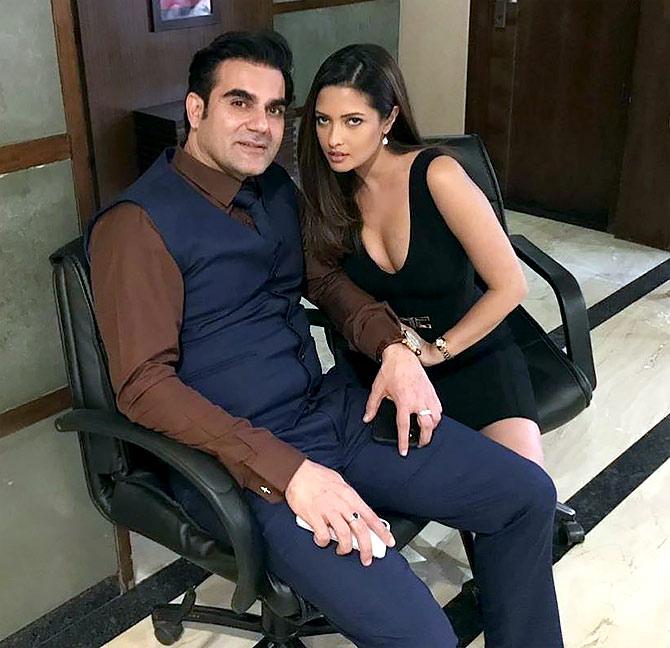 Your role in Poison reminds us of the character, famously called 'Mona Darling'. Is it on the same lines?
I play a Goan girl named Natasha. She is Arbaaz's (Khan) secretary and Freddy's (Daruwala) love interest.
She is stuck between them because of the problem they face with each other.
I also have my own personal problems.
I play a victim in the series and that is quite difficult to play.
You worked with Arbaaz Khan in the 2003 film Qayamat: City Under Threat.
Though I have worked with Arbaaz in Qayamat: City Under Threat, we did not share any screen space together.
But I know Arbaaz quite well for a long time now, so it was very easy.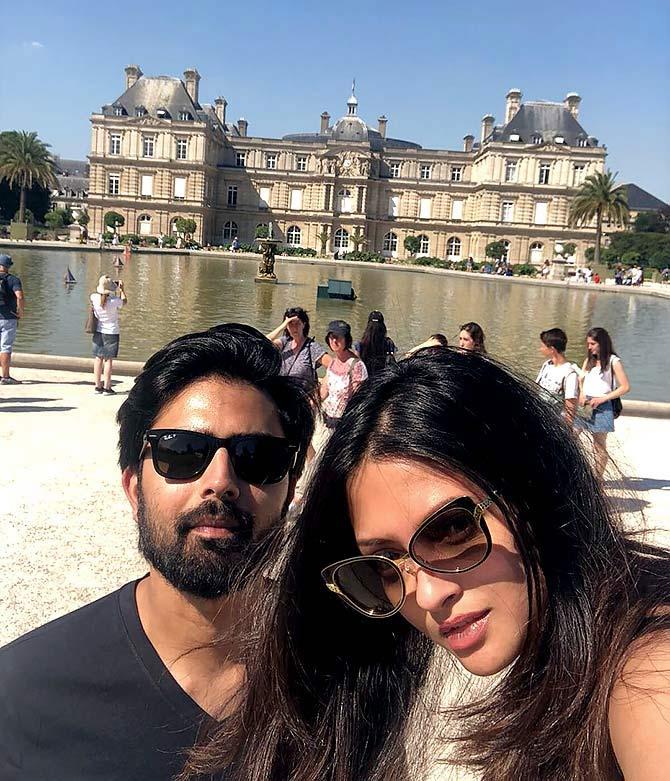 You are quite active on Instagram. How do you deal with trolls?
Honestly, I don't look into the negative side because I am addicted to Instagram.
My mom, dad, sister and husband often yell at me to get off the phone. but I say, let me check this picture for the last time... And then, they will say that I have already looked at this picture a thousand times! (laughs)
I think Instagram is fun because you are checking everyone's pictures and seeing what's going on in their lives.
You are also checking out the latest trends and following the latest fashion.
You can easily reach out to your fans.
Also, you get to know what is working for you and what is not.
And you can represent yourself today. Because of social media platforms like Facebook and Instagram, I am portraying myself the way I want to be.
What I am on social media is what I am in real life.
Which are your favourite movies, starring your mum and grandmother?
My favourite movie of my grandmother is Aandhi.
I have many favourites of my mother, like her first Hindi film Andar Baahar, Sheesha and that horror film Woh Phir Aayegi.
Raima and I have grown up watching horror movies, but watching our mother's horror film was so petrifying! I will never forget that experience.