Memories of the late Om Puri, Vinod Khanna and Reema Lagoo surfaced.
Snapshots from the evening.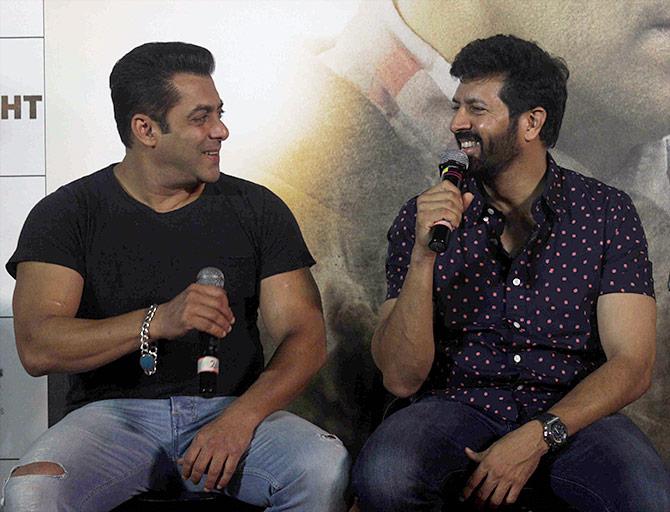 IMAGE: Tubelight is Salman Khan's, left, third film with director Kabir Khan, right. Photograph: Pradeep Bandekar.
It was inevitable that Baahubali: The Conclusion's ₹1,500 crore box-office collection would come up at the trailer launch of the next big film of 2017 -- Salman Khan's Tubelight.
But Salman parried the comparison with characteristic nonchalance.
"After Baahubali: The Beginning, we came up with Bajrangi Bhaijaan. Now, after Baahubali: The Conclusion, we are coming up with Tubelight," he said. "There is a lot of pressure on the CEO of Salman Khan Films. [But] I don't get worried so much."
Noting that he had not seen the film -- but would watch it -- the superstar continued, "It is a phenomenal success and it is amazing… But it doesn't matter [box office records], as I think every film has its own destiny. Let's see what the destiny of Tubelight is."
He added, "They do one film in four years; I do two films in a year, and the average is that much."
Salman's brother, actor Sohail Khan, who also stars in Tubelight, said, "It's lovely when a film does well commercially as it sets a yardstick."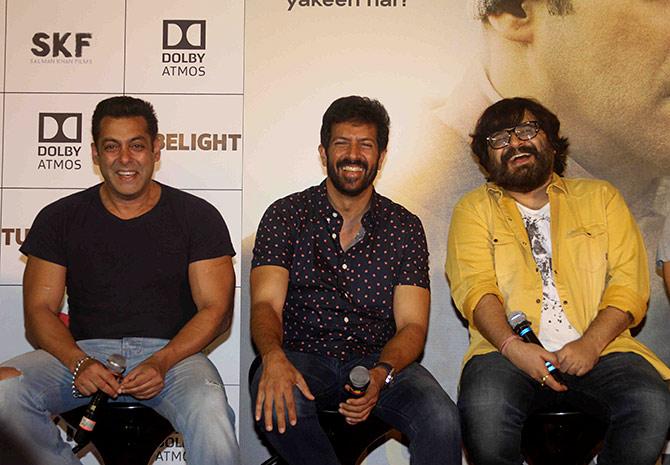 IMAGE: Music composer Pritam, right, joined Salman and Kabir Khan at the trailer launch. Photograph: Pradeep Bandekar.
Tubelight is set against the backdrop of the 1962 Indo-China war, and director Kabir Khan said the setting remained relevant even today.
Asked if they chose the 1962 war as the backdrop instead of an Indo-Pakistan war to avoid controversy, Salman joked, "Release Bajrangi Bhaijaan again."
Kabir Khan quickly interrupted: "That [avoiding a controversy] is not the reason. Every story requires a certain background and timeline. Tubelight required this film to be set in 1962. But there are other elements in the story. It's a relevant story even in today's time but we can't reveal everything now."
He did, however, note that the film was about the Kumaon Regiment, which is active on both fronts of the war -- east and west.
Salman said Tubelight was essentially the story of two brothers, essayed by him and Sohail.
"One brother goes to war and other stays back and prays for the war to end so that his brother can come back. Now, whether his belief can actually bring back his brother or not is what the story is about."
The trailer calls it 'the story of one man's unshakable belief in himself and love for his family.'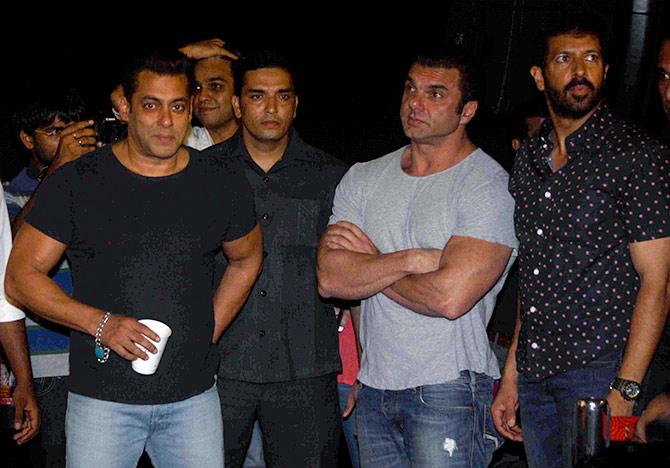 IMAGE: Tubelight is scheduled for an Eid release, a slot that has come to be associated with mega Salman Khan films. Photograph: Pradeep Bandekar.
Salman credited Sohail Khan for helping him perform well in the film.
"The film was an emotional journey and I felt emotionally drained after shooting some of the scenes. I am a limited performer and everybody knows that, but because Sohail was playing my brother, maybe that's why I was felt so emotional," he said.
However, Kabir Khan quickly added, "After Tubelight people will not say that you are a limited performer."
Salman also said it was difficult for him to do films like Tubelight: "To play a pure character is the most difficult thing as we are not purest people in our life. So, you portray a character like that in Prem of Hum Aapke Hai Kaun, the role in Bajrangi Bhaijaan, and Tubelight is most difficult. It's a challenge to maintain simplicity, purity and honesty of a character."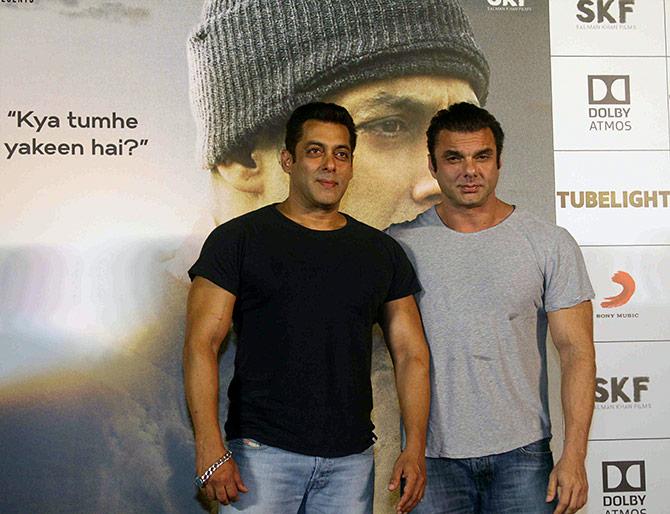 IMAGE: Salman and Sohail Khan star as brothers in Tubelight. Photograph: Pradeep Bandekar.
The evening took a sombre turn when Salman spoke about legendary actor Om Puri, who passed into the ages in January 2017. Tubelight is Puri saab's last film.
"The strange thing is whenever I see the trailer, teaser or song, I see Omji and it kills me," Salman said. "I have done a lot of work with Omji, and I felt one moment he was there and then he was gone. I don't actually enjoy watching the trailer, song or teaser as I can see him there."
He spoke emotionally about the grief of losing three people he was very close to in the last few months: "We just lost V K (Vinod Khanna) sir. He was an amazing person. While I was shooting, I heard about the demise of Reema (Lagoo) ji."
While Khanna played Salman's father in several films, including Dabangg and Dabangg 2, Lagoo played his mother in many films, starting with his first hit Maine Pyaar Kiya.
"It's sad that I lost three very close people in the last three or four months," Salman said.
Tubelight is Salman's third collaboration with Kabir Khan after Ek Tha Tiger and Bajrangi Bhaijaan, both massive hits. The film is scheduled to release this Eid.
With inputs from the Press Trust of India