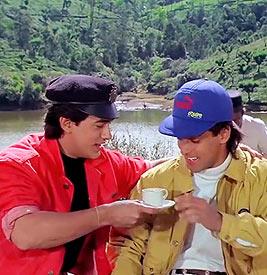 Gogoji's ghagra, Happy Birthday, Rabbit, Vasco-Da-Gama's gun, Haila Juhi Chawla, Ramanand Sagar's Ram-Bharat reunion episode, Kalimirch Ke Ladoo, Sherbet-E-Jannat, Tilloo's danda sessions, Uthal Puthal, Hamara Bajaj, Wah Wah Productions, whew, Andaz Apna Apna's list of awesomeness never runs out of things to add and adore.

Rajkumar Santoshi's 1994 cult classic completes a terrific 20 years on April 11.

There's so much to love about this scatterbrain comedy, which didn't do well on release but acquired an overwhelming following since it hit the video/cable circuit.

From Teja's Mark to Mahapurush retorts, fans of the film know every single scene and dialogue almost verbatim.

So what is it about this ribtickling comedy starring the Khans -- a full-of-himself Aamir and a mousey Salman, Raveena Tandon, Karisma Kapoor, Paresh Rawal, Shakti Kapoor, Viju Khote, Shehzad Khan, Mehmood, Jagdeep and Juhi Chawla and Govinda in unforgettable cameos that charms you the most?

The 'sawaal ek jawaab do' dialogues?

The amusing background score?

The O P Nayyar-inspired songs?

The hilarious fashion?

The comical threats -- Muscle dekha hai muscle, masal ke rakh doonga?

The childish threats -- Circus ka retired Bandar?
The glorious chemistry between the actors who couldn't see eye to eye during the making of the film?
Salman's career-best performance as the dolt who doesn't know the difference between a revolver and rifle?
Aamir's tendency to stress on a phrase or word in every single line -- Champion tha main, Raveenaji, champion!
The in-jokes? (Sholay kya tere baap ne likhi thi?).
Paresh Rawal's poultry farm planning?
Karisma's daffy dialogue delivery?
The pranks on Raniya beti?
The funny get-ups?
The gaalis -- Papplu, Tapplu?
The confusion -- Raveena kaun, Karisma kaun, Uncle kaun?
The Bollywood references -- Mogambo's Bhatija, Saajan, Mast Mast, Papa Kehte Hain?
Raveena's safety conscious suicide attempt?

Or is it Team Andaz Apna Apna's refreshing disregard to take itself seriously even for a split second?

Tell us, dear readers and fellow AAA fanatics, what is that one thing about this beloved laugh raiser that you love the MOST?