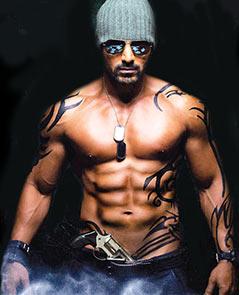 After Force, John Abraham and Nishikant Kamat collaborate on Rocky Handsome.

After Force, director Nishikant Kamat has teamed up with John Abraham once again. And this time, they will take the action to another level.
"I have done one kind of action in Force. Doing the same thing would be repetitive. We're taking the action to another level in Rocky Handsome. Here, the stunts would be very stylized, almost choreographed," says Nishikant.
Nishikant says he needed to shoot John's action scenes in a controlled studio atmosphere. "That's why I'm shooting in Hyderabad. I am shooting a fight sequence on a slippery steam-filled road."
Though Nishikant is not divulging details, it is learnt that John's stunts would be in the style that the South Korean actor Won Bin had adopted in The Man From Nowhere, the film which Rocky Handsome adapts.
"Mind you, it is a very lose adaptation," says Nishikant. "We are moulding and contemporizing the original. There is no point in doing a remake unless you take the original to another level."
Shruti Haasan has been cast as John's wife, while a seven-year old child actress named Diya plays an important character.
Says Nishikant, "She has many scenes with John. But she's a child and we can only shoot when she wants to. So we've to adjust our schedules according to her requirements."
Nishikant would be shooting his South Korean adaptation until the end of July. He takes a small break in the second week of July to come to Mumbai for the release of his Marathi film Lai Bhaari.
Says Nishikant, "If the audience expects another Marathi film like Dombivali Fast from me, they are in for a shock. Lai Bhari is in the Rowdy Rathod space."