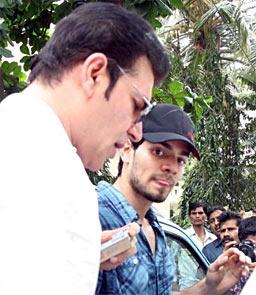 Aditya Pacholi and his wife Zarina Wahab's 20-day ordeal of watching their son Suraj imprisoned for allegedly abetting actress Jiah Khan's death, has ended.

Suraj was arrested on June 10. He was granted bail by the honourable judge on Monday afternoon, and he will be home the next day.

Unable to control his emotions, Aditya Pancholi sobbed his relief minutes after hearing the news. "It's finally happened. My boy is coming out. I am grateful to the honourable judge for being fair to us. We had begun to lose hope," he said.

"We knew Suraj would be out because he has done no wrong," said Zarina Wahab. "We just didn't know why it was taking so long. My son has gone through so much. We have suffered but we can't begin to imagine what he must have gone through. The honourable judge has been fair and just. Aditya and I had begun to despair. We have finally found our hope and faith again."

Zarina has nothing but kind words for Jiah Khan. "Her soul must have finally rested in peace. Jiah loved my son. She couldn't have been happy with what was happening to Suraj. It is ironical that Jiah's mother says she wanted Suraj in jail because of Jiah when the last thing Jiah would have ever wanted was to see my son in distress.
"I have been connecting with Jiah in my prayers," she added. "We love that girl. She deserved a far more pleasant send-off than this ugly vendetta spree."
In the picture: Aditya and Suraj Pancholi. Photograph: Pradeep Bandekar