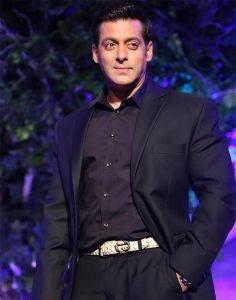 'Salman said he would listen to our top five songs. If he didn't like them, he would leave for his next shot.'
Brothers Sajid-Farhad tell Patcy N/ Rediff.com that dreams do come true.
Salman Khan has given wings to many aspiring actors and has never shied away from encouraging new talent in Bollywood.
In fact, it seems like he has mastered the art of spotting raw talent. Lyricist-turned-director duo Sajid-Farhad are testimony to that.
After spending just five minutes with Salman, the Samji brothers got their first big break in Bollywood as lyricists. They went on to direct Akshay Kumar-starrer Entertainment.
In this conversation with Rediff.com/Patcy N, Sajid speaks up for the duo, and talks fondly about their godfather, Salman Khan.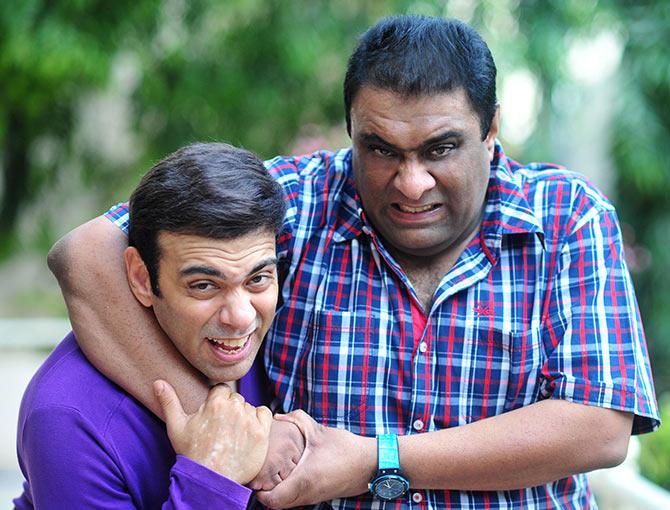 We can never forget the first time we met Salman Khan. There was an instant connection.
We had gone to Kamalistan Studio, in Mumbai, where he was shooting. We were standing at a distance, watching him, and waiting for him to hear our song.
This was in 2001 but even today, we remember how he sat, his exact pose.
Salman was shooting for Sajid Nadiadwala's Har Dil Jo Pyar Karega during the night; they were shooting the song Piya piya o piya piya. We bribed the watchman with Rs 20 and entered the studio.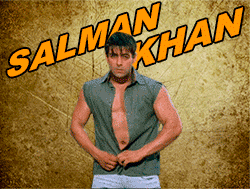 We spoke to Salman's driver Ashok and told him that we wanted to meet him.
He told us: 'Aisa koi milta nahi Bhaijaan se, har minute ka unka paisa hota hai.' (Nobody meets Salman like this, his time is valuable.)
We pleaded with the driver, and he said that he would try.
The driver went to Salman, and whispered something in his ear. We thought he was talking about us, but two minutes later, some juice was brought over for Salman.
The driver whispered something again, and this time, Salman looked at us and called us over.
When he called us, we did not believe it. There were some construction workers behind us, and we thought he was waving at them. It took us a few seconds to realise that he was calling us.
The first question he asked us was, 'Are you sagaa bhais?' (are you real brothers).
I answered, 'Yes. We are sagaa bhais. We have crossed-checked with our parents separately.'
Salman immediately connected with our humour and said he would hear our song in the makeup room.
We were very scared by then because he was ready to listen to our song on our very first meeting. We had to prove ourselves in the next five minutes.
Salman said he would listen to our top five songs. If he didn't like them, he would leave for his next shot.
Farhad started singing immediately. We drummed on a plastic tub. Everybody was watching us.
Salman promised us five minutes but he listened to our songs for one and a half hours. He cancelled the shot and sat with us. Soon, Paresh Rawal and Sajid Nadiadwala came in.
He heard 18 songs and marked four out of them. He told us not to give those songs to anyone else.
We were so excited about our meeting with him, that we walked all the way home in the middle of the night.
Salman recommended us to David Dhawan; he was going to work in Hum Kissi Se Kum Nahin.
Salman did not do the film but we got a chance to write the lyrics for a song. Salman made sure our song was used and was picturised on Sanjay Dutt. That's how the song Munna Mobile, Pappu Pager happened.
After that, we have met Salman many times but haven't been able to write a song for him. The films in which we had songs for Salman never worked out. It's very unfortunate.
Salman became our godfather but still we haven't written a single song for him.
Once we became script writers, we wrote a full fledged script and dialogues for him. The film was Ready.
If we get a chance, we would write anything for Salman Khan!