'We have been taking risks with every film.'
'We made a comedy with zombies!'
'Then we made Saif Ali Khan a Russian character with blond hair!'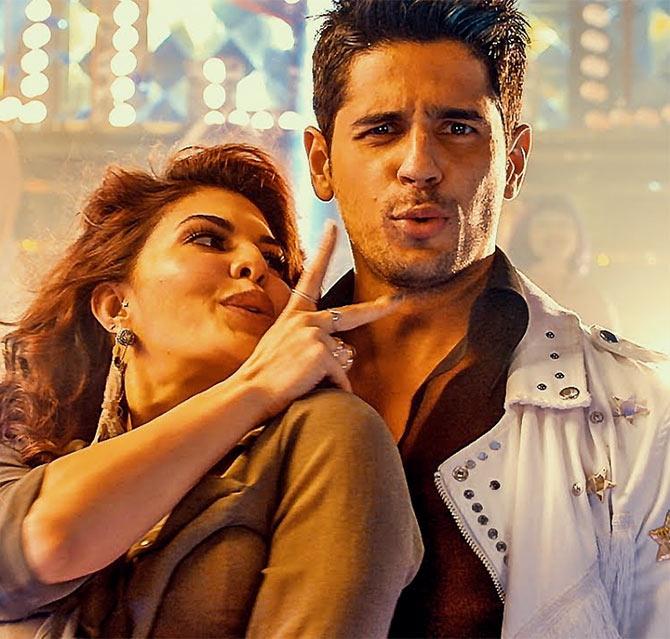 IMAGE: Jacqueline Fernandez and Sidharth Malhotra in A Gentleman.
A Gentleman is directors Raj Nidimoru and Krishna DK's sixth movie.
Raj and DK speak in sync with each other, completing each other's sentences, never interrupting each other.
Rediff.com's Patcy N caught up with the charming directors.
It has been a while since your last film. Happy Ending released in 2014.
Raj: Our films generally take an average of two years (to release), but this time, it's been more.
DK: It takes that long from writing and meetings to re-writing and pre-production.
A Gentleman required a lot of prep because it was an action film.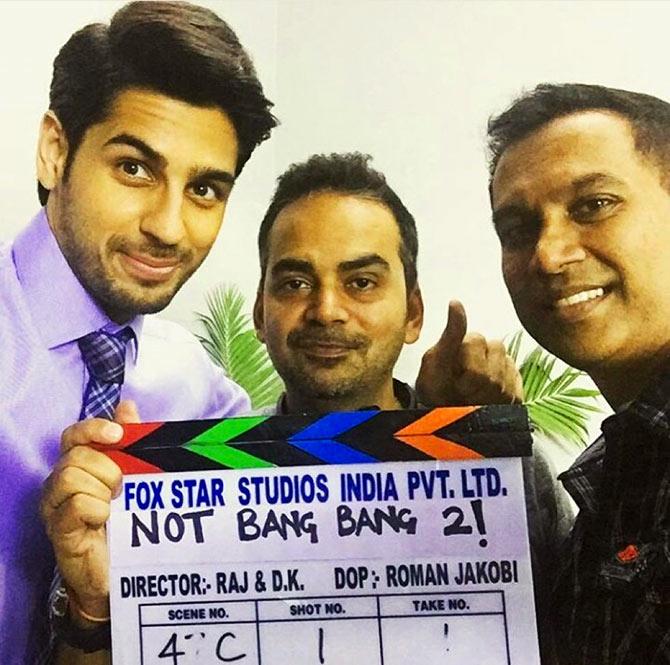 IMAGE: Sidharth Mahotra with DK and Raj. Photograph: Kind courtesy Krishna DK/Twitter
A Gentleman seems a break from your style of film making?
Raj: I still think this is our style.
It's just been packaged to be more mainstream and commercial.
If you remember, 99 is in that genre.
DK: The scale is larger. There is more action.
It's like a bigger badder version of 99.
It has the same sense of humour, the same quirks and plot connections.
This film was supposed to be a sequel of Bang Bang, then it became Reloaded.
DK: Originally, when Fox (Star Studios, producers) came to us, they wanted to make a sequel of Bang Bang.
We thought about it for a bit and went to them with this script, which we had already written.
We asked them whether they wanted to make this.
So it started off as making Bang Bang 2, but it was not this.
Raj: Bang Bang 2 is still in the pipeline for them, but I don't whether we are directing it or not.
How did you decide on Sidharth Malhotra and Jacqueline Fernandez? They played devar-bhabhi in Brothers.
Raj: I didn't remember that part. (Laughs)
We didn't really think of it like that. We just wanted a young action film.
It's also set in America, so Jackky fit that part of a girl working there. Her accent fits naturally with her image.
DK: Sid fit the action figure role well. He's got the perfect body.
Raj: They look good together.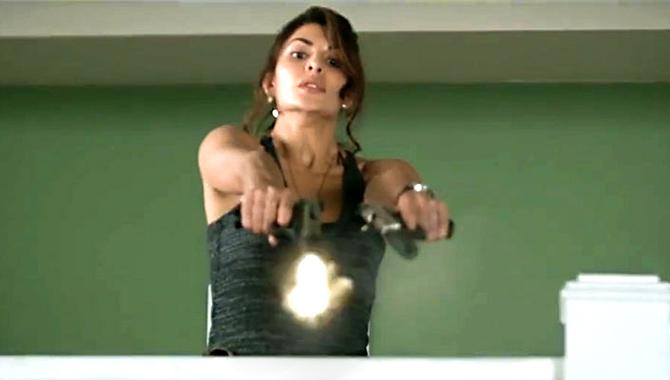 IMAGE: Jacqueline in A Gentleman.
Jacqueline complained that even though she's been a part of so many action films, she's never done action before.
Raj: Even we were surprised that she had never shot a gun before.
When we gave her a gun and explained the scene to her, she told us that she had never shot a gun before.
But when she did it, she was a natural.
The music has been appreciated, especially the song Bandook Meri Laila.
DK: We have been working with Sachin and Jigar since our last four films.
We have a great tuning with these guys. With four, five songs in an album, we try to make each one different.
Raj: We decided to have fun with Bandook.
All the songs are situational. We decided to make just one fun, cool song, a new age song.
DK: Something to describe the spirit of the film. It need not necessarily be a club number or a dance number. We wanted a cool song.
Who, according to you, is 'A Gentleman' in the industry?
Raj: Saif is a superb gentleman. He has got this whole lot of etiquette going.
DK: He plays old school. Think about this, we are nobodys.
The first time we met him in a hotel in Delhi, he wore a blazer.
Later, he would wear ganjis, but for the first meeting, he had this whole decorum, a certain style of greeting.
Sometimes, he takes the lady by the hand and gives her a kiss.
And he is like that, he doesn't put on a fake persona.
When you go to his house, he will pour the first drink for you.
Raj: Sidharth is a thorough gentleman too.
There's a personal connection when you talking to him.
He will meet the eyes of the person he is talking to.
Even Karan (Johar). He treats everyone really well.
There is a certain niceness and suave to all of them.
Who is 'Sundar' (beautiful) in the industry?
Raj: Sid and Jackky are sundar.
DK: Hrithik Roshan for sure.
Who is 'Susheel' (nice)?
DK: Jacqueline is a very sweet person.
Everybody, who meets her likes her.
Even my non-filmi friends, when they come on set and meet her for five minutes, say how grounded and down-to-earth she is.
Who is 'Risky'?
Raj: We are.
We have been taking risks with every film.
We made a comedy with zombies!
Then we made Saif Ali Khan a Russian character with blond hair!
He asked us, 'Do you really think I should wear blonde hair?'
I said, 'Yes, it is a caricature.'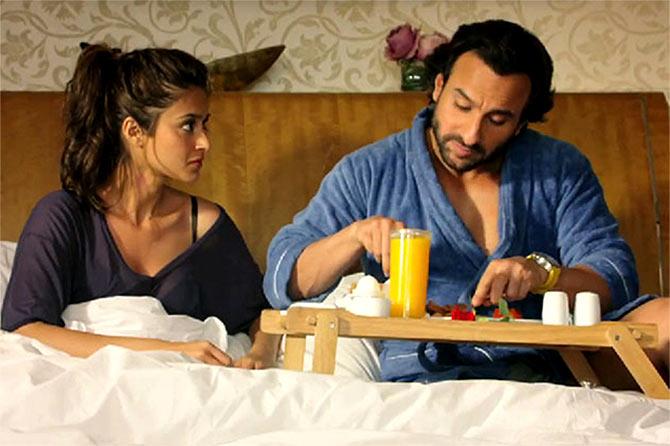 IMAGE: Ileana D'Cruz and Saif Ali Khan in Happy Ending.
When Happy Ending didn't do well, was it a setback for you?
Raj: We learnt a lot about what we should do and shouldn't do.
That's what the experience gave us. Some people liked it and others thought it wasn't enough.
We learnt what we could do better in our next.
This is your sixth film. How difficult is it for outsiders to get a foothold in the industry?
DK: We are outsiders even after so many films.
That's how it has been and it hasn't been a problem, per se.
Raj: It is actually a double-layered problem.
One is that we have come from outside, so we have no clue about whom to ask.
We did not want to assist anyone because we didn't have patience to wait in line.
We just had a script.
The other problem was that it wasn't a regular mainstream film.
We would go to a producer and he would say we get the idea, the film is cool, but I haven't seen this before.
What will it look like? Show me a film like this that has worked.
That struggle has been there from our first script right up to Go Goa Gone.
DK: We do slightly offbeat films.
Thankfully, lately, actors, who want to work with us, have liked our previous films.
They already know what we are coming with.
Raj: Here, they (Fox) wanted to do an action film that they could take forward as a franchise.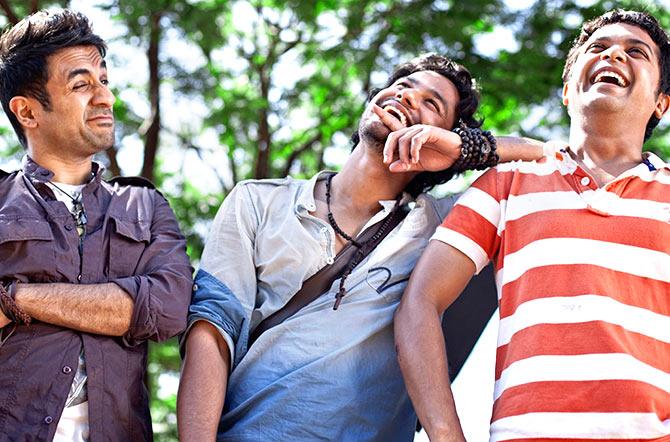 IMAGE: Vir Das, Kunal Khemmu and Anand Tiwari in Go Goa Gone.
Are you making a sequel to Go Goa Gone?
DK: Yes, we have the first draft of the script ready.
Raj: Everybody has been asking us ever since the movie came out.
Everybody kept saying you have to do it. We saw so much enthusiasm and affection for a film.