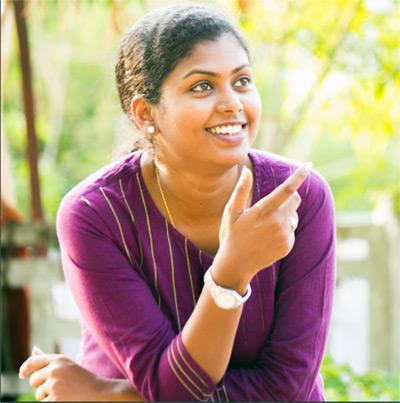 'It is quite overwhelming, as a young filmmaker, to be in the presence of so many great filmmakers.'
Jennifer Alphonse is ready for her second Cannes calling.
Jennifer Alphonse hopes to run into celebrities on her second outing at the Cannes International Film Festival.
The young filmmaker will be taking her short film The Take Over, which shows the impact of digital technology, to the prestigious festival.
She's been there before, when her other short film Strangerssss was screened in 2014.
Just before heading off to Cannes, Jennifer speaks to Rediff.com contributor Radhika Rajamani about the film.
How does it feel to get an opportunity for the second time to screen your short film at Cannes?
I was able to see an unbelievable amount of films, and really gain an insight into the international marketing, sales, and distribution side of filmmaking. It is quite overwhelming, as a young filmmaker, to be in the presence of so many people who contribute to the film industry in so many various ways.
Do you think the contemporary theme of the short film was integral to its selection at Cannes?
Yes. I do feel the theme was the key for its selection because till now there is no documentary made on this topic in our country. It is the first of its kind.
How did you conceptualise The Take Over?
It is my producer's brainchild, K Basi Reddy, who brought in digital into Indian filmmaking 10 years back. He had this idea of why we don't document this important transformation.
It sounded super interesting, so I said yes right away and jumped into the project.
The Take Over is a conversational documentary. Why did you choose this format?
Because that's the best way to understand this transformation -- from analog to digital, to hear it from the people who went through this change. It's just amazing to sit and listen to these technicians when they share their experiences .
You interviewed filmmakers like Singeetha Srinivasa Rao, Mani Ratnam, Kamal Haasan, Ram Gopal Varma, Santosh Sivan, Rajiv Menon, Trivikram, Senthil Kumar, Vikram Kumar and Vikram Bhatt. How challenging was it to get these people?
We had a tough time getting these people on board because we never had any PR person. Since it is a documentary, we couldn't afford to hire one. So we took help from all possible people like friends, technicians... anybody and everybody who came forward to help us in getting these people on board.
Being from Hyderabad, it was easy to get most of the south technicians, but we didn't have many contacts from the north. Still we tried and managed to get some good names like Ayananka Bose, Binod Pradhan, Sudeep Chatterji etc. They all spoke really well.
How long did it take to make this film?
It took almost one year, eight months.
Are you looking forward to running into any celebs at Cannes?
You never know, it's a huge place. When we plan, nothing happens. So I am just hoping that I get to meet at least a few of them this year.
How was your first experience like at Cannes?
When I went there for the first time, I was a bit lost. It took me a couple of days to understand the festival and how it works. It's an opportunity like no other. Watching your film being played at Cannes is a dream for most people. Even if it is out of a competition, it is still part of Cannes.
It is quite overwhelming, as a young filmmaker, to be in the presence of so many great filmmakers. It's Cannes -- a world-renowned film festival, what else one could ask for!
Do you think that screenings at Cannes help you as a filmmaker in the real sense?
It does help, that (Cannes) logo really matters a lot. Your film gets instant respect and it gets selected in many other international film festivals.
If you focus well, you can actually sell your film. It all depends from person to person and how they make use of the opportunity.
Was it the magic of cinema that compelled you to take up filmmaking? You seem to be choosing very current subjects for your documentaries, why so? Is it also a way of creating awareness and educating people?
In a way, yes. The reason for me to choose this field is that, I believe the visual medium is one of the most powerful mediums we have. Storytelling is something which interests me the most.
I am intrigued by everything about stories and the possibilities they entail. I feel cinema and the world behind it is magical and fascinating, and through storytelling, be it in any form, it is the best way to put ideas into the world today.
If we can touch people, move them, make them think, it will surely bring about some change, even if it is small, its fine. It will be a start to something big.
You have made short films. Would you want to make a feature film?
I am struggling for the past two years to make one feature. I don't know when that is going to happen, but yes...till it happens, the struggle is on.