Here are five ways to spice up your weekend!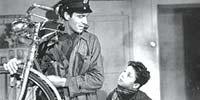 The Bicycle Thief (Italian)
Cast: Lamberto Maggiorani, Enzo Staiola, Lianella Carell, Gino
Saltamerenda and Vittorio Antonucci.
Director: Vittorio De Sica
Plot: In post-WWII, depression-struck Italy, unemployment reigns. The plot revolves around Antonio (Maggiorani) who finally finds a job for which having a bicycle becomes a must. With his wife's help, he raises money to get one. As bad luck would have it, Antonio's precious bicycle gets stolen. Does he find it?
The Bicycle Thief
reveals it to you.
Aces: Heralded as one of the best films ever, by critics and viewers alike,
The Bicycle Thief
is exceptional for its realistic depiction of a man's struggle to survive. Adapted from Luigi Bartolini's novel and adhering to neorealist methods of filmmaking, this 1948 Academy award winner, doesn't feature a professional cast. Seasoned performers or not, Maggiorani and Staiola move the viewer with their heart-rending portrayal. Without ever dramatising the events,
The Bicycle Thief
pinches with its unromantic narrative and crying desperation.
Extras: Available with English subtitles. Available audio tracks: Italian (Dolby Digital 1.0), English (Dolby Digital 1.0).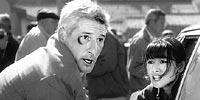 Internal Affairs (English)
Cast: Richard Gere, Andy Garcia, Laurie Metcalf, William Baldwin,
Richard Bradford and Nancy Travis.
Director: Mike Figgis
Plot: Sergeants Raymond Avila (Garcia) and Amy Wallace (Metcalf) put colleague Dennis Peck (Gere), with his two wives and eight kids, under the microscope only to make startling discoveries. Behind Peck's smooth charisma lies a corrupt, manipulating fiend. Avila, too, has his share of personal woes to take care of before he nails Peck down.
Aces: After a series of bloopers at the box office, Richard Gere bounced back with this slick cop drama. The same year,
Pretty Woman
happened and consolidated his position further in Hollywood.
Internal Affairs
is an interesting play of Gere and Garcia's contrasting personalities. Gere plays a suave sleaze to perfection. Garcia's trademark brooding is coupled with unpredictable outbursts, adding layers to his character.
Internal Affairs
keeps you happily hooked, despite the inconsistent nature of its screenplay.
Extras: Available subtitles: English, French. Dolby Digital 5.1 – English, Dolby surround – English, Dolby surround – French.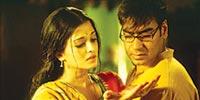 Raincoat (Hindi)
Cast: Ajay Devgan, Aishwarya Rai and Annu Kapoor.
Director: Rituparno Ghosh
Plot: Erstwhile lovers Manu and Neeru have a chance encounter one rainy afternoon after six years of no contact. Neeru, now married, brags about her busy husband's riches. Manu, though unemployed, also pretends all's hunky dory.
Aces: Inspired from O Henry's
The Gift of Magi, Raincoat
is beautifully shot and poetically told by Rituparno Ghosh. Ajay Devgan's emotionally subtle performance asserts his range as an actor.
For once Aishwarya Rai, who previously worked with Ghosh on Chokher Bali, is more than just a beautiful face. In Raincoat, she reveals herself as an actress with potential.
The duo, who earlier worked in
Hum Dil De Chuke Sanam, Hum Kisise Kum Nahin
and
Khakee
, share great screen chemistry here. Debojyoti Mishra's music is smooth and articulates the unspoken sentiments of this tale of unrequited love with graceful ardour.
Extras: Available with English subtitles.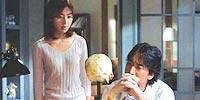 Face (Korean)
Cast: Yun-ah Song, Hyeon-jun Shin, Seung-wook Kim, Seok-Hwan An, Won-hui Jo.
Director: Sang-Gon Yoo
Plot: Hyun Min (Hyeon-jun Shin) reconstructs faces with the help of their skulls for the police in crime investigations. On the personal front, his daughter develops severe complications after a recent heart transplant. His newly appointed colleague, Sun-Young (Yun-ah Song) brings him a skull for examination. As the two begin to work closely on this assignment, Hyun Min discovers there is some connection between his daughter's illness and a sought-after serial killer.
Aces:  Terrifying and mysterious,
Face
keeps you involved with its unusual set up and spooky elements. Post
Ringu
, a lady in white with long hair covering face is more or less customary.
Face
uses that gimmick too. But does not rely on red herrings to evoke fear or tension. If you enjoyed
The Sixth Sense
and
Stir of Echoes
,
Face
should prove to be a fulfilling experience. Also, good acting and terse direction make this Korean scary movie worth a watch.
Extras:  Available with English, Korean subtitles. Audio commentary.
Making Of Face
Documentary. Interviews. Poster photo shoot. Photo gallery. Trailers. Director's short films:
The Body Temperature
and 
Superman In Early Summer.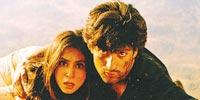 Jungle (Hindi)
Cast: Fardeen Khan, Urmila Matondkar, Suniel Shetty, Sushant Singh,
Kashmira Shah and Makarand Deshpande.
Director: Ram Gopal Varma

Plot: Anu (Matondkar) and Siddhu (Khan) are in love. Even though her dad refuses to give a green signal to their relationship, they continue seeing each other. But when the dreadful villain residing in the predatory jungle, Durga Narayan (Singh) kidnaps Anu, it is up to Sidhu to rescue his ladylove.

Aces: Action-packed and adventurous, Jungle is racy and thrilling. Urmila and Fardeen look great together and deliver decent
performances. Suniel Shetty too received good reviews for his subdued avatar. But the real hero, or villain if you please, of Jungle is Sushant Singh. In his first full-fledged role, Singh exudes menacing intensity. It may not be one of Ramu's best, technically or cinematically, but Jungle is fairly entertaining.

Extras: Available with English subtitles.