Summers are the best time in a child's life. For this simple reason: holidays! rediff.com recommends a few films for our young, restless audience. As for adults, here's your chance to relive that age of innocence.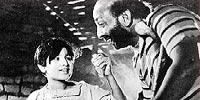 Film: Boot Polish
Cast: Baby Naaz, Master Ratan Kumar, David and Chand Burke.
Director: Prakash Arora
Plot: Two orphaned sibling children survive against trying circumstances in the ugly slums of Mumbai. Their only relative, a greedy and nasty aunt throws them out when they fail to make some money. The eccentric but good-hearted John has inspired the kids to never beg though, no matter how bad the going gets. Their only means of survival now is to boot polish. But the bad weather doesn't help. Who wins in this conflict of conscience versus hunger?

Aces: Though grim on occasions, Boot Polish is heart wrenching, hard-hitting but never depressing. The wonderful and spontaneous acting by its two child artistes -- as also by character actor David -- is astonishing. Produced by Raj Kapoor,  not only did it compete for the Golden Palm at Cannes, it also earned Baby Naaz a special mention at the film festival. It also won the Filmfare trophy for Best Film (Kapoor), Best Supporting Actor (David) and Best Cinematography (Tara Dutt).

Extras: The Showman: Raj Kapoor, A trip down memory lane with Raj Kapoor's co-stars, collegues and family. Digitally re-mastered from the original film. Digitally enhanced Dolby digital 5.1 sound. English subtitles.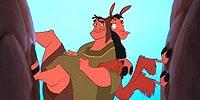 Film: The Emperor's New Groove
Cast: David Spade, John Goodman, Eartha Kitt, Patrick Warburton,
Wendie Malick, Eli Russell Linnetz and Kellyann Kelso.
Director: Mark Dindal
Plot: After being turned into a Llama by his scheming assistant, a good-for-nothing, conceited emperor finds an unlikely ally in a simple, compassionate herdsman. In the course of their misadventures, the silly ruler learns a lesson about life and friendship.

Aces: Not one of those soppy, cute Disney flicks. This one's a combo meal of funny and quirky, bound to find favour with both children and their parents. David Spade and John Goodman's camaraderie tickles the funny bone incessantly. Sting's Oscar-nominated soundtrack packs in quite a punch. Liked Aladdin? Then pick this!

Extras: Audio tracks, Commentary by: Filmmakers – Director Mark Dindal, Producer Randy Fulmer. Sting's Making-The-Music video featuring the Academy Awards nominated song, My Funny Friend and Me. Rascal Flatts' music video featuring the song Walk The Llama Llama. Set Top Game - An interactive challenge for parents and their children with the voice talents of Kronk (Patrick Warburton) and Yzma (Eartha Kitt). Behind-The-Scenes Featurette. Animation team's research trip to Peru.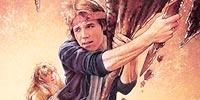 Film: The Goonies
Cast: Sean Astin, Josh Brolin, Jeff Cohen, Corey Feldman and Kerri Green.
Director: Richard Donner
Plot: An old treasure map leads a bunch of kids into believing the legend of a pirate and his hidden gold. The curious Goonies, as they like to be called, trace their path into a hidden tunnel, which is supposed to house the riches. This hunt results in an exciting but dangerous encounter with thugs and the mysterious character, Sloth.

Aces: If you thought Lethal Weapon movies are all there is to filmmaker Richard Donner, think again! The man made this fantastic children's fantasy adventure in the mid-80s, with generous help from Steven Spielberg, who produced and conceptualised the project. Best remembered for his part as Samwise Gamgee in The Lord of the Rings trilogy, Sean Astin is equally spirited as the inquisitive Goonie. All ye Nancy Drew and Hardy Boys fans out there, don't miss this.

Extras: Audio tracks, commentary by Richard Donner. Making Of The Goonies Documentary. Cyndi Lauper music video, Goonies R Good Enough II. Deleted scenes.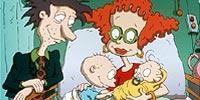 Film: The Rugrats Movie
Cast: David Spade, Christine Cavanaugh, Cheryl Chase, Whoopi Goldberg,
Jack Riley and Kath Soucie.
Director: Igor Kovalyov, Norton Virgien
Plot: Tommy Pickles is no longer the baby of the family. He's got company now, in the shape of demanding baby brother, Dylan. What follows? Sibling rivalry at its cutest.

Aces: Nickelodeon's famous animated TV series went big screen with this one. The universally adored tots Tommy, Chuckie, Phil, Lil and Angelica charm with their unique imagination and kiddie interpretation of the adult world. Rugrats is sweet, smart, amusing fun with super voiceovers and a groovy soundtrack.

Extras: Audio tracks: English, French.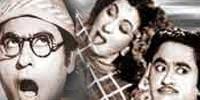 Film: Half Ticket
Cast: Kishore Kumar, Madhubala, Pran, Helen.
Director: Kalidas
Plot: A series of comic episodes involving a jovial but penniless guy parading as an under-aged schoolboy. He's also unwittingly carrying a diamond on him, which makes him the target of a thief's chase. Needless to say, he finds ample time to woo a certain gal as well.

Aces: Kishore Kumar. Kishore Kumar. Kishore Kumar. The actor rocks with his tuned comic sense, slipping into the skin and silliness of his Munna effortlessly. His rip-roaring antics find perfect chemistry in Madhubala's playfulness and Pran's hilarious clumsiness. A one-of-a-kind classic, Half Ticket also boasts some seriously entertaining songs like Cheel Cheel Chilake, Ankhon Mein Tum, Aake Seedhi Lagi and Woh ek Nigah Kya Mili.

Extras: English subtitles.