'I didn't want to be the bottom-most in the food chain of a commercial film.'
'I'd rather do something experimental and learn and hope that this translates into somebody noticing me.'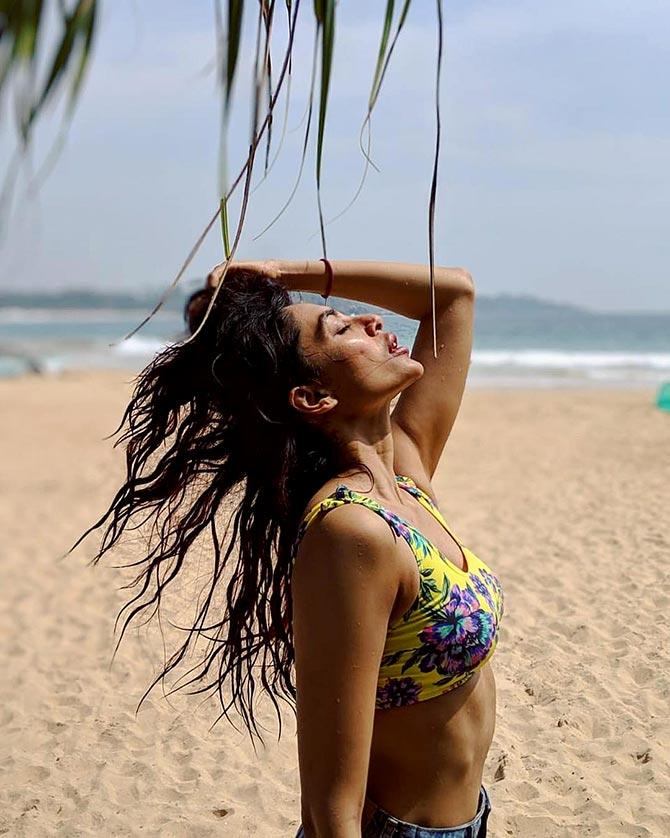 "I'm able to speak the most when I'm not talking," Sobhita Dhulipala says, her beautiful eyes holding yours.
Her eyes are, in fact, one of the best things about her performance in the Web series Made In Heaven, and our reviewer would agree.
More than a month after it released, the actress is still enjoying her success and giving interviews.
More scripts have started coming in.
The party invitations have also increased, she says with a laugh.
But she remains grounded.
Three years after she started her showbiz career, Sobhita still does not have any house help. She prefers to do all the work on her own.
She cooks daily -- she made upma last! -- and spends an hour cleaning her apartment every day.
"I like being there for myself. I'm not dependent," she explains.
The only help she needs is someone to tend to her plants when she travels.
"I sometimes give my keys to Anurag Kashyap and tell him to go water my plants!" she tells Ronjita Kulkarni/Rediff.com, with a laugh.
What sort of reactions have you got for Made In Heaven?
People have really liked the show. It has resonated with a lot of them.
Most of the characters in our Indian films are so perfect. They can sing, dance, cry, be strong... everything.
To have a protagonist who is flawed is very liberating, for me to play and also for the audience to consume.
It don't feel like we fall short of the ideal.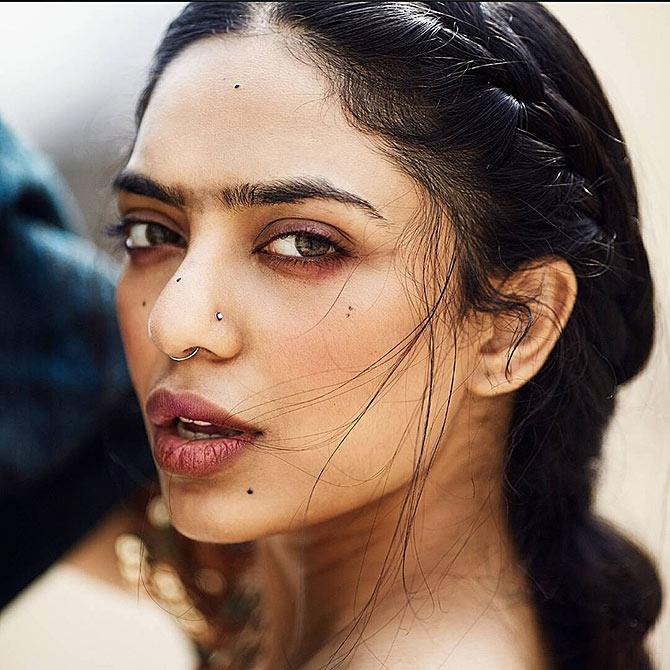 How did you get the show?
I auditioned for it.
A month-and-a-half later, I was called back for the second round.
That's when I met Zoya (Akhtar) and Nitya (Mehra).
Zoya said she was sort of keen on me getting the part, so she told me to take my time and get a good audition.
After a week, I got the part.
At the look test, I met Arjun (Mathur). We did a mock look test together, so we were in touch with each other, hoping that it would work out.
And it did.
It was great joy!
This was before the Web wheel had started spinning. It was before Scared Games, before the big players came in.
We shot this in 2017, so it was so new.
How much did life change after the show?
I'm little more assured now.
I have constantly made content-driven choices, but you're not rewarded much. Like they don't do well, or they're made in very small budgets, very experimental.
So when your work gets appreciated, at some level, you feel validated, empowered.
Everyone wants to live well.
Everyone wants to make money.
It was a risk that I took and it paid off.
Are you getting more scripts now?
Definitely.
But I will truly be able to gauge the success once this branches out into great work opportunities.
But I have had a few script meetings and there's a lot more curiosity... that's new and very welcome!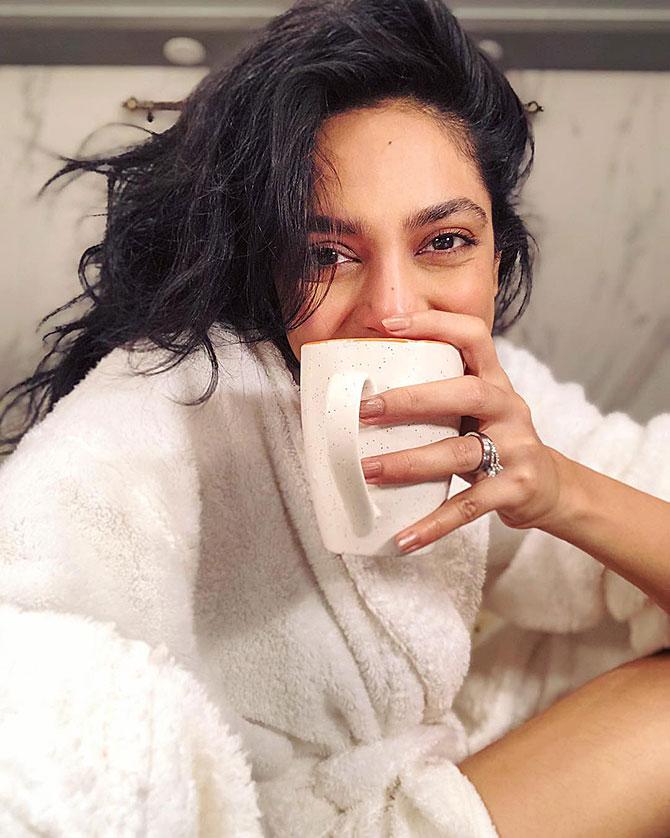 You started your career by winning the Miss India title.
Yes.
I was very introverted and academically-driven.
My jump into the beauty business came out of nowhere.
I was in my late teens and that's when you start to notice that you're a girl, that you want some attention.
You start wearing kajal...
I was brought up in a very simple environment, so to get a taste of that world... it looked so magical and cool.
Were your parents okay with this profession?
My parents have always trusted me to be responsible.
I'm the elder child.
My younger sister has just finished her MBBS.
I was always that person, even as a child. So they allowed me to do what I want to do, and if there were lessons to learn, they felt I will learn them.
Your sister is a doctor. Didn't your parents want you to follow academics as well?
They feel I am punching below my weight, not to say this lacks intelligence. There's a lot of work and commitment that goes into it.
I was always a good student and a topper, a school captain, I was in the NCC...
I was such a good student that they wondered why I wanted this, when I could have had an assured, comfortable life.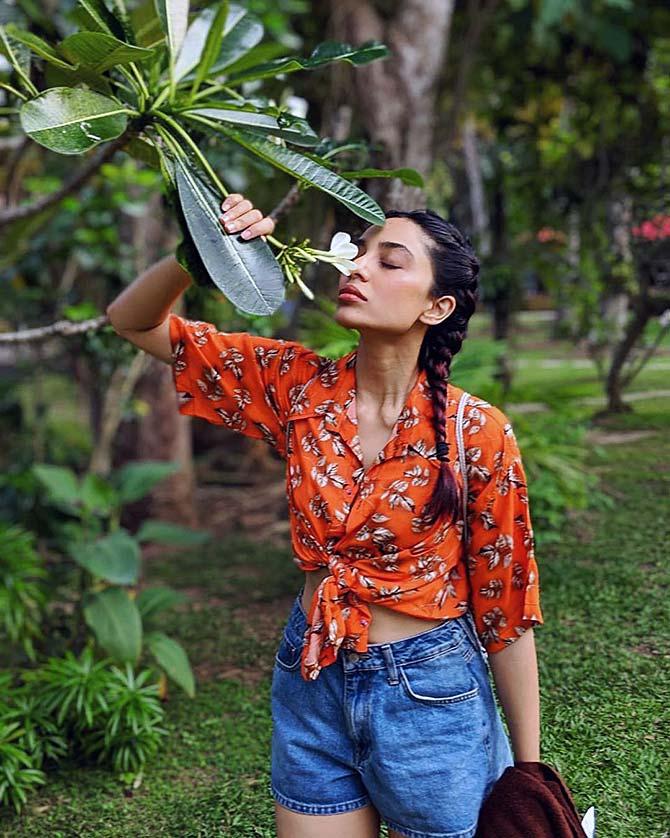 You come from Vizag. How did you look at Mumbai?
Bombay makes you very aspirational.
Vizag is not some village, but it's very quaint.
People are ambitious, but there's no obsession with obscene fame or money.
It's much simpler, it's a coastal town.
My upbringing was also so simple that the idea of Bombay was bigger than what the city actually meant.
I was eager to go to a metropolitan city for college, and have that lifestyle. But it was so different for me.
I was like this geeky child, a first bencher, a teacher's pet, so I didn't know how to belong.
I didn't know how to get these people to like me.
So that was a bit of a struggle, but I think everyone goes through some version of that in their student years.
So when this pageant opportunity came to me, I felt maybe this will get me noticed.
It was very childish.
I finished my graduation in HR college and enrolled for a master's in HR and corporate law while I was doing Miss India.
I would like to continue my studies.
I really, really, like to study!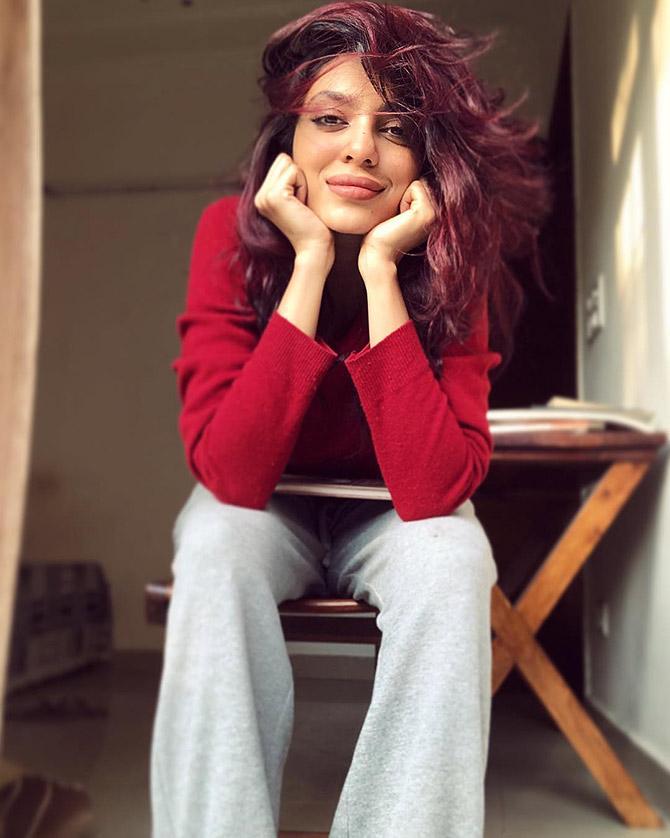 How did you start acting?
After Miss India, I did some modelling.
I thought I would like it, but I did not.
I didn't feel connected.
I started auditioning for ads, hundreds of them.
I got called for a film also.
That's when I knew that this was what I wanted to do.
When you do ads, you feel like a salesperson. There's no story to it.
I'm a very imaginative girl and even those 15 minutes of audition made me feel like I was someone else.
Fortunately, within 40, 45 minutes of that audition, I got that film and that became Raman Raghav.
Did you know who Anurag Kashyap was at the time?
Yes. I had a lot of admiration for Anurag Kashyap, but I never paid much attention to the kind of movies happening.
I was quite unaware.
Even now, I have to make a conscious effort to watch a film because it doesn't come naturally to me. It's more natural for me to read.
Which was the last film you saw?
(Thinks.)
You must have watched Gully Boy.
Yes, because I was at the screening.
I saw The Crown recently.
I don't watch too many films.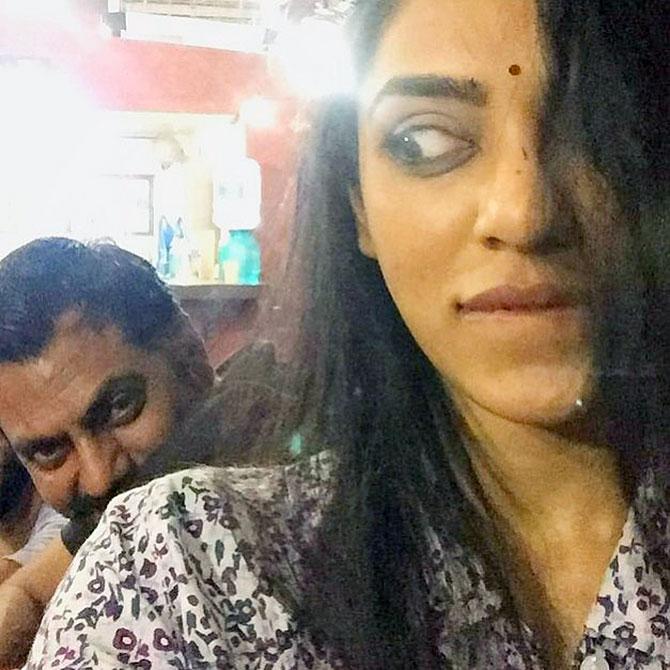 Raman Raghav was a very different kind of film. How was your experience in it?
Because I didn't know otherwise, it was great.
I really formed my choices after that, to be surrounded by Anurag or Nawaz (Nawazuddin Siddiqui)...people, who are so passionate about what they do.
Have you done any acting courses?
I have done acting workshops between projects.
I'm also a classical dancer. I have learnt Bharata Natyam and Kuchipudi. I've just start learning Kathak.
At some level, my being a very emotional person and with time, my being able to regulate my emotions has somehow made me an actor.
You acted in the Saif Ali Khan-starrer Kaalakandi.
At the time, amongst the films I auditioned for, this seemed like the better one of the lot.
I didn't want to be the bottom-most in the food chain of a commercial film.
I'd rather do something experimental and learn and hope that this translates into somebody noticing me.
That seemed like a better bargain.
How difficult is it to survive in Bollywood?
For a person in the early 20s, living alone in a metro like Bombay, in the beauty business and then in the film industry... it can get very daunting.
You want to be there for yourself, but you don't even know when you're in trouble.
(Getting a role) It's very difficult. Even if you do manage to be cast, you will be cast as some side something, somewhere.
I've had my share of ups and downs. I learnt from trial and error.
Often, I'd be embarrassed by myself, like how I would dress.
I have learnt with time.
But that learning cannot be undone.
Now, I don't need someone to tell me that this is not working.
I'm aware now. I think I'm growing up (Laughs).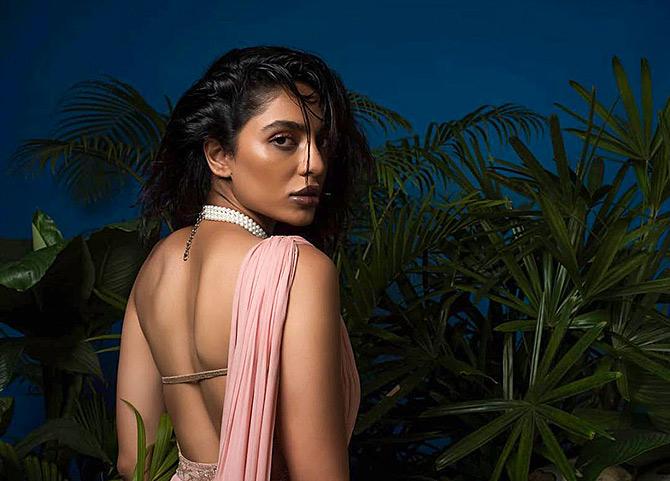 How expensive is it?
Very expensive!
My parents have given me a very good life, and yet a very simple and disciplined upbringing.
So it's very important for me to respect resources, even money.
Who are your friends from the industry?
I'm very close to Anurag Kashyap.
He's my best friend.
He's such a strong support system for me.
I have great respect for him, as an artist and person.
His courage and honesty is so rare.
How do you spend your free time?
I write. I read. Sometimes, I paint.
I like to travel.
I cook.
What are you working on next?
Ribhu Dasgupta's Bard of Blood.
It's got action and R&AW agents.
It's so tastefully done.
We are recreating Baluchistan. There are Afghan terrain and I'm in a burkha.
And there are machine guns!
I enjoyed doing the action.
Then, there's Jeetu Joseph's The Body.
Geetu Mohandas's Moothon. It's an adventure fantasy and a project that affected me most as an actor. It's got prostitutes, mermaids, drug peddling and a child lost at sea.
Emraan Hashmi stars in Bard Of Blood and The Body.
He's surprisingly so laidback and learned and truly witty.
Usually, we limit people to the kind of work they have done.
But he's so today.
He watches really good cinema.
He's super funny and fun to be around.